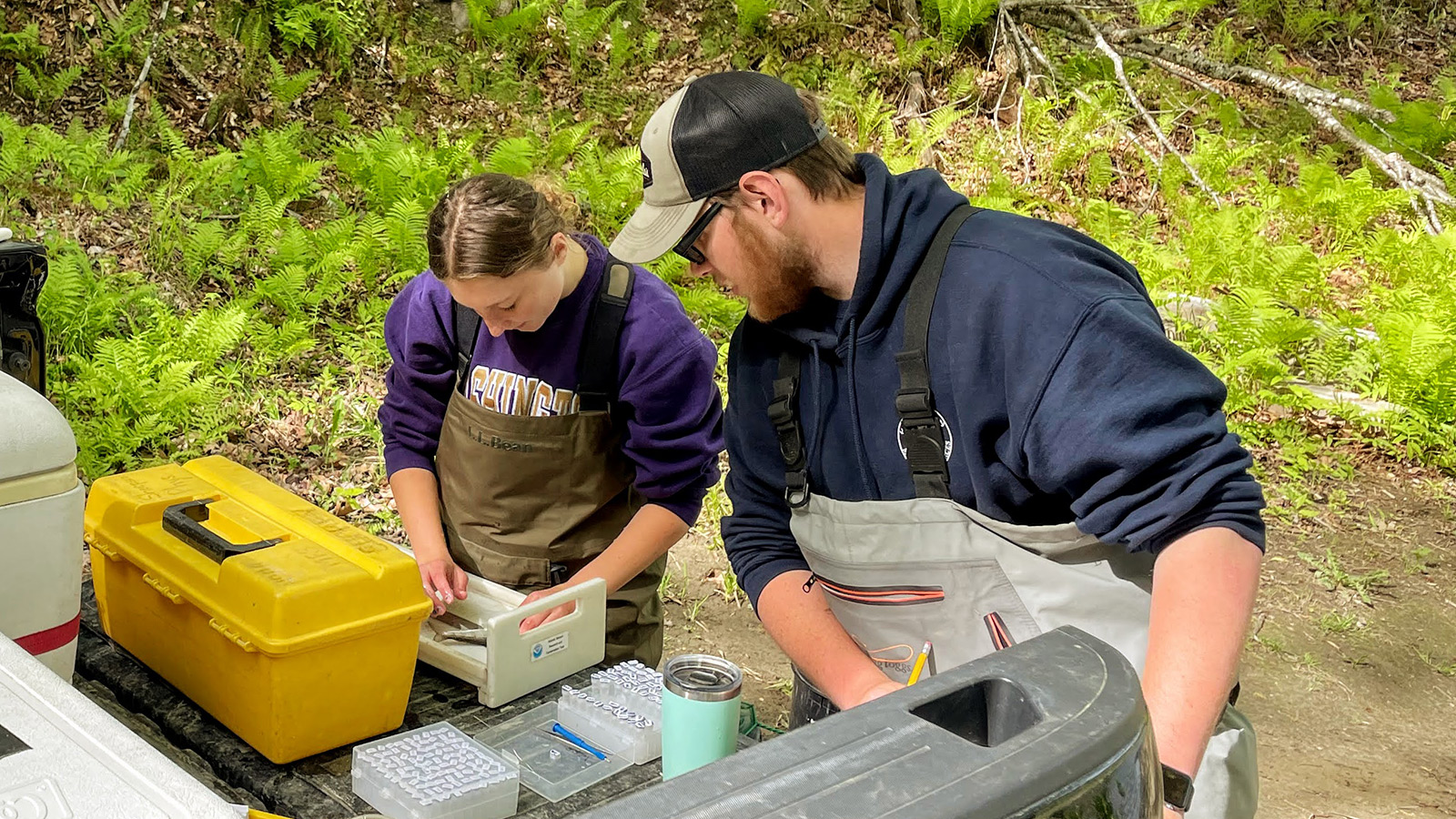 Students gain hands-on experience through sea-run fish internship
This summer, five undergraduate students are gaining experience in sea-run fish research and management as participants in Maine Sea Grant and NOAA's Northeast Fisheries Science Center's Undergraduate Internships in Diadromous Ecosystem Research Program.
The program, which launched in 2020, pairs student interns with mentors who are practitioners in the field. The 2022 cohort will be working with scientists and resources managers at Penobscot Nation, Maine Department of Marine Resources, and Maine Sea Grant.
The program is also supported by the Northeast Fisheries Science Center and the National Sea Grant's Community Engaged Internship program, both of which have provided funding for internship positions.
Students will be participating in 13 weeks of field work, lab work, and hands-on learning experiences, as well as professional development activities focused on science communication and diversity, equity, and inclusion. At the end of their internship, program participants will present their findings at a student symposium.
"We have students supporting a number of aspects of sea-run fish conservation and management while still coping in a COVID-impacted world. It is encouraging to see their contributions expanding the capacity of our partners and to hear about the valuable experience they are gaining," said Maine Sea Grant Extension Associate Justin Stevens. Stevens led the Sea Grant effort to organize the internship program and is a co-coordinator of the program with Ruth Haas-Castro of NOAA Fisheries.
Sean Beauregard, University of Maine
Host: Penobscot Nation
Sean is working alongside Dan McCaw, Dan Kusnierz, and the Penobscot Nation to conduct a wide range of water quality monitoring activities throughout the Penobscot watershed and tribal trust lands. He is also organizing and writing a grant proposal with his peers to increase sea-run fish passage in Maine's rivers. This is his second Maine Sea Grant-NOAA internship.
"Overall, the program has helped me expand my outreach and experience in the field. I look forward to learning about the natural and tribal history of the area, which I now call home."
Read Sean's profile. 
Meaghan Findley, Eckerd College
Host: Maine Department of Marine Resources-Augusta
Meaghan is collecting data on Atlantic salmon juveniles and adults to inform population estimates and habitat characteristics with Jennifer Noll and Paul Christman of the Department of Marine Resources in Augusta.
"I am very excited to be working in the field with endangered Atlantic salmon. It is a huge career goal of mine to work with endangered species, and I hope to learn about many different fisheries techniques."
Read Meaghan's profile.
Dylan Garrabrant, Stockton University
Host: Maine Department of Marine Resources-Jonesboro
Dylan is working with Ernie Atkinson and Colby Bruchs from the Maine Department of Marine Resources in Jonesboro to tend both smolt and adult Atlantic salmon traps with project mentor Colby Bruchs. Later in the summer, he will monitor temperature in various salmon watersheds.
"I am very excited to get experience in the field with sampling methods as well as contribute in any way to helping recover the endangered Atlantic salmon. I am most excited, though, to see a wild adult salmon as I did not even know they still existed in the US until I applied for this internship."
Read Dylan's profile.
Conor Fitzpatrick, University of Maine
Host: Maine Sea Grant, Orono 
Conor is surveying the Penobscot River Estuary with Maine Sea Grant's Justin Stevens to look for relationships between fish biomass, bird densities, and characteristics of the aquatic environment. He will also be aging river herring using scales and otoliths and then determining which age classes are most predominant in the 2022 herring run.
"In this internship I am hoping to learn more about sea-run fish and why their survival and return rates are so low. I am also interested in what is being done to improve these rates across Maine."
Read Conor's profile.
Steven Zybert, University of Maine
Host: Maine Department of Marine Resources-Milford
Steven is sorting, counting, and sampling sea-run fish at the Milford Hydroelectric Dam with the Department of Marine Resources's Jason Villiere and Mitch Simpson. His main focus is on Atlantic salmon. Additionally, Steven is stocking local lakes and waterways with two different species of river herring, alewives and bluebacks.
Read Steven's profile.
---
Posted 29 July 2022