Maine Sea Grant – NOAA Fisheries Undergraduate Internships in Sea-run Fish Research
Summer 2020 – Paid Internships
This Opportunity is Closed.
The deadline was 27 March 2020.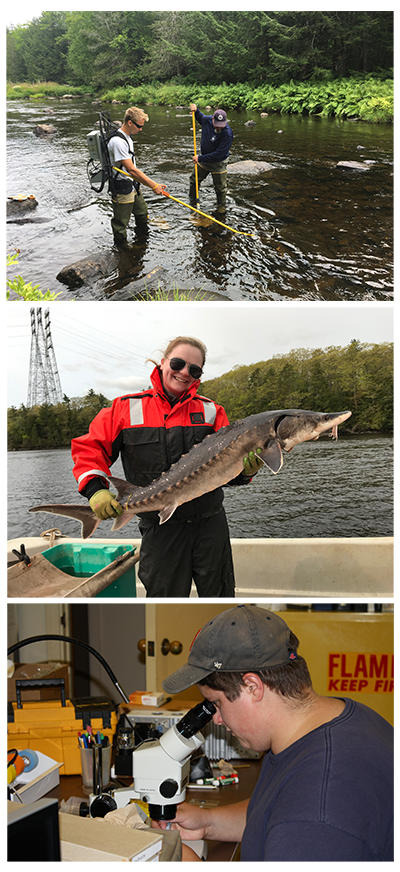 Maine Sea Grant is partnering with NOAA's Northeast Fisheries Science Center (NEFSC) to provide opportunities for undergraduates to gain experience in the field of fisheries. We are currently recruiting interested undergraduates for participation in the Undergraduate Internships in Diadromous Ecosystem Research Program.
Several Summer Undergraduate Paid Internships are currently available (link below) through an ongoing collaboration between UMaine's Sea Grant Program and NOAA's Northeast Fisheries Science Center. These competitive positions will be 40 hours per week, based at one of several mentor locations in Maine including Orono, Augusta, Bangor, and Jonesboro. Additional opportunities are available at the NOAA NEFSC lab in Woods Hole, MA. Start dates vary according to position, ranging from April to June and will last up to 13 weeks.
Projects include:
To be eligible for this program you MUST be enrolled or accepted in a degree-granting or certificate program from an accredited institution AND enrolled at least half time (6 credits or more) in the Fall 2020 semester.
If you are interested in applying for an internship please email the following to Justin Stevens and Ruth Haas-Castro OR
mail/drop off materials to:
Maine Sea Grant College Program
University of Maine
5741 Libby Hall Room 117
Orono, Maine 04469
a brief cover letter describing your interest in this opportunity and your preferred (top 3) projects/locations
a resume (including names and contact information for 3 references)
a copy of your unofficial transcript
The deadline for applications was noon on Friday, March 27th.
Please contact Justin Stevens with any questions.