Sea-run Fish
What are sea run fish?
Sea-run fish are those species that spend a portion of their lives in freshwater and a portion of their lives in the ocean. Usually, this means a significant migration once or twice in their lifetime to complete their life cycle. They have adapted to this life history because each habitat offers different advantages for growth and survival. In general, freshwater habitats have fewer predators, while the ocean offers a wider array of food choices.
Learn more about sea-run fish.
Why are sea run fish important?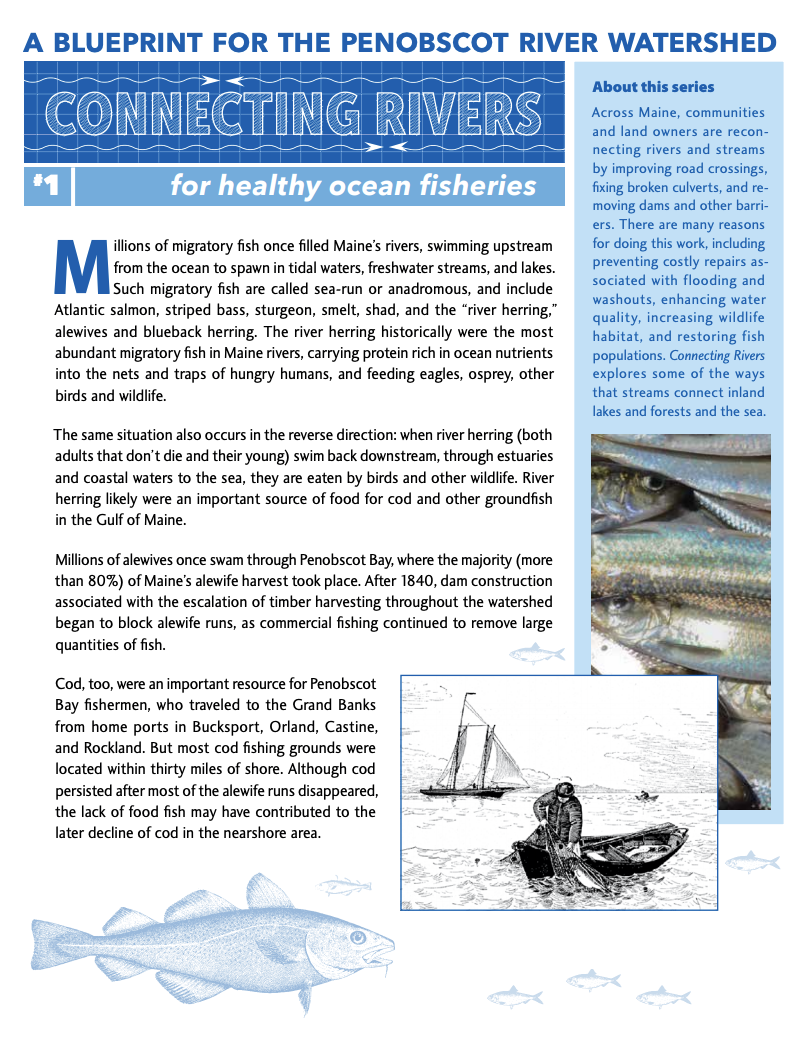 Sea-run fish transport nutrients to and from habitats during their migration, creating a nutrient conveyor belt that makes energy and resources available to different parts of the food web in different ecosystems.
For thousands of years, sea-run fish provided a rich protein source and sustenance for the Wabanki people. The practice of harvesting sea-run fish was adopted by European colonialists and continued through the industrial revolution. Today, some species are still harvested for food and continue to be celebrated by communities throughout Maine.
What problems do they face?
During their migration, some sea-run fish are found in large, dense schools that can be exploited by predators, including humans. Obstacles, such as dams, can delay or block their migration pathways and prevent the fish from completing their life cycle. Since the industrial revolution, sea-run fish have faced reduction in available habitat due to dams, impacts from pollution degrading habitat, and overfishing, all leading to severe declines in their populations. Recently, efforts are underway throughout Maine to improve water quality, remove dams, and improve passage at existing dams. Maine Sea Grant and our partners are working to engage communities to:
Research
Maine Sea Grant Sea-run Fish Research Program
The NOAA-Fisheries and Maine Sea Grant Partnership leverages the strengths of both organizations to improve data systems across agencies and the University of Maine while fostering new synergistic relationships and better communication among state, tribal, federal, and stakeholder groups.
Maine Sea Grant is working to build a fish and habitat assessment program that leverages NOAA, Maine Department of Marine Resources, and University of Maine data and systems across the Penobscot River and Bay Watershed. An overarching goal of the program is to build capacity in Maine by sharing existing information and bringing together those people who support sea-run fish research. This would be accomplished through collaboration with the University of Maine; Maine Department of Marine Resources; non-government conservation organizations; other federal partners, including US Fish and Wildlife Service, US Geological Survey, and US Department of Agriculture; and interested stakeholder groups; and interested stakeholder groups.
Maine Sea Grant-Funded Research
---
Extension
Maine Sea Grant extension associates have worked with Maine coastal communities on the following projects:
Marine Extension Associate Chris Bartlett has worked with three townships and partners to monitor river herring.
Smelt surveys – Marine Extension Associates Justin Stevens and Chris Bartlett have helped to collect data for a research effort led by Downeast Salmon Federation, The Nature Conservancy, and the Department of Marine Resources.
Education
Maine Sea Grant is partnering with NOAA's Northeast Fisheries Science Center (NEFSC) to provide opportunities for undergraduates to gain experience in the field of fisheries. In the summer of 2020, the partnership launched its Undergraduate Internships in Sea-run Fish Research.
Marine extension team members have also engaged in informal education programs for sea-run fish with primary, secondary, and post-secondary schools. Our goal is to help students understand the ecological value of connected coastal watersheds and robust populations of native sea-run fish. This understanding is critical to developing environmental literacy and inspiring future generations of sea-run fish stewards.
Staff
Chris Bartlett
Natalie Springuel
Justin Stevens
Gayle Zydlewski