Watershed Kiosks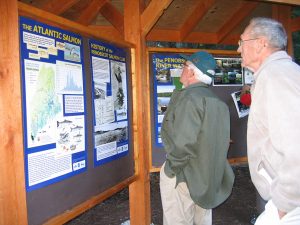 In 2006, staff at the NOAA National Marine Fisheries Service Maine Field Office initiated a partnership with Maine Sea Grant to produce content for two informational kiosks planned for the lower Penobscot River region. The Penobscot River watershed is currently the subject of an unprecedented restoration plan that will restore access to over 1,000 miles of rearing and spawning habitat for Atlantic salmon, alewives, sturgeon, and other species of sea-run fish.
The first two kiosks were installed in Bangor, along the Kenduskeag Stream Trail, and on the Bucksport waterfront. NOAA Fisheries constructed the kiosks and Sea Grant created the posters, which feature maps of the watershed and information on watershed ecology. Content is changed periodically (roughly annually).
In 2007, an three-panel kiosk was installed on the grounds of the historic Penobscot Salmon Club, featuring information on club history and Atlantic salmon. Additional partners in this project were the Penobscot Salmon Club and the Maine Council of the Atlantic Salmon Federation.
In 2008, as part of the Penobscot River Watershed Education Program, a kiosk was constructed on the Old Town waterfront and features content created by students at Old Town Elementary School.
In a separate but similar effort, Maine Sea Grant created two panels that are displayed at the Penobscot Narrows Bridge & Observatory at the Fort Knox historic site. These permanent fixtures provide information on the Penobscot Bay and Watershed.
Kiosk Posters