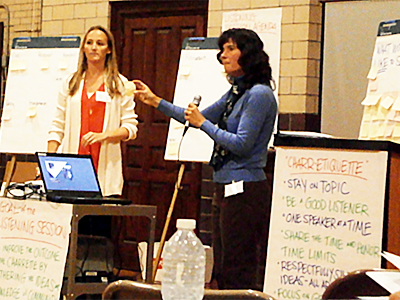 Customized Facilitation Training
Customized Facilitation Training designed with you to meet your group's needs
Facilitating groups successfully is a field of study as well as a skill set that requires dedicated training and practice. Whether your group has identified the need to increase awareness of key concepts and practice basic skills, or seeks to hone advanced skills in addressing difficult group situations, a training can be designed and delivered to help you meet your goals.
Depending on the needs, interests, and availability of your group, instructor Kristen Grant is available to work with you to develop training in formats ranging from a few hours to multiple days.
Aligned Missions
As a program of Maine Sea Grant and University of Maine Cooperative Extension, these services are offered to organizations whose missions align with that of our own, as determined by Kristen Grant and the organization's representative.
Minimum Number
A minimum of 12 participants are needed for any customized training.
Rates
The standard rate for customized training design and delivery is $125. Sliding scale available as appropriate.
Contact
Email Kristen Grant for more information