NOAA Coastal Management Fellowship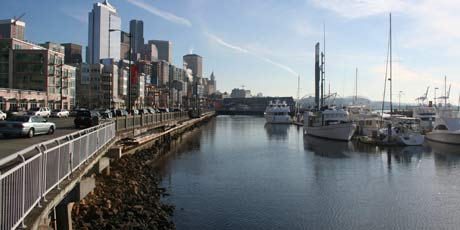 The Coastal Management Fellowship was established in 1996 to provide on-the-job education and training opportunities in coastal resource management and policy for postgraduate students and to provide project assistance to state coastal zone management programs. The program matches postgraduate students with state coastal zone programs to work on projects proposed by the state and selected by the fellowship sponsor, the National Oceanic and Atmospheric Administration (NOAA) Coastal Services Center. This two-year opportunity offers a competitive salary, medical benefits, and travel and relocation expense reimbursement.
This Opportunity is Currently Closed.
Note: The Coastal Management Fellowship Program is taking a pause for 2021 and will not be placing a class of fellows this year. The NOAA Office for Coastal Management is committed to this fellowship program and looks forward to being up and running again in 2022. If you have questions, please contact ocm.fellowships@noaa.gov.
The most recent application deadline was Friday, January 17, 2020, 5:00 PM EST
For an overview, please visit Coastal Management Fellowship, Office for Coastal Management.
For application guidelines and eligibility requirements, visit Fellow Eligibility and Selection.
Submit application materials to:
Coastal Management Fellowship Review Committee
Attn: Kathy Villarreal
Maine Sea Grant College Program
5741 Libby Hall Suite 110
University of Maine
Orono, ME 04469-5741
Email: Kathy Villarreal