The Oyster Trail of Maine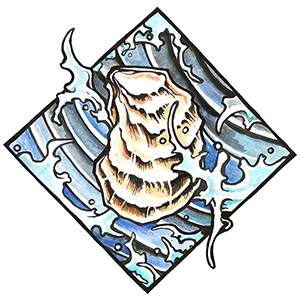 The Oyster Trail of Maine is an ongoing initiative of Maine Sea Grant, UMaine Extension, Maine Aquaculture Association, Maine Aquaculture Innovation Center, and In A Half Shell to build an educational experience for visitors and residents. Working closely with the aquaculture industry and the Maine Office of Tourism, in August 2017 we launched the first iteration of the trail, featuring some 30 oyster farms that indicated a desire to participate. We've identified more than 50 restaurants that highlight multiple varieties of Maine oysters, have a partnership with a local oyster farm, or regularly have Maine oysters on the menu.
For more information, contact Maine Sea Grant, 207.581.1435, or Sebastian Belle of the Maine Aquaculture Association, at 207.622.0136, or visit our Facebook page.
---
Learn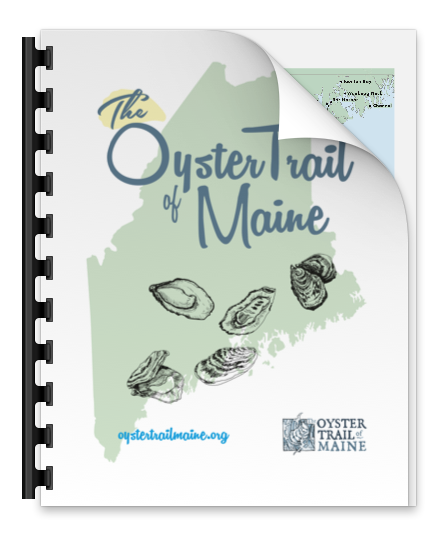 The American oyster, Crassostrea virginica, is native to Maine. Oysters were an important resource for the ancestors of the native Wabanaki people, as evidenced by ancient shell heaps like that at the Whaleback Shell Midden State Historic Site in Damariscotta.
Maine's oyster populations declined as a result of environmental changes and pollution. Beginning in the 1970s, scientists with the University of Maine and the Department of Marine Resources developed ways to grow oysters and restore them to Maine estuaries.
Today, Maine's oyster industry includes more than 70 farms along the coast from the Piscataqua River to Taunton Bay. Oysters are typically named after the location where they are grown, because their taste, size, and shape reflects local conditions like temperature, salinity, and phytoplankton (algae) in the water, which oysters eat by filtering water through their gills.
Find answers to frequently asked questions.
Read the fact sheet (accessible version)
View the Oyster Trail Map
Learn more about Maine oysters from the Maine Seafood Guide.
Learn more about the natural history of Maine's oysters from the Downeast Fisheries Trail.
Visit
Maine oyster farmers use a mix of traditional and modern methods to grow their products. Oysters require clean, cold water, and anywhere one finds an oyster farm is bound to be beautiful, whether up a tidal river, out in a bay, or along one of the coastal islands.
Maine oyster farmers are hard-working, resourceful, and knowledgeable; some have opened their aquaculture operations to visitors. Tour offerings are indicated in the farm's description on the map. Several companies have regularly scheduled tours:
Damariscotta River Cruises offers aquaculture tours aboard the 50′ River Tripper, including live music cruises, oyster tastings, and other special trips; also on the Damariscotta, Midcoast Kayak hosts self-propelled tours of the farms.
Nonesuch Oyster Company has an informative tour of the nursery and growout sites in the Scarborough River.
Oyster farms are private businesses. Please call ahead before visiting and be respectful of farmers at work on the water.
Eat
Some aquaculture companies sell oysters directly from the farm; many seafood markets sell locally grown oysters.
An ongoing list of retail outlets and restaurants that offer Maine oysters can be found in the Maine Oyster Trail map. The restaurants listed are those that serve Maine oysters regularly; serve multiple varieties of Maine oysters; and/or have a direct relationship with an oyster grower.
Maine oysters are sold under "brand" names that typically indicate the place where the oysters were grown, and this should be indicated at the point of sale. Ask the retailer or server for the origin of oysters if it is not provided.
Keep oysters cold! Purchased oysters should be stored in the refrigerator, packed loosely and covered with a damp towel. Eat within 14 days.
Oysters are filter-feeders and thus are vulnerable to bacterial pollution, chemical contamination, and harmful algal blooms (red tide), especially spring through fall. Oysters in the market and on the menu are safe, when purchased from a certified shellfish dealer. Check with the Department of Marine Resources for shellfish growing area closures; 1-800-232-4733 or 207-624-7727.
Eating raw oysters presents some risk of exposure to viruses and bacteria, especially for people with compromised immune systems.