Maine Seafood Guide – Oysters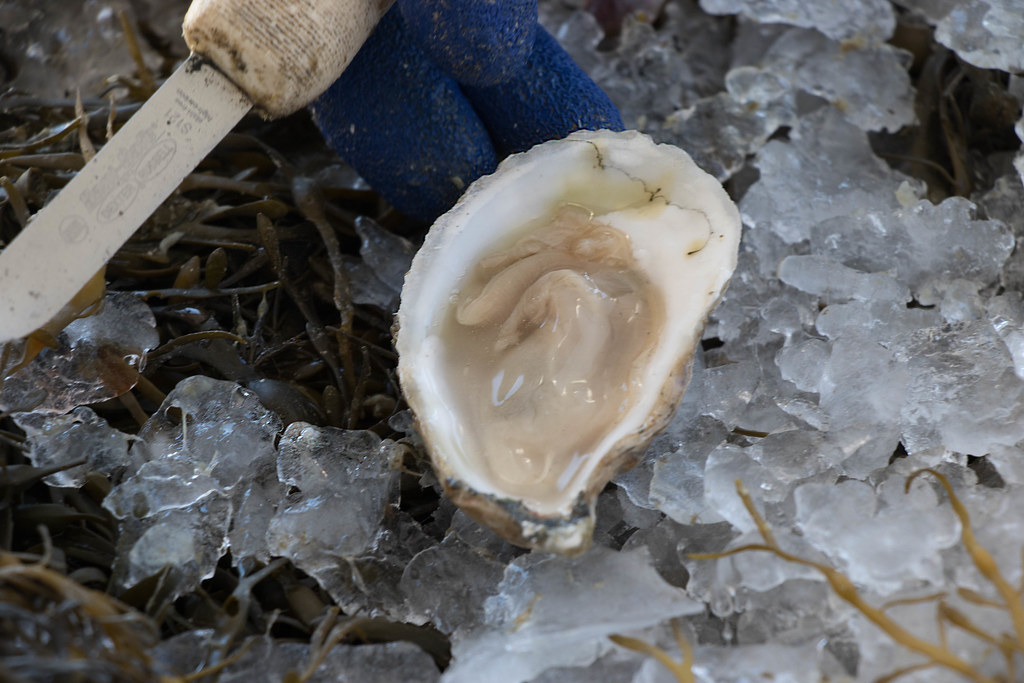 Species Description
Season
Status
Regulatory Authority
Harvest Method
Recreational Harvest
Health Benefits & Risks
Buying & Preparing
Brands
Certifications
Links
---
►Species Description
American or Eastern oyster Crassostrea virginica
European oyster Ostrea edulis also known as flat oysters, belons
Both species of oyster are cultured in tidal rivers and bays from hatchery-raised juveniles or "seed."
The Eastern or American oyster is a bivalve mollusk native to the east coast of North America. Oysters were consumed by Maine's first inhabitants thousands of years ago, as evidenced by massive, ancient shell middens along the shores of the Damariscotta River estuary. Climate changes, and later pollution, depleted populations of the shellfish in more recent times, but now they are back in Maine, thanks in part to University of Maine scientists, whose research helped the industry grow from a handful of enterpreneurs a decade ago to some 45 individuals who currently hold licenses to cultivate oysters in Maine.
Aquaculture has been less successful for European or flat oysters (belons), however a remnant population survives in the Damariscotta River and other growers are experimenting with this oyster, which can bring a higher price.
---
►Season
Some Maine oysters are available year-round, but they are more plentiful from spring through fall; some say they taste best in fall as they store fat and sugar in preparation for overwintering.
---
►Status
The annual harvest of oysters cultured in Maine waters is around three million.
---
►Regulatory Authority
Maine Department of Marine Resources.
---
►Harvest Method
Oysters are raised in "floating nurseries"—different types of mesh bins or cages that float on the water surface. Once oysters grow to about the size of a quarter, they are placed in new cages or else spread on the bottom to "grow out" to harvestable size of two inches or more. This usually takes about three years, but growing conditions vary from place to place. Oysters are then harvested by hand or with a small drag. See the vessel and gear guide for more information.
---
►Recreational Harvest
Maine growers lease areas of the state's coastal waters and raise shellfish as private enterprise; recreational harvesting is not permitted but some growers may offer tours of their farm. Because of cold temperatures, oysters do not usually reproduce in Maine waters. However, as water temperatures warm and in certain areas, spawning may occur and result in small pockets of wild oysters that, if large enough, may be taken with a shellfish harvesting license.
American oyster: Size limit is 2½-inch minimum along longest axis, one peck per person per day.
European oyster: Size limit is 3-inch minimum along longest axis. Harvest limit is one peck per person per day.
Towns may have more conservative size and harvest limits. Check town shellfish conservation ordinances for restrictions in the area you plan to harvest. 
Maine growers lease areas of the state's coastal waters and raise shellfish as private enterprise; recreational harvesting is not permitted on these sites.
For more information, visit the Maine Department of Marine Resources website.
---
►Health Benefits & Risks
Eastern oysters are low in fat and calories and provide an excellent source of zinc, iron and selenium. Eastern oysters are low in omega-3 fatty acids.

Oysters are filter-feeders and thus are vulnerable to bacterial pollution, chemical contamination, and harmful algal blooms (red tide), especially spring through fall. Oysters in the market and on the menu are safe, when purchased from a certified shellfish dealer. Check with the Department of Marine Resources for shellfish growing area closures; 1-800-232-4733 or 207-624-7727.
Eating raw oysters does come with some risk of exposure to viruses and bacteria, especially for people with compromised immune systems.
---
►Buying & Preparing
Maine oysters are sold under "brand" names that typically indicate the place where the oysters were grown, and this should be indicated at the point of sale. Some companies purchase oysters from different growers and "depurate" or store them in tanks of filtered water. While fine and safe, these oysters will not have the same flavor as a place-based oyster. Ask the retailer or server for the origin of oysters if it is not provided.
Purchased oysters should be stored in the refrigerator, packed loosely and covered with a damp towel. Do not pack in ice as the fresh water will kill the oysters. Use within 7 days.
---
►Companies, Brands, and Labels
Nonesuch (Scarborough River)
Basket Island (Casco Bay)
Hog Cove (Harpswell)
Flying Point (Freeport)
Winterpoint (West Bath)
Ebenecook (West Boothbay Harbor)
Pemaquid (Damariscotta River)
Glidden Point (Damariscotta River)
Otter Cove (Damariscotta River)
Hog Island (Damariscotta River)
Johns River (John's River)
Hockomock (Bremen)
Gay Island (Meduncook River)
Weskeag (Weskeag River)
Penobscot (North Haven)
Bagaduce (Bagaduce River)
Little Island (Bagaduce River)
Taunton Bay (Taunton and Hog bays)
Oak Point (Mill River, Harrington)
---
►Certifications & Verifications
None.
---
►Links
---
►Featured Harvester
Little Island