The Seaweed Scene 2013
The Seaweed Scene is a meeting to network with colleagues, catch up on the latest in research and development, and to help plan the future for seaweed science, management and industry.
The Seaweed Scene 2013 was held on August 29th from 9am to 4pm at the University of Maine's Hutchinson Center, in Belfast, Maine.  The day included presentations from science and industry experts, plenty of time for networking, and facilitated discussion to cover the important topics for the future of aquaculture and harvest of marine macroalgae.
Funding for the event comes from the Maine Aquaculture Innovation Center, with coordination through the Maine Sea Grant College Program, and University of Maine Cooperative Extension.
---
Presentations from the Seaweed Scene 2013 Meeting:
Proposal for Algal Industry Cluster in Maine
Bulking Sea Urchins with Seaweed
The Nexus of Coastal Social-Environmental Systems & Sustainable Ecological Aquaculture
Seaweed Farming in Long Island Sound – An Update from Connecticut
Seaweed on Shellfish Farms – another step forward
---
Publications of Interest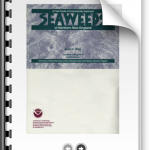 Field Guide to Economically Important Seaweeds of Northern New England
(originally published by the Maine/New Hampshire Sea Grant Marine Advisory Program in 1992)
"
A Field Guide to Seaweeds
is a sampling of selected seaweeds of the Maine/New Hampshire coast with suggestions on foraging and preparation, and tantalizing recipes for some of the more commonly used species.
A Field Guide for Seaweeds
is a must for everyone who loves exploring the shore and is fascinated by the plants and animals that live there."