Emerging Species for Seaweed Aquaculture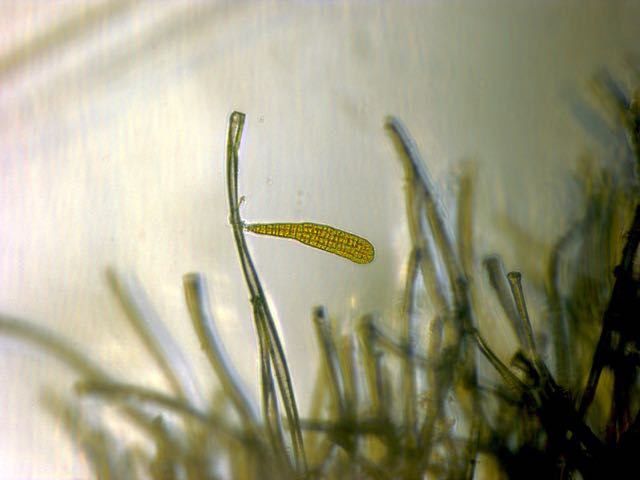 Emerging Species
The University of Maine's Center for Cooperative Research is home to the sea vegetable aquaculture nursery where new native species are being developed for aquaculture. Dulse (Palmaria palmata), laver (Porphyra umbilicalis), horsetail kelp (Laminaria digitata), gracilaria (Gracilaria tikvahiae), and skinny kelp (Saccharina latissima forma angustissima) are all in various stages of development.
A Maine Sea Grant supported research effort led by
Susan Brawley
of the University of Maine has been working to determine natural phenology of alaria, laver, and dulse along the Maine coast and developing nursery seeding and cultivation techniques. The Maine Aquaculture Innovation Center supported a project co-led by the University of Connecticut's Marine Biotechnology Lab and Maine Sea Grant to develop skinny kelp as a new crop for farmers in Maine. Skinny kelp is a unique strap-like morphotype of sugar kelp, found only on very exposed ledges in a few places in Maine. It is an exciting new cultivar, as it grows quickly, has a mild flavor and good texture, and a high yield. It has now been successfully cultivated for two seasons, with commercial production planned for the future.
Gracilaria tikvahiae is a warmer water sea vegetable that is found in Maine in shallow warm embayments in the summer months. It is a valuable agarophyte and sea vegetable cultivated around the world. Cultivation of gracilaria is being explored on land and at sea, as part of an integrated multi-tropic aquaculture system, and as an alternative summer species. Another warm water brown seaweed species that could be a candidate for aquaculture in southern New England and south is Sargassum. Maine Sea Grant has created a Sargassum cultivation manual for those looking for a warmer water species. This species is not native to Maine, and is not considered for culture here. Any type of seaweed aquaculture must be based on native species only, and it is important to use local parent plants for seed stock, to maintain natural local genetic diversity.