Seaweed Aquaculture Industry Overview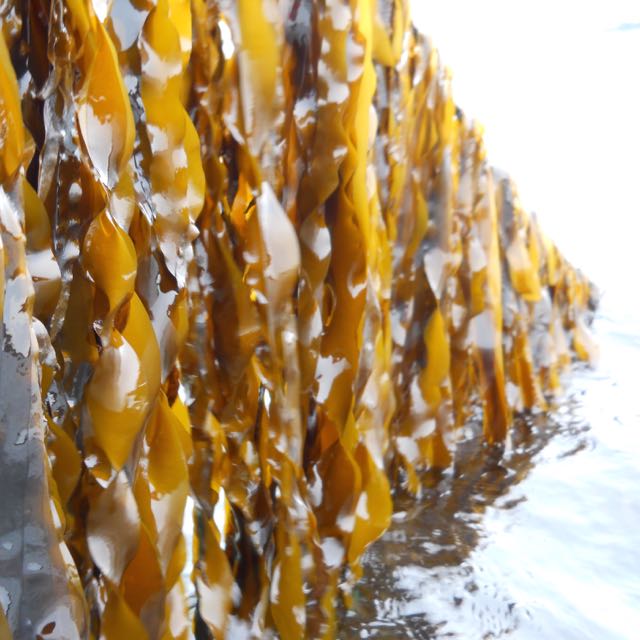 Sugar kelp (Saccharina latissima) was the first commercial kelp crop to be cultivated in Maine in 2010, with other native species under development since then. Maine Sea Grant and the University of Maine's Center for Cooperative Aquaculture Research (CCAR) has played a critical role in the development of this new industry, supporting a variety of research and development projects that have helped to grow kelp on shellfish farms along the coast, started new farms, provided seed to new farmers, supported research for the development of new crops, supported development of a sea vegetable R&D nursery at CCAR in Franklin, and supported the Maine Seaweed Festival. Maine farms have successfully cultivated Saccharina latissima, Saccharina latissima forma angustissima, and Alaria esculenta, and new species Porphyra umbilicalis, Palmaria palmata, Gracilaria tikvahiae, and Laminaria digitata are under development.
Education, research, non-profit, and organizational entities are all working to explore seaweed aquaculture in Maine. The University of Maine, along with partners, is conducting seaweed aquaculture research through the SEANET program, a five year effort that is working to support the development of ecologically sustainable aquaculture in Maine. Maine Sea Grant and partners at the Maine Aquaculture Association, CEI, Maine Aquaculture Innovation Center, and Island Institute have been providing seaweed and shellfish aquaculture training to coastal fishing communities through the Aquaculture in Shared Waters program. The Herring Gut Learning Center in Port Clyde has developed kelp aquaculture curriculum around their mini-farm, and other educational efforts are being made around the state to explore seaweed and aquaculture. The University of Maine's Darling Marine Center is home to a seaweed nursery for a nearby farm, and the University of Maine at Machias is developing a kelp nursery to support education and kelp aquaculture in the downeast region. The University of New England is building seed capacity and conducting research, as is the Bigelow Laboratory for Ocean Science.
Sea vegetable aquaculture is still in a research and development stage in Maine. As new crops are being developed and explored, the necessary infrastructure will need to be developed to support harvest, processing, and marketing of the new products. Each year represents a major step forward as we explore all aspects of production, determine the needs, and build into the future. We have made great progress thus far, and are well on the way to building a viable, sustainable new industry for Maine.