Coastal Community Resilience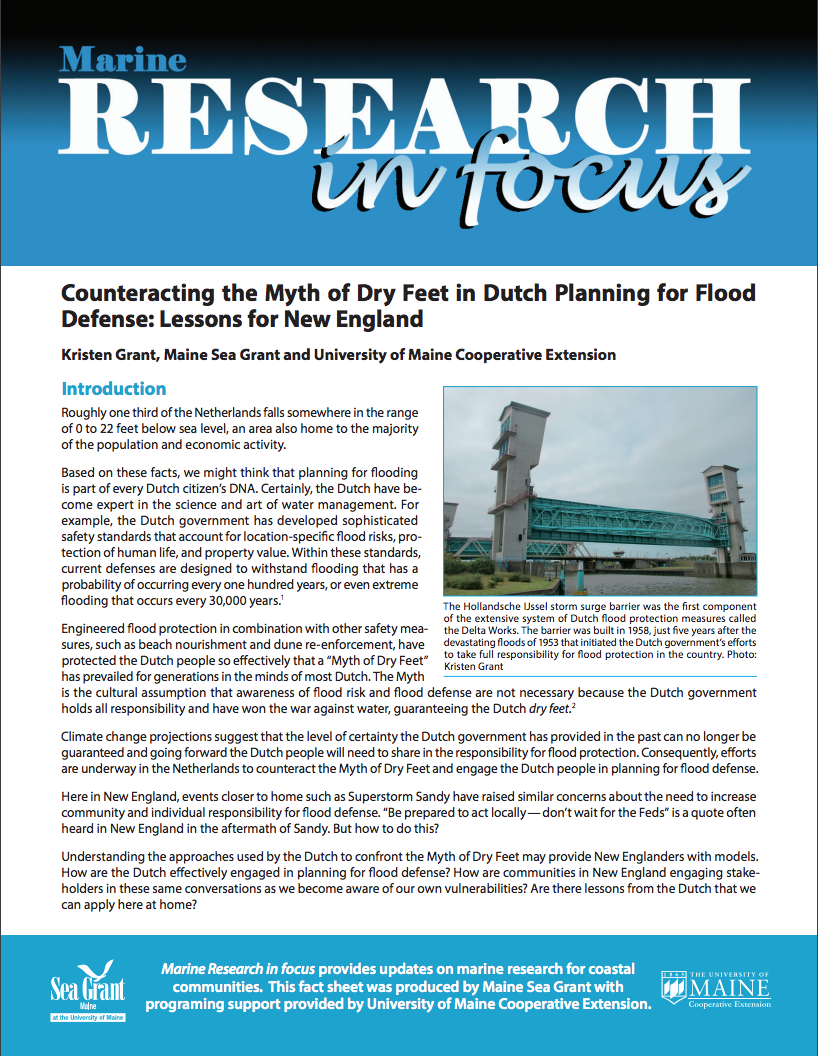 Coastal residents and towns need strategies to address climate change and its effects on sea-level rise, shoreline erosion, and coastal flooding. Extreme weather events can cause millions of dollars in damage and threaten coastal ecosystems and local economies. The Building a Resilient Coast project seeks to provide stakeholders with easy access to information to facilitate planning for climate and hazards impacts.
RESEARCH: Understand the approaches used by the Dutch to engage stakeholders in planning for flood defense. The research findings shared in Counteracting the Myth of Dry Feet in Dutch Planning for Flood Defense: Lessons for New England may provide models we can apply here at home. (Click to download the accessible version PDF)
WATCH: Hear and see what your neighbors, town officials, and scientists have to say about sea-level rise, coastal flooding, and erosion; what it means to you; and what you can do about it in the five-part documentary, Building a Resilient Coast: Maine Confronts Climate Change, produced in partnership with Oregon Sea Grant.
Contact our office for a free copy.
TAKE ACTION: Learn how you can help protect your coastal property with the Maine Property Owner's Guide to Flooding, Erosion, and Other Coastal Hazards.
LEARN MORE: Our continued work in this area is a result of a two-year NOAA-funded research project, Climate Variability and Coastal Community Resilience: Testing a National Model of State-based Outreach, to assess the resilience of coastal communities in Maine and Oregon. For a summary of the project, read the executive summary (Summer 2011; 2.5 MB) and final technical report (August 2010; 1.6 MB).
The project had several objectives:
to explore how climate variability and coastal hazards may be affecting the Maine coast and how these relate to coastal development;
to encourage and facilitate collaboration among and between decision-makers and coastal property owners to determine and implement appropriate responses to climate variability on short and longer timescales; and
to discover the barriers to taking action to prepare for or mitigate the effects of climate variability.
The ultimate goal of the project is to move behavior toward decisive action that results in coastal communities that are more resilient to climate variability at all scales.
Partners include Maine Geological Survey, University of Maine Cooperative Extension, Climate Change Institute, and the Maine Coastal Program.