Beach Profiling Data Uses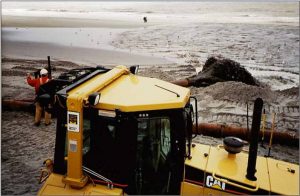 Beach Profile Data Informs Beach Management
Beach profiling data is used to inform beach management decisions and to monitor the success of management programs. Here are some examples of how beach profile data has been used:
Willard Beach, S. Portland: design of dune restoration and walkover/path improvements.
Higgins Beach, Scarborough: evaluation of replacement seawall options.
Western Beach, Scarborough: evaluation of beach nourishment efforts and monitoring spring tide berm and colonization by dune grass.
Ferry Beach, Saco: assessment of accelerated erosion rates since 2005, and investigations of new erosion mitigation technologies.
Wells Beach, Wells: evaluation of beach nourishment project in association with the dredging of Wells harbor.
Drakes Island Beach, Wells: review of Natural Resource Protection Act permit application to remove cobbles from seawalls.
Ogunquit Beach, Ogunquit: town planning and negotiations for dune fence replacement and management for endangered piping plover.
East Grand Beach, Scarborough: review for landmark regulatory decision for building renovations and dune restoration at a resort in Old Orchard Beach.
Scarborough Beach, Scarborough: assessment of recreation potential of the beach during different seasons, and estimation of the beach's carrying capacity in summer.
Ferry Beach, Saco: reference as one of the few data sources that could be used to monitor proposed beach nourishment by the Army Corps of Engineers.