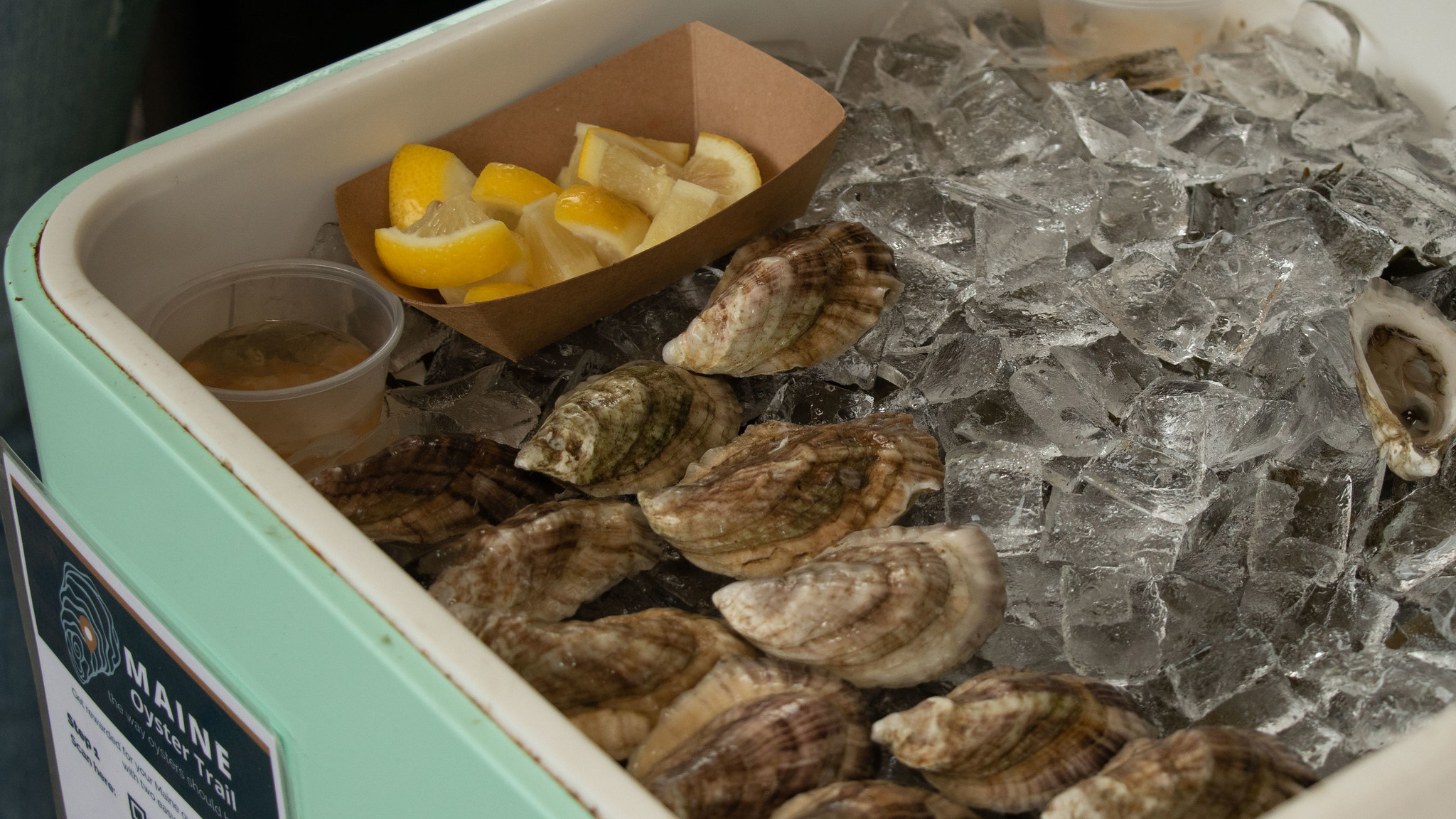 Buoy Maine celebrates project successes
Maine Sea Grant and partners celebrated the successes of Buoy Maine, a pitch competition designed to foster innovation and entrepreneurship and support coastal communities during the global pandemic. At a special outdoor event held at Marshall Wharf Brewery in Belfast, representatives of each of the ten funded projects shared progress details and future directions for their work. 
"We would not be here today without the start-up funding that we won from the pitch competition," said Libby Davis, co-owner of the Lady Shuckers mobile raw bar. Lady Shuckers highlights and sells products that are produced by women and minority-owned businesses and sea farms in Maine. "We saw a gap in the industry to bring the product to the consumer in a more creative way."
In October 2020, Buoy Maine awarded nearly $130,000 to ten projects to help better address the challenges of operating a business during the COVID-19 pandemic. Some projects, such as a skincare product containing protein from lobsters, were already underway and used the Buoy Maine award to better support innovation efforts during the pandemic. Other projects used the award as start-up funding or to develop prototype products. 
The walking tour company Red Cloak Tours, for example, developed a new Seafood Discovery Tour conducted over the telephone in six different towns throughout the coast of Maine. Guests would travel to a location and call in to Red Cloak Tours to learn more about the history of the Maine seafood industry specific to the area. These tours also ended with either a boat ride to an oyster farm, a lobster hauling demo, or seafood-based appetizers at a local restaurant. 
"We tried to promote the [diversity] of seafood that Maine has to offer," said Red Cloak Tours owner, Sally Lobkowicz. Her work has also inspired at least one other tourism company, which adopted their hybrid tour format. 
"Buoy Maine is about redefining how we are able to do our work during the COVID-19 pandemic," said Maine Sea Grant Director Gayle Zydlewski. "We hope the innovation these projects tapped into continues to have a positive impact for Maine's coastal communities and businesses into the future."
Original pitches from the ten winning projects as well as video updates from the celebration can be found on the Maine Sea Grant website.
Funding for the awards came from the NOAA-National Sea Grant College Program as part of a 2020 COVID Rapid Response effort, Maine Technology Institute, Maine Aquaculture Innovation Center, Maine Community Foundation, and Bangor Savings Bank.
---
Posted 15 December 2021