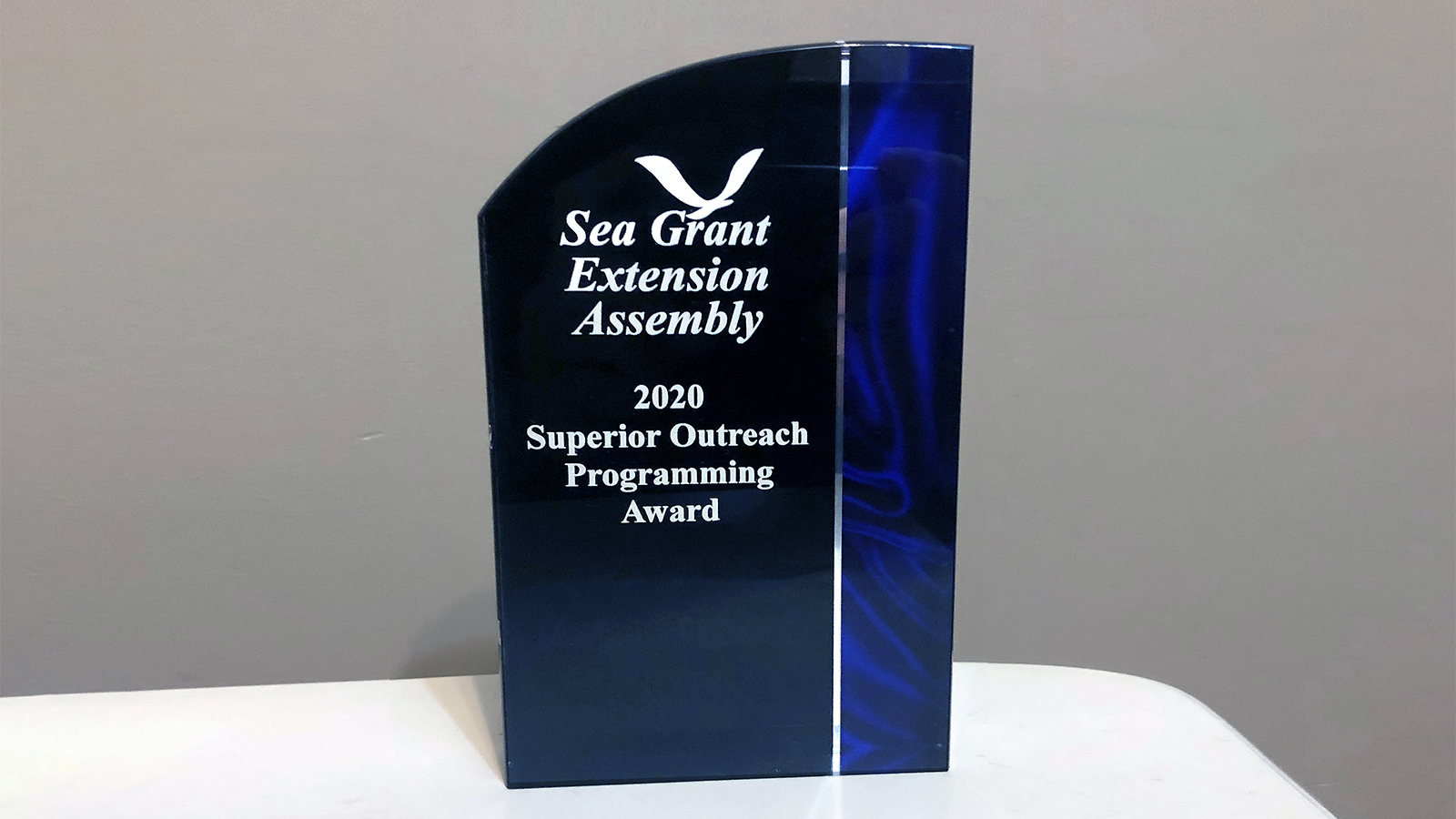 Aquaculture in Shared Waters receives top honors from National Sea Grant award program
Aquaculture in Shared Waters, a program that prepares fishermen and others to start aquaculture ventures in Maine, received a Sea Grant 2020 Superior Outreach Programming Award from the Sea Grant Extension Assembly. Superior Outreach Program Awards recognize projects and programs that can serve as an example across the entire National Sea Grant network. 
"We've worked together as a team since 2012 on this project," said Maine Sea Grant Marine Extension Associate Dana Morse, who accepted the award on behalf of Maine Sea Grant and our program partners during a virtual ceremony on October 15.  
The Aquaculture in Shared Waters team includes Dana Morse, Chris Bartlett, Jaclyn Robidoux, and Natalie Springuel from Maine Sea Grant; Sebastian Belle from the Maine Aquaculture Association; Nicholas Branchina and Hugh Cowperthwaite from Coastal Enterprises, Inc.;  Teresa Johnson and Caitlin Cleaver from the University of Maine; and Chris Davis and Anne Langston Noll from the Maine Aquaculture Innovation Center, both of whom are aquaculture producers.
"We really do combine expertise. And not only have we done that over the course of years, we've shared leadership of the program," said Morse. "We have truly supported one another, and that has lent credibility to the program. It's brought the program deeper into all of our organizations." 
Since 2013, Aquaculture in Shared Waters has provided training, technical support, and networking opportunities to about 250 individuals. Maine Sea Grant has documented 30 new aquaculture businesses established with support from the program, as well as more than 100 jobs that were established, expanded, or retained as program participants began working in the aquaculture field, added new species to their existing businesses, or expanded their harvest seasons.
Aquaculture, the practice of farming aquatic plants and animals, is an $88.4 million dollar industry in Maine. As demand for local seafood rises, aquaculture provides commercial fishermen the opportunity to expand their businesses and enter new markets.
Aquaculture in Shared Waters was developed in partnership with team member organizations and is now supported by the Maine Aquaculture Hub. Current programming focuses on sustainable practices and has expanded to virtual formats in order to engage potential aquaculturists all along the Coast of Maine.
The Superior Outreach Award honors superior leadership, teamwork and accomplishment by extension personnel engaged in an exception outreach program. Maine Sea Grant would like to share the award and acknowledgement with our partners who together make this a truly excellent program. 
---
Posted: November 10, 2020