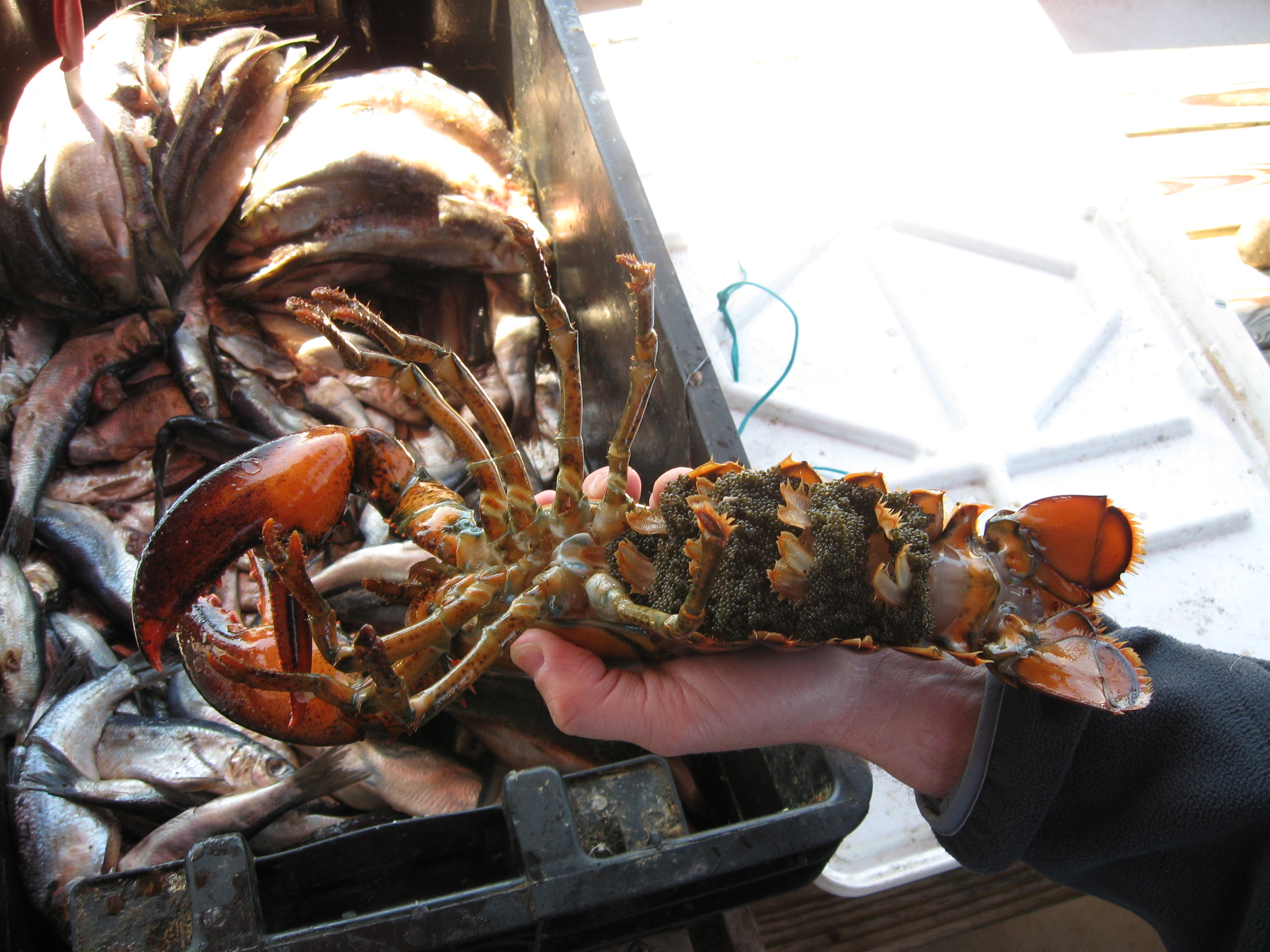 Maine Sea Grant, UMaine advance $2M initiative aimed at increasing resilience in the lobster fishery
The Maine Sea Grant College Program and University of Maine scientists Rick Wahle and Damian Brady are project leaders in the $2 million Sea Grant American Lobster Initiative from the National Oceanic and Atmospheric Administration and National Sea Grant to understand physical and chemical changes affecting American lobster in the Gulf of Maine. 
The initiative supports scientific research and a four-year regional lobster extension program. Seven new research awards will address critical gaps in knowledge about American lobster responses to environmental change and how to provide opportunities to increase economic resilience and adaptation in the lobster fishery. 
In addition to Wahle and Brady at UMaine, awards were made to investigators at the Gulf of Maine Research Institute, Wells National Estuarine Research Reserve, Massachusetts Division of Marine Fisheries, and Virginia Institute of Marine Science, working in collaboration with partners throughout the region.
Maine Sea Grant will provide regional leadership and coordination for the four-year lobster extension program, which includes awards to Maine, New Hampshire, MIT, Woods Hole, Rhode Island, Connecticut, and New York Sea Grant programs. 
These awards will support efforts to facilitate partnerships, communication and collaboration among the lobster industry, management agencies and lobster scientists throughout the region and help to ensure that coastal communities benefit from the funded research.
Gayle Zydlewski, Maine Sea Grant director and a professor in UMaine's School of Marine Sciences, said this opportunity showcases Sea Grant's approach to science — being responsive to people's needs.
"This regional project grew out of efforts in collaboration with the Maine Department of Marine Resources, who started their own lobster research collaborative to address Maine's needs for the industry," she said.
"We look forward to building on those efforts across the Northeast by working with researchers, managers, and the lobster industry to assure that lobster science is used throughout the region."
"The Sea Grant American Lobster Initiative will target critically important areas of concern for our most valuable fishery," said Carl Wilson, director of the Maine Department of Marine Resources Science Bureau. 
"It will also reinforce and amplify efforts in Maine, and regionally, to ensure the resilience of the resource, and the ability of managers to adapt to changes in the dynamic marine environment."   
Together, the research and extension components of this initiative are expected to shed light on how to preserve the important iconic fishery. Today's estimated landed value of the American lobster (Homarus americanus) fishery is more than $666 million.
Rick Wahle, director of the University of Maine Lobster Institute and a research professor in the School of Marine Sciences, was awarded a two-year $399,293 grant to examine the seemingly contradictory disconnect between historic highs in lobster egg production in the Gulf of Maine with lows in young-of-year (born within the past year) recruitment.
"This project will help us test the idea we've advanced that before larvae even settle to the sea bed their survival is limited by the supply of planktonic food in the pelagic food web," he said.
"We're conducting field studies to examine the association between lobster larvae and zooplankton prey. And in the lab, we'll put new molecular tools to work to identify prey that field-collected larvae have consumed. The timing couldn't be better as this National Sea Grant project complements the work just beginning under UMaine's new environmental DNA initiative supported by the NSF (National Science Foundation)."
The interdisciplinary team will use an existing 30-plus-year data set, as well as targeted high-resolution field sampling, novel molecular diet analysis and laboratory experiments. Together, the approaches could clarify the American lobster's link to the ocean food web, said Wahle.
"Opening up the black box of lobster larval feeding ecology may help us better understand the links between changes in the Gulf of Maine's ocean environment and change in its iconic lobster fishery, a key economic driver in our coastal communities," he said.
Team members are David Fields and Peter Countway of Bigelow Laboratory, Rachel Lasley-Rasher of the University of Southern Maine, Joshua Carloni of the New Hampshire Fish and Game Department and Paul Geoghegan of Normandeau Associates, Inc.
Brady was awarded a two-year $399,994 grant to explore the potential effects of warming on the early life history of the American lobster. 
"At the end of the day, the fate of the American lobster fishery is intertwined with Maine's marine resource and tourism economy, so understanding where larval lobsters end up in a changing Gulf of Maine is critical to Maine's future," said the UMaine associate professor in the School of Marine Sciences.
While North America's most valuable marine species has thrived for decades, Brady said there are growing concerns that regional maritime economies will suffer because of a decline of shallow water young-of-year lobsters and because of lobster landings shifting to the Northeast. 
Brady and colleagues will examine how climate-induced shifts in larval development time and settlement habitat affect lobsters' early life history.
They'll develop a modeling system to examine effects of three key moving targets: location and timing of spawning; larval transport; and the distribution/suitability of settler habitat, which is above 12 degrees C (53.6 F) and below 20 degrees C (68 F).
This modeling system will provide the foundation for the eventual development of an end-to-end modeling system that links climate to physics to habitat to lobsters to fisheries.
Brady's colleagues are Huijie Xue and Lewis Incze of UMaine; Rubao Ji of Woods Hole Oceanographic Institution; Changsheng Chen of the University of Massachusetts at Dartmouth; and Kenneth Rose of the University of Maryland.
Additional research supported through the American Lobster Initiative includes:
Alexa Dayton of the Gulf of Maine Research Institute will examine lessons to be learned from the severe declines in lobster and lobster fisheries in Southern New England in 2010 and Australia in 2009. Her team will assess what management adaptations were considered or acted upon and how the Gulf of Maine lobster fishery can seek to prevent a significant economic contraction in the face of expected declines in landings and increases in operating costs.
Tracy Pugh of the Massachusetts Division of Marine Fisheries will work to fill in gaps in growth data, particularly for large offshore lobsters, in the U.S. Lobster Stock Assessment. The ability of the stock assessment to accurately assess the status and trajectory of lobster is critical to its sustainable management, she says.
Emily Rivest of the Virginia Institute of Marine Science will research how changes in temperature and ocean acidification affect lobster fertility and the ratio of the number of births to the size of the population. The team's findings will be used to improve estimates of the effects of multiple stressors on natural systems in the Gulf of Maine and provide baselines for representative physiological markers for future work.
Kathy Mills of the Gulf of Maine Research Institute will examine data and case studies to understand consequences of the major downturn in the Southern New England lobster fishery. The team will evaluate how lessons may be applicable to lobstermen and communities in the Gulf of Maine, and be relevant in planning for resilience and adaptation in culturally, socially and economically important fishing communities.
Jason Goldstein of the Wells National Estuarine Research Reserve will assess the impacts of warming water on the movements of sexually mature female lobsters, and the fate of their larvae. In Southern New England, lobsters have moved to deeper, cooler offshore water. The same trend, he says, appears to be underway in the Gulf of Maine. His team seeks to be able to better predict impacts of the changing climate on the future of this valuable marine resource.
The focus of this research is based on specific language in the NOAA National Sea Grant Program's FY2019 Appropriations, and the research and extension competitions were informed by listening sessions with regional fishing industry stakeholders, state and federal fisheries managers, and university, state and federal fisheries researchers. 
NOAA's full release about the Sea Grant American Lobster Initiative and the Sea Grant Northeast Regional Lobster Extension Program is here.