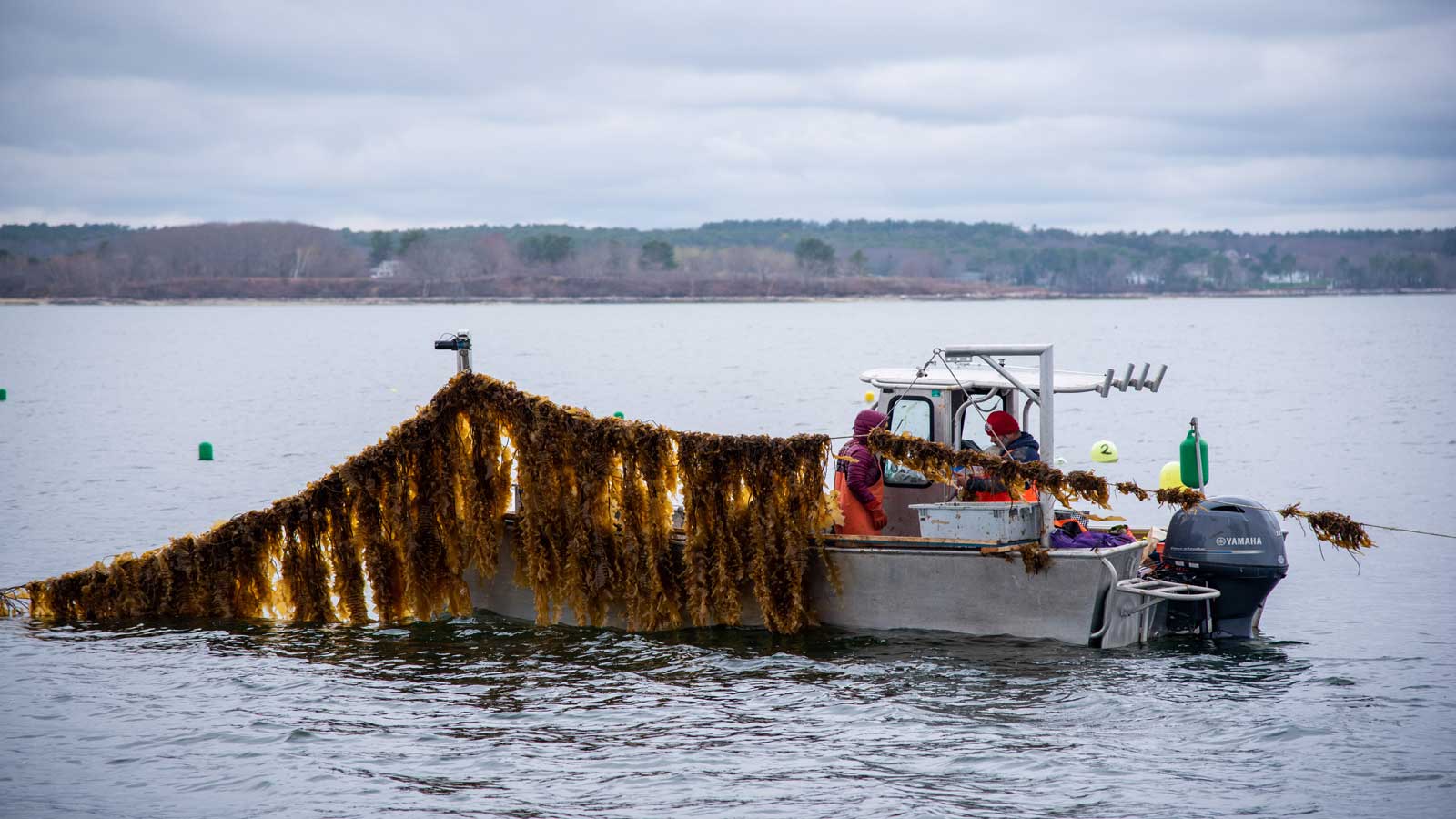 Maine Sea Grant hosts 2023 National Seaweed Symposium
Seaweed farmers, regulators, educators, researchers, students, and culinary professionals from around the country convened in Portland, Maine this April for the 2023 National Seaweed Symposium. Organized by the Sea Grant National Seaweed Hub and hosted by Maine Sea Grant, the symposium provided a platform to discuss the status and future of seaweed aquaculture and harvest in the United States. 
"We're excited to host the 2023 conference in Maine," said Jaclyn Robdioux, Maine Sea Grant seaweed extension associate and conference organizer. "Maine currently leads the U.S. in seaweed production, providing over 60% of the nation's farmed kelp. There's a lot of innovation taking place in our state and we're excited to create opportunities for folks to experience this firsthand."
Commercially, seaweed is harvested for foods and packaged goods and is used in cosmetics, animal feed, and food supplements. Though there is demand for seaweed around the world, the U.S. makes up less than one percent of the total global seaweed production. 
The symposium allowed participants to share information to better understand the current status of seaweed aquaculture, production systems, opportunities of the up-and-coming domestic seaweed industry, and environmental benefits. For example, seaweed requires carbon dioxide to grow and survive, which they take in through surrounding waters — meaning kelp farms have the potential to improve local water quality and defend against ocean acidification. 
Kristen Isfeld, a kelp farmer in Maine as of 2021, attended the symposium with the hopes of making connections and absorbing information from others in the seaweed sector. "This is the first time I've felt really engaged in the industry," said the owner and operator of Latitude 43 seaweed farms. "This conference was fantastic! It was sciency, it was on the ground, and it talked about the reality of seaweed farming."
Educator Genna Black also found the symposium valuable. Black is a science teacher at Belfast Area High School's Marine Institute, where students have the opportunity to learn about aquaculture at the school-owned kelp farm. 
"We are new to kelp farming, as we are on the brink of our first harvest, so having the ability to get in touch with folks who are experienced is a major benefit to us," said Black. "First, I was there to make connections within the seaweed industry to let folks know what we were up to with our kelp farm, but also to make connections with people who can assist us as we learn more about running our own kelp farm. Having contacts in the industry will help us tailor our education to our students to be as relevant as possible for those hoping to join the aquaculture industry, but also to keep up with changes as they occur. […] Many of the topics we discussed at the symposium are things that I will be wanting to address directly in lessons with students around the kelp farm."
The three-day event included presentations, unique field trips, networking sessions, and a showcase that included seaweed art, food, research, gear, and opportunities to network at Maine Seaweed Week events. The symposium was scheduled to coincide with Maine Seaweed Week to offer additional opportunities for participants to experience Maine's local food industries and celebrate kelp harvest. 
"Seaweed is a second chance for us to do better, seaweed aquaculture is a way to regenerate the planet," said Atlantic Sea Farms' President/CEO Briana Warner, who was a keynote speaker at the event. "To me, seaweed aquaculture represents a sense of hope and sense of redemption, and it's not the answer, but it is an answer."