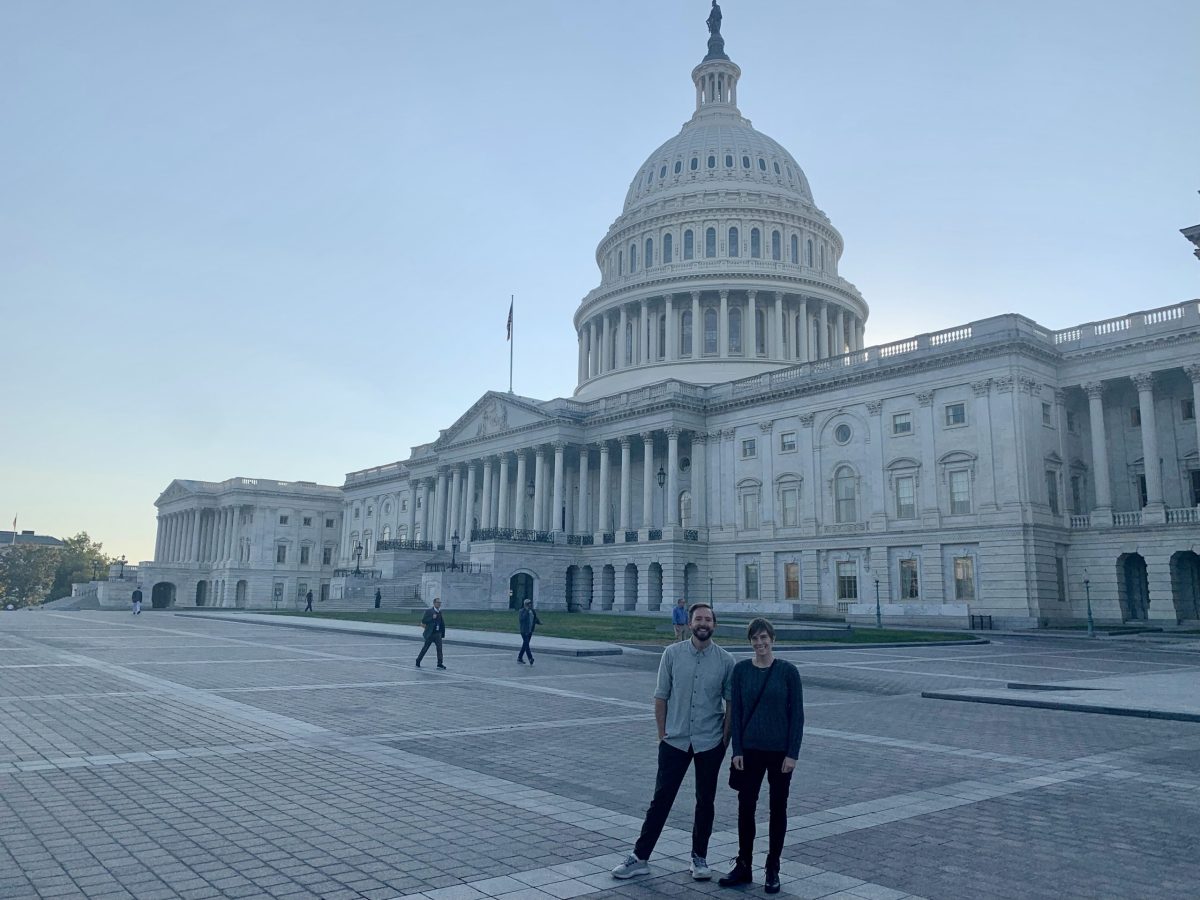 Career Paths and Knauss: How the Knauss Fellowship shaped my career
Contributor: Lauri Leach, University of Maine graduate supported by Maine Sea Grant and former Knauss Fellow
A friend and I were recently discussing career paths, and she said that when it comes to careers, people can either be eagles or moles. Eagles, with their keen eyesight, can see what they want, even if it's far away, and they go straight for it. Moles, however, are blind and have tended to explore different options until they find the right path. 
I have always been more of an eagle. I was one of countless children that wanted to work with marine mammals when I grew up. I loved Flipper and Free Willy, and, despite my guidance counselor freshman year of high school telling me that "no one graduated from our school wanting to work with marine mammals" and that he was "sure I'd change my mind," I never let go of that childhood dream.
In college, I started volunteering for a marine mammal rescue and rehabilitation program and spent several years working as a veterinary technician to learn more about animal medicine. I grew interested in marine mammal conservation, so I moved to Hawaii and studied Hawaiian monk seals, an endangered species of seal that faces many threats but is slowly making a comeback. I wanted more experience living on a remote island, where I could appreciate the wildness, beauty, and importance of a truly natural place, so I spent some time studying shorebirds at Monomoy Island National Wildlife Refuge. I wanted to gain experience with whales, so I ended up studying the critically endangered North Atlantic right whale, both in their calving grounds off the coasts of Florida and Georgia and in their feeding grounds in Cape Cod Bay. The list goes on – I spent years slowly acquiring new skills and experiences, hoping that one day I would be able to find a permanent job with marine mammals.
I began graduate school at the University of Maine in 2019, where I first became involved with Maine Sea Grant. My work was focused on how restoration efforts in the Penobscot River affected predator-prey interactions between seals and fish. As part of that, I got to conduct surveys of the estuary with Maine Sea Grant's sea-run fish ecosystem project coordinator, Justin Stevens. This experience helped broaden the focus of my work from marine mammals to the ecosystems they are a part of, and our findings had real management implications that could benefit the Penobscot and similar river systems worldwide. 
When I wanted to learn more about the intersection of science, management, and policy, I turned to the Knauss Fellowship. This Sea Grant program is a year-long, paid fellowship that places graduate students with host offices in the legislative and executive branches of the federal government. The fellowship gives students the opportunity to work on the latest issues in ocean, coastal, and Great Lakes management and research. Because you don't have to be a subject matter expert to be placed in a particular office, it is a unique opportunity to try something new for a year – but the eagle in me knew exactly where I wanted to go. Although I was faced with dozens of exciting potential placement offices, I ultimately decided to continue in pursuit of my goal to work with marine mammals. 
I had the opportunity to spend my Knauss Fellowship at the Marine Mammal Commission, a small federal agency dedicated to the conservation of marine mammals and their ecosystems. As a fellow, I engaged on marine mammal issues all over the country. I helped analyze federal actions and proposed rules that affect marine mammals, drafted formal recommendation letters to federal agencies , and improved my science communication skills by participating in Congressional briefings, creating educational materials, developing website content, and writing articles for our quarterly newspaper. I had the opportunity to contribute to a scientific publication about climate change impacts to marine mammals and got to network with marine mammal scientists and managers across the U.S. 
The Knauss Fellowship has opened doors and helped launch my career. A few months after my fellowship, the Marine Mammal Commission brought me back onboard as a policy analyst. Now, I get to use the skills I developed during the fellowship while I pursue many of the interests I have developed over the years. Some of the issues I get to work on involve reducing human-caused threats to North Atlantic right whales, improving marine mammal stranding response worldwide, addressing the impacts of  climate change, and ensuring that marine mammal research is credible and humane. Somehow, the Knauss Fellowship led me to a place where I can use the hodgepodge of experiences I have had over the years to help protect marine mammals in the U.S. and abroad. 
Reflecting back on my friend's eagle-or-mole description of career paths, I don't really think it has to be one or the other. I might be more of a squirrel…collecting different skills and experiences over the years and can now spend the "winter" benefitting from all of the time and energy I have spent preparing. Regardless, I think the journey is what's important and is ultimately what lets you appreciate the destination. I never envisioned a position like the one I have existed, and I feel so grateful for Maine Sea Grant, for Knauss, and for the entire journey that brought me here.
Posted 25 November 2022