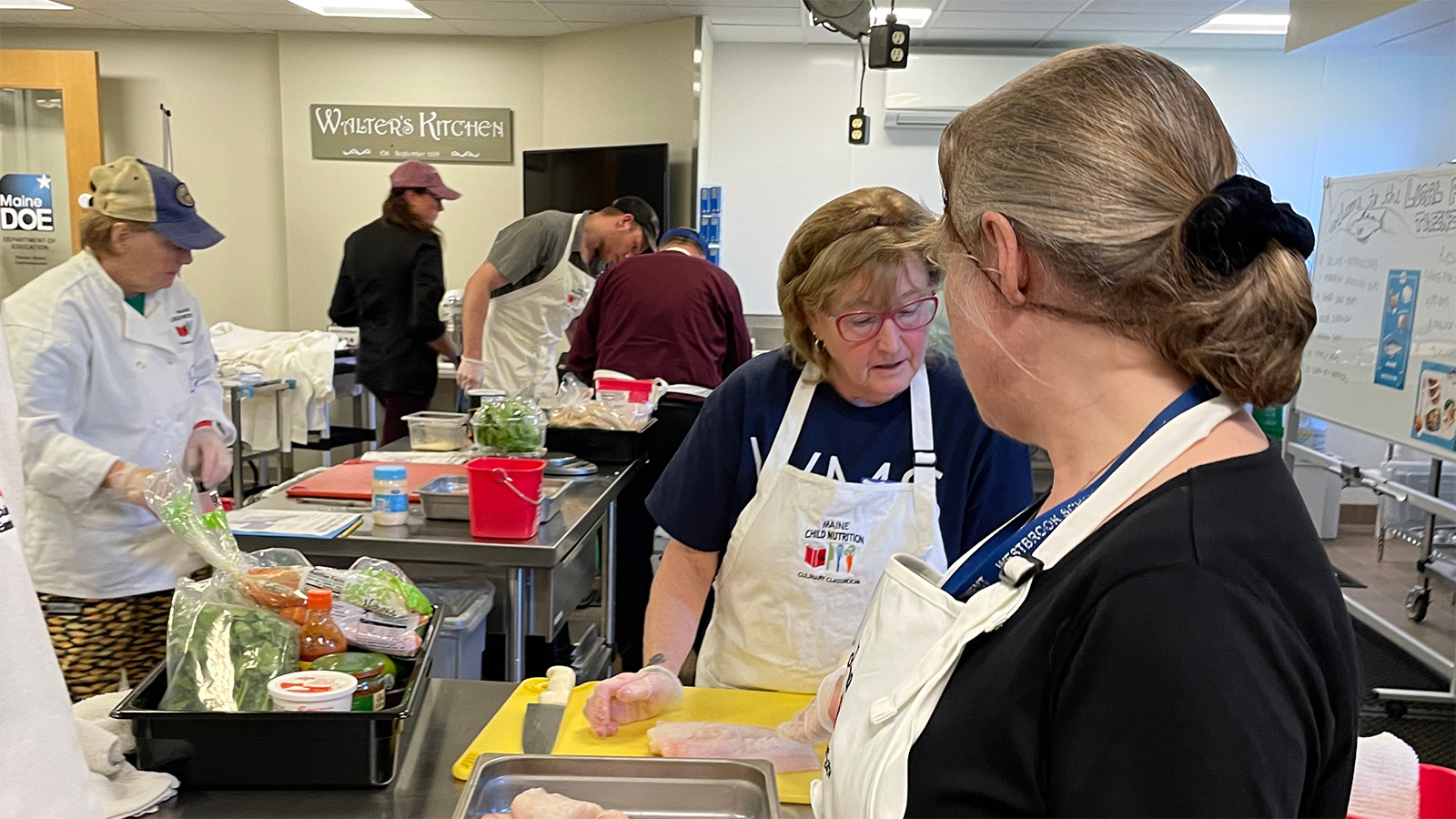 Monkfish on the Menu
Contributor: Keri Kaczor, Environmental Literacy and Workforce Development Program Manager, Maine Sea Grant
School food service directors and kitchen managers gathered at the Maine Department of Education's (DOE) Culinary Classroom in Augusta, Maine. At the head of the classroom, Chef Rob Dumas demonstrated how to safely handle and store fish, how to portion a monkfish filet, as well as how to prepare hake fish cakes.
"I learned a lot. I feel like we have some great ways to present these fish to the students," said J. Stanley from Sheepscot Valley Regional School District 12. Stanley participated in one of two trainings that provide food service workers with the skills and knowledge to prepare locally caught species of seafood at the quantities needed to serve their schools.
Maine Sea Grant teamed up with Robin Kerber, lead for DOE Child Nutrition Program's Farm and Sea to School Program; and Chef Rob Dumas, University of Maine Chef; to develop trainings that will ultimately allow locally caught fish (hake, pollock and monkfish) to be more easily integrated into Maine school menu plans. 
October is National Seafood Month, and the U.S. Food and Drug Association and the  Seafood Nutrition Partnership recommend eating seafood at least once per week. This is especially important if you are young, as seafood has essential nutrients for developing brains. Maine seafood is a local healthy protein option. 
The trainings are the latest activities associated with the Fishermen Feeding Mainers program, which was started by the Maine Coast Fishermen's Association in 2020 as an intentional life-line to support Maine's dwindling groundfishing industry. The Fishermen Feeding Mainers program bought fish from Maine fishermen, who were hit hard by disruptions like COVID-19, trade tariffs, dramatic price-swings, and shifting markets.  Then the program donated the fish to the food insecure (via Good Shepard Food Bank) and schools across Maine. Currently, 36 districts feed their students fresh, locally sourced fish through the Fishermen Feeding Mainers program. Further, the program uses under-utilized, sustainable, and abundant groundfish species from the Gulf of Maine. 
In 2021, Maine Sea Grant used federal COVID-relief funding to help buy, process, and distribute more fish. We also worked with Maine Coast Fishermen's Association to increase public education and awareness about healthy local seafood options. Together, we developed simple recipe cards for school food service/nutrition programs as well as minority populations in Maine, with each recipe translated into five languages. The cards provide tips on safe handling and show the types of fishing gears used. Additionally, Meet Your Fishermen posters were created to connect students to the three fishermen who landed the product. 
Overall, these trainings were fun and a great success! The team will work towards offering them again in the spring of 2023.
Posted 9 November 2022