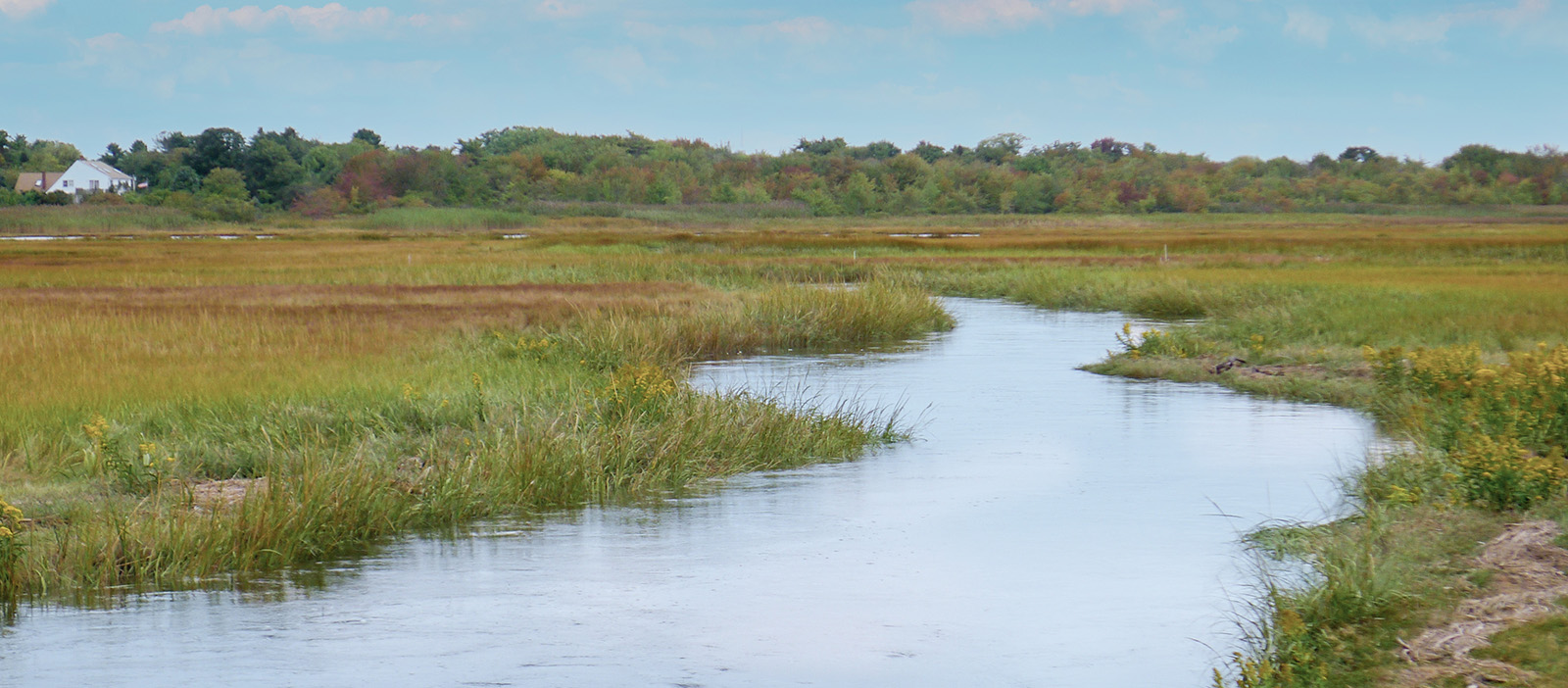 Research on forever chemicals, carbon emissions, ecosystem-based management, and fisheries adaptation
Maine Sea Grant is pleased to announce four new research projects funded through our most recent biennial research competition. Led by scientists from research and education institutions in Maine, the two-year projects focus on tracing PFAS chemicals in our marine ecosystems, measuring carbon emission and absorption in salt marshes, identifying key indicators for ecosystem-based fisheries management, and documenting pathways to access new and emerging fisheries. 
For more information, please read project descriptions below. 
Composition and transport of forever chemicals (PFAS) in Maine's estuaries
Christoph Aeppli, Bigelow Laboratory for Ocean Sciences
Perfluoroalkyl substances, otherwise known as PFAS or "forever chemicals," are becoming more prevalent in Maine's land and water. This project includes field studies to measure levels of PFAS in coastal marine ecosystems and investigate how those chemicals make their way into estuaries. In a laboratory setting, the researchers will gain a better understanding of how PFAS may affect shellfish by measuring how much of the chemicals accumulates in blue mussels and determining how long they stay in the tissue after exposure. 
Methane emissions and carbon sequestration in tidally restricted salt marshes
Beverly Johnson, Bates College
Salt water marshes are known carbon sinks, providing habitat for organisms that absorb carbon from the atmosphere. However, when road crossings or other structures reduce the amount of tidal water flowing into and out of a salt marsh, the habitat may become hostile for those organisms and allow for methane-producing bacteria to flourish. This study aims to measure carbon gas emissions (methane) and carbon absorption in marshes along the Maine coast at sites where tidal flow has been restricted. These data will give researchers and resources managers a better understanding of how marsh restoration efforts could help Maine reduce carbon emissions and achieve goals laid out in Maine Won't Wait: A Four-year Plan For Climate Action. 
An ecosystem context for fisheries decision-making in Maine coastal waters
Lisa Kerr, Gulf of Maine Research Institute
Warming in Maine's coastal waters is reshaping the ecosystem and impacting key fishery resources. In this study, researchers will work closely with stakeholders to identify what information they need in order to support fisheries decision-making. Using an approach called integrated ecosystem assessment (IEA), researchers will help track the status, trends, and possible future conditions of key components of the ecosystem to support more informed decision-making in the face of a changing climate.   
Access and adaptation in Maine's marine fisheries
Katherine Mills, Gulf of Maine Research Institute
The Gulf of Maine is one of the fastest warming places in the ocean. Marine fish and invertebrate communities are likely to change, as species tolerant to warming waters become more prolific and southern species expand their range northward. These changes may provide new opportunities and new fisheries in Maine. To take advantage of emerging opportunities, fishermen will need appropriate permits and licenses. This study will document the current status of permits for these species and identify various ways fishermen can access the fisheries.
 Posted 1 April 2022