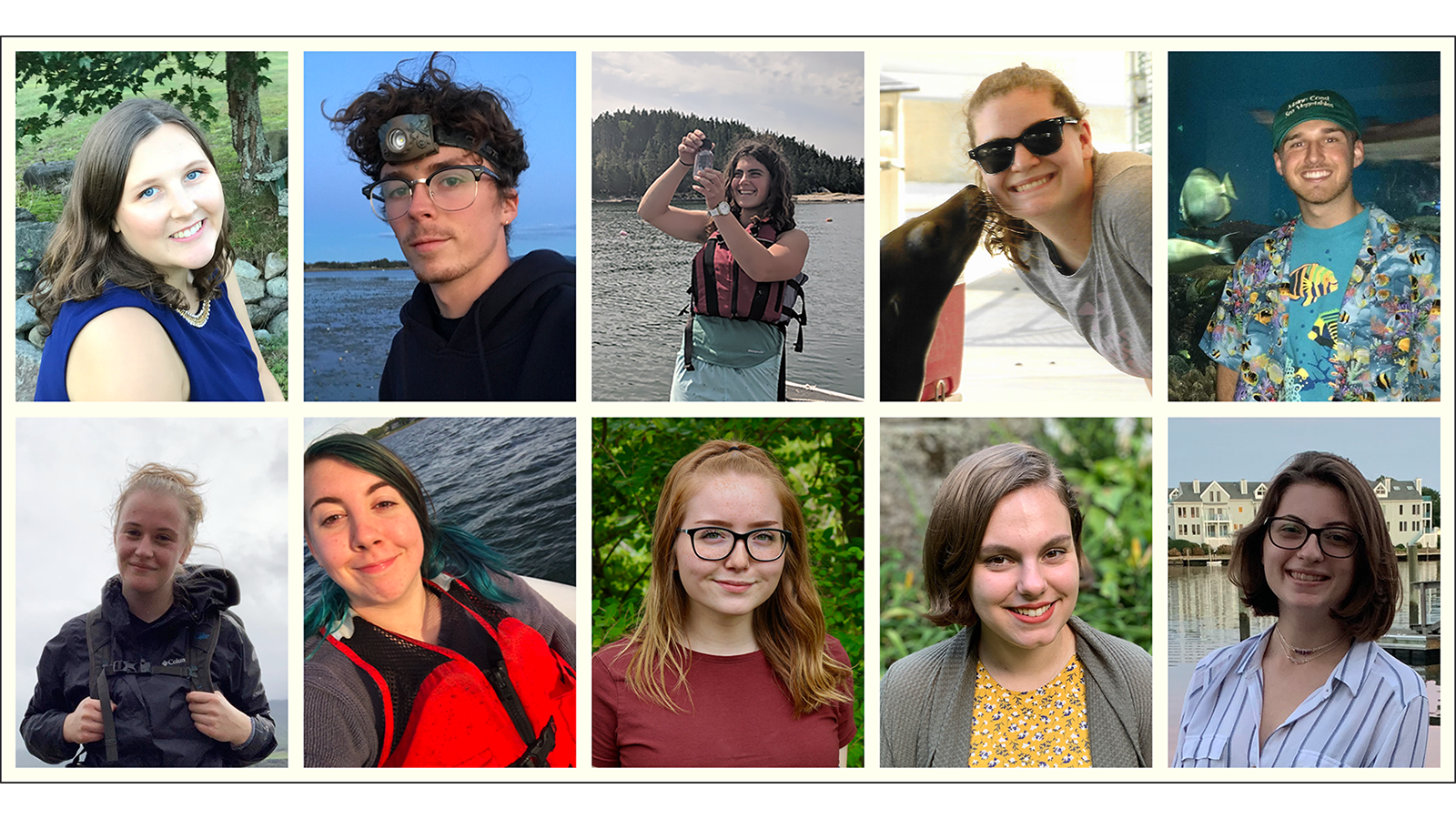 Maine Sea Grant announces 2020 undergraduate scholars
Maine Sea Grant is pleased to announce the 2020 awardees of the Undergraduate Scholarship in Marine Sciences. This year's recipients are from the University of New England (UNE), College of the Atlantic (COA), the Maine Maritime Academy (MMA), and Saint Joseph's College of Maine.
Scholarship recipients will join a statewide network of undergraduate scholars doing exemplary academic work on marine and coastal issues. As part of the scholarship, they will also have access to academic and professional development opportunities, including Sea Grant-sponsored workshops, conferences, and other events related to marine and coastal science, policy, resource management, community outreach, and education.
"Student support and workforce development are critical parts of Maine Sea Grant's mission, and I am thrilled to welcome these accomplished students into the Maine Sea Grant family," said Beth Bisson, Maine Sea Grant's Associate Director and Extension Program Leader. "Our whole team is looking forward to meeting each of them over the next year (whether in person or virtually), and learning more about their research activities and academic interests."
This award is made possible through a matching grant program with each awardee's home institution.
Hallie Arno

Hallie Arno, College of the Atlantic

Hallie Arno was drawn to this scholarship because it will help her learn about Maine's fisheries and aquaculture. She is excited to attend workshops, meet Sea Grant researchers, and make further connections in the field. Arno is also looking forward to being part of a community of people excited about the ocean and to learn alongside them.

Claire Baker

Claire Baker, Saint Joseph's College of Maine

Claire Baker is using this scholarship to continue her work with Saint Joseph's College of Maine professor Dr. Erikson. This program will also help fund her semester-away as a participant in an immersive marine science experience.

Kiernan Crough

Kiernan Crough, College of the Atlantic

Kiernan Crough was inspired to apply for this program after seeing several past COA students experience academic and personal growth as a result of this scholarship. This scholarship program will allow Crough to focus his energy on education and potential research opportunities concerning the marine environment.

Alesha Gregoire

Alesha Gregoire, Maine Maritime Academy 

Alesha Gregoire was inspired to apply for this scholarship by fellow classmates who received the scholarship in the past and experienced personal and professional development because of it. This opportunity will allow Gregoire to take additional courses to help expand her knowledge of marine biology and inform her independent research projects.

Camden Hunt

Camden Hunt, College of the Atlantic

Camden Hunt is excited to make connections through this program with others that share similar interests in fisheries, storytelling, art, history, and marine science. He hopes to share his work and get feedback from those in the field to increase the value of his work. Hunt also wants to continue to investigate the way history exists in coastal communities, and communicate and distribute the stories of people whose lives are centered around fisheries and the ocean through art and writing.

Jillian Igoe

Jillian Igoe, College of the Atlantic

Jillian Igoe is excited to be a part of the Maine Sea Grant community and engage in workshops through this scholarship. She is looking forward to making connections with students and researchers and learning about local research. Igoe's experience at COA has deepened her interest in studying marine environments and have shown her that marine research is not only tethered to the marine ecosystem, but to an individual's livelihood, identity, and life story. Igoe hopes to expand this interest through her scholarship experience.

Olivia Jolley

Olivia Jolley, College of the Atlantic 

Olivia Jolley has engaged in multiple ways with Maine Sea Grant throughout her college career and has had a growing passion for marine biology since elementary school. This scholarship will allow her more time and energy to focus on academic and extracurricular endeavors during her senior year. Jolley hopes to continue her skeleton articulation apprenticeship focused on marine mammals, dedicate more time to her senior project on the history of Mount Desert Rock, and become more involved with COA's Mapping Ocean Stories project.

Sara Piehler

Sara Piehler, University of New England

Sara Piehler is currently working on a project that can predict and warn shellfish farmers of potential phytoplankton blooms through real-time measurements. This scholarship will help her reach her goal of creating software that will gather and transmit data in a swift manner by funding the creation of her first buoy prototype.

Lydia Pinard

Lydia Pinard, University of New England

Lydia Pinard is looking forward to being a part of the Sea Grant family and attending events. Pinard is working on a project in the Gulf of Maine to better understand the implications of warming. This scholarship will allow Pinard to improve her research capabilities for this project by funding the purchase of hard drives and coding equipment. This will also help with tuition, textbooks, and more.

Tessa Rock

Tessa Rock, University of New England

Tessa Rock has maintained an interest in Sea Grant's work for many years. In the past, she participated with Connecticut Sea Grant on a dune project in high school. And once she joined the UNE, she knew she wanted to become a part of the Maine Sea Grant community. Rock is a strong supporter of Maine Sea Grant's mission to support Maine coastal communities, and she is constantly inspired by the work Sea Grant does. She intends to use this scholarship to expand her current phytoplankton identification project and to assist her academic goals.
Posted on October 22, 2020