A student "from away": A native Kansan's perspective on field research and becoming a Mainer
NOTE: This blog was written by Jacque Miller, a graduate student at the University of Maine, working on a Sea Grant-funded project with Dr. Alice Kelley
I left Kansas in June of this year to begin a Master's program in Earth and Climate Sciences at UMaine, Orono with Dr. Alice Kelley. The project I work on is titled Lost to the Sea: Maine's Ancient Coastal Heritage. This research involves conducting ground penetrating radar surveys of archaeological shell midden sites along the entire coast of Maine. Surveying these sites is crucial to understand their extent and prioritize them for further study before they are reclaimed by the sea. Growing up in the land-locked state of Kansas I never imagined I would get the opportunity live within driving distance of an ocean, let alone work in coastal Maine.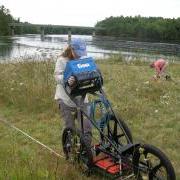 Cue the Wizard of Oz jokes. I do not know where Dorothy is, I forgot my ruby-red slippers, and I have never seen a tornado. The vivid imagery that comes to mind when asked to describe Kansas is rolling prairie dense with tall grasses swaying under the wind, a storm building on an endless horizon bringing indigo clouds over golden hues of native vegetation below, and the unique ability to see miles of country in all directions.
The culture shock set in at some terminal in the Philadelphia airport as I waited to board the plane to Bangor. I overheard conversations about "launching the dinghy", and concerns from a couple on hitting a moose. At this point I still pronounced it Bang-er, had never heard of a dinghy, and could not wrap my mind around the likelihood of hitting a moose. As the plane descended and clouds parted, an overwhelming expanse of trees appeared in the drizzly foreground and the reality of my two-year journey finally set in. I should remind you that most of the trees I grew up seeing occurred in straight lines along a farmer's fence. The chilly 50°F that greeted me as I exited the airport also came as a shock when summer in the Midwest means temperatures in the triple digits. Each of these experiences reminded me that the learning curve to understanding Maine culture is best described as steep if you come from "away".
The opportunity to collect ground penetrating radar at coastal archaeology sites in Maine is nothing short of a dream come true. I thank Sea Grant and those involved with the project for the swift orientation to coastal Maine. Within a month of living here I could tell you which way was up, commonly referred to as "downeast", because our field sites span from Portland to Pembroke. Although I quickly became overwhelmed at how much I felt I needed to learn as soon as the plane landed, I came to know my advisor and those involved with the project and realized what a wonderful spot I am in to learn.