What famous chefs do with Maine seafood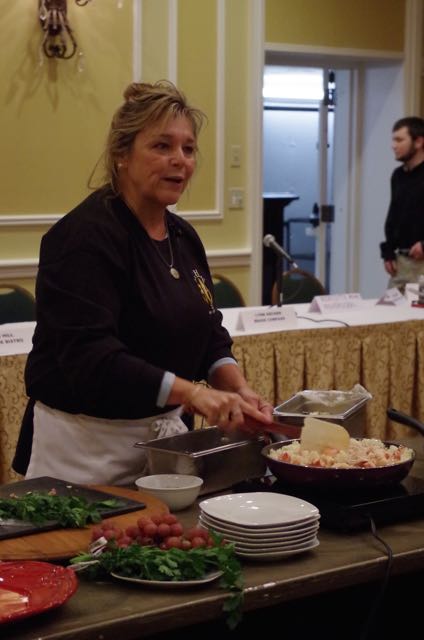 "There isn't anything more special than Maine seafood," said fisherman Kristan Porter, kicking off a culinary afternoon at the 2015 Maine Fishermen's Forum.
To celebrate the 40th anniversary of the Forum, seafood industry partners invited four established chefs to share their cooking knowledge of Maine seafood.
"This is what its all about," said Maine Aquaculture Association director Sebastian Belle. "We go out and we work hard, so we can have (sea)food."
Lynn Archer of the Brass Compass and Archer's restaurants in Rockland prepared a quick risotto with lobster from Graffam Brothers Seafood Market while daydreaming aloud about spring, when dandelions, fiddleheads, and "shore greens" or goose tongue will come into season. Her advice for cooking fish and shellfish was to "keep it really simple. You don't want to mess with it too much. Let the Maine seafood shine through."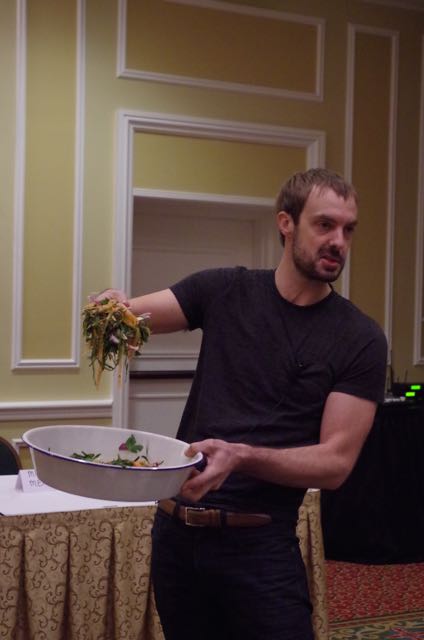 Seafood prophet Barton Seaver used a smoking gun to add a "rustic, sexy overtone, a little bit of the hue of smoke" to cooked lobster meat, which he served alongside a salad of Ocean Approved kelp, carrot "confetti", red onion, cilantro, shaved fennel, and red wine vinaigrette. He also sauteed kelp with browned onions and blood orange. For Seaver, cooking and eating local seafood is an action that "describes how we want the world to be used."
Not to be outdone, 2015 James Beard Award nominee Brian Hill of Francine Bistro, Shepherd's Pie, and Seabrite restaurants dry-roasted wild mussels with a bundle of white pine needles, butter, and lime juice. He put the pine needles into a hot, dry skillet to char slightly and add an "appetizing herbaceousness" to the mussels, which were put in the pan (no liquid!) until they opened. He then added generous chunks of butter and lime juice to make a beurre noir.
Dave Pasternack of Esca Restaurant in New York City, who often cooks with Maine scallops, assembled two ceviches, one with pollock and mahogany clam and the other with lobster (obtained raw from Shucks) and scallop. Baby coconut was the secret ingredient. Apparently it's in season now. In Manhattan, at least.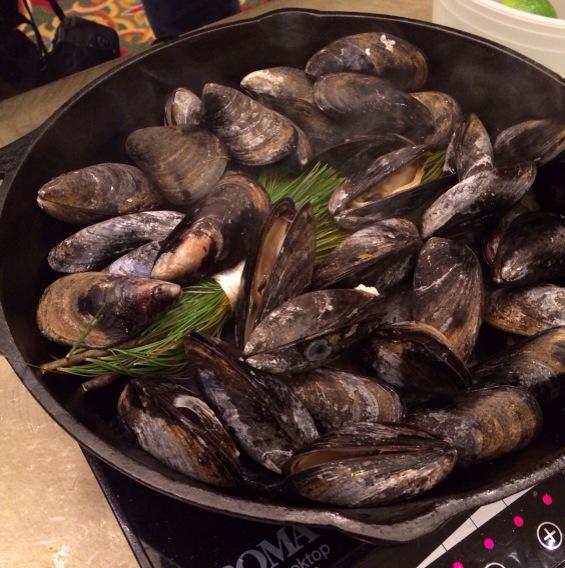 Togue Brawn, a self-proclaimed Maine scallop evangelist and owner of Maine Dayboat Scallops, provided some information about what it means for seafood to be from Maine. "Our products shouldn't be competing in a commodity market," she said. "Maine seafood is distinctive."
Annie Tselikis of the Maine Lobster Dealers Association agreed, adding that Maine's fisheries and aquaculture operations are among the best managed in the world, and should be a natural source of supply if people are going to heed the FDA's guidelines to eat more fish. "Forget the jargon of sustainability. Stop scrutinizing, and start eating more Maine seafood."