Oyster Fest 2011
by Catherine Schmitt
A great time had by all at the eleventh annual Pemaquid Oyster Festival on Sunday. The warm, sunny weather helped bring people out to the coast, although oyster aficionados don't need much more enticement than thousands of fresh-from-the-river Crassostrea virginica.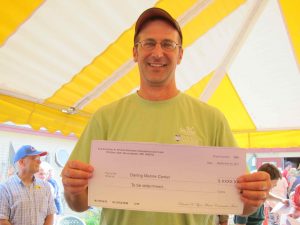 This year's event featured an oyster-shucking contest, won by Maine Sea Grant alumnus Carter Newell, and an oyster poetry contest, in which our own Dana Morse placed second.
Dana also accepted a grant from the Ed Myers Marine Conservation Fund on behalf of the Darling Marine Center. The festival is a benefit for the fund, which supports local marine education organizations.
Pemaquid Oyster Company provided the oysters, and WaldoStone Farm crafted an array of specialty mignonettes, the classic raw oyster condiment. Barbecued oysters, oysters Rockefeller, baked parmesan oysters, lobster and crab rolls rounded out the shellfish offerings.
The festival takes place at Schooner Landing, on the Damariscotta River just upstream from the many oyster farms that make up the heart of Maine oyster country. A salty way to end the summer.