DV-12-04 Sea scallop production trials
Mark Green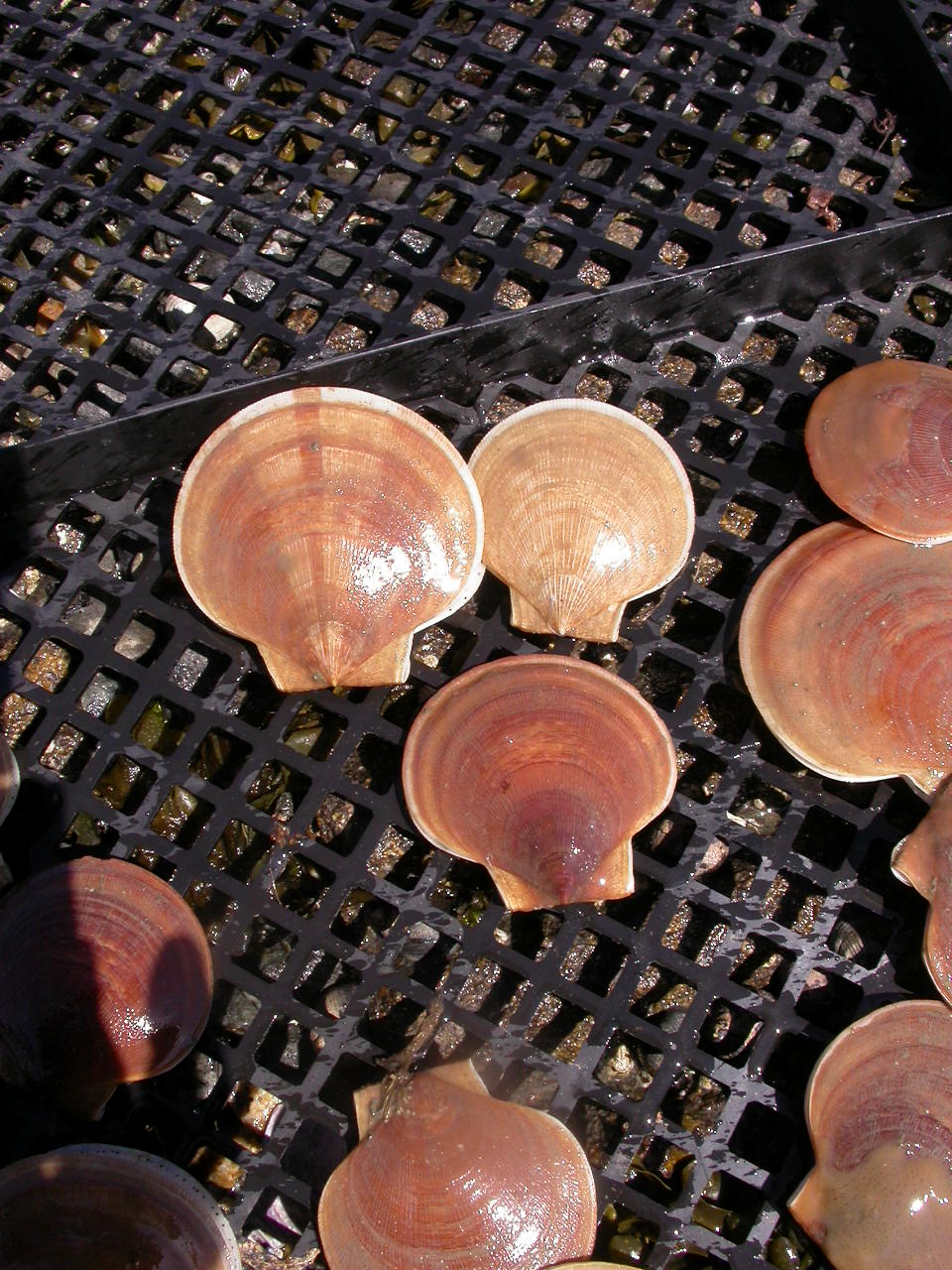 Peaks Island Shellfish Co.
5 Willow Street
Peaks Island, ME 04108
207.712.3681
Email Mark Green
Reporting by Dana Morse, Maine Sea Grant
Shellfish harvesters are in need of product diversification. While Maine scallop fishermen get excellent prices for their high-quality product, yet the volume of wild-caught scallops in Maine is very low, and consequently does not meet market demand. There has been a sustained interest in scallop aquaculture because of the high quality of the meats (the adductor muscle) and also the potential to develop other products from scallops, such as roe-on, or scallops frozen whole.
Prior to the establishment of roe-on or whole products, however, there is a critical need to develop baseline data on biotoxin loads of cultured scallops. Green, working with extension associate Dana Morse, fishermen, and Maine Department of Marine Resources, will provide fishermen with equipment to culture scallops in contained systems at six sites along the coast, gather basic information on scallop growth and mortality, and collect data on biotoxins in the various tissues of cultured scallops.
Project update – November 6, 2013: Kettle Cove, Cape Elizabeth
A visit out to Nate Perry yesterday to check on the scallops, and here's the summary.
– Biotoxin sample taken, frozen overnight and delivered to DMR lab in BBH this morning
– Egg masses in the aquatrays appear to be sculpins: Nate's dad thought so, saw Kelo Pinkham this morning who agreed…..they don't seem to cause any problem, but were cool to see
– Some predation in the aquatrays by rock crabs, little to no mortality in the ADPI bags.  Some fouling by tunicates, jingle shells, very few barnacles, and some mussel set. The crabs appear to work their way around the thin edges of the shells until they can get a big chip to break free.
– No noticeable roe development
– Last time we were at this site (Aug 1), we stocked an aquatray at 30 and 60%. Growth rates in trays were higher than bags, at the same density, over this time period.
– No definite pattern in ratio of shell length to shell width; they were all wider than long.
For the chart below: the important numbers are the current mean (average shell height), and the growth rate per day (in mm), the 'sum' and 'count' were just carried over from the sample totals.  It was 97 days since we last checked on them..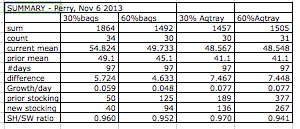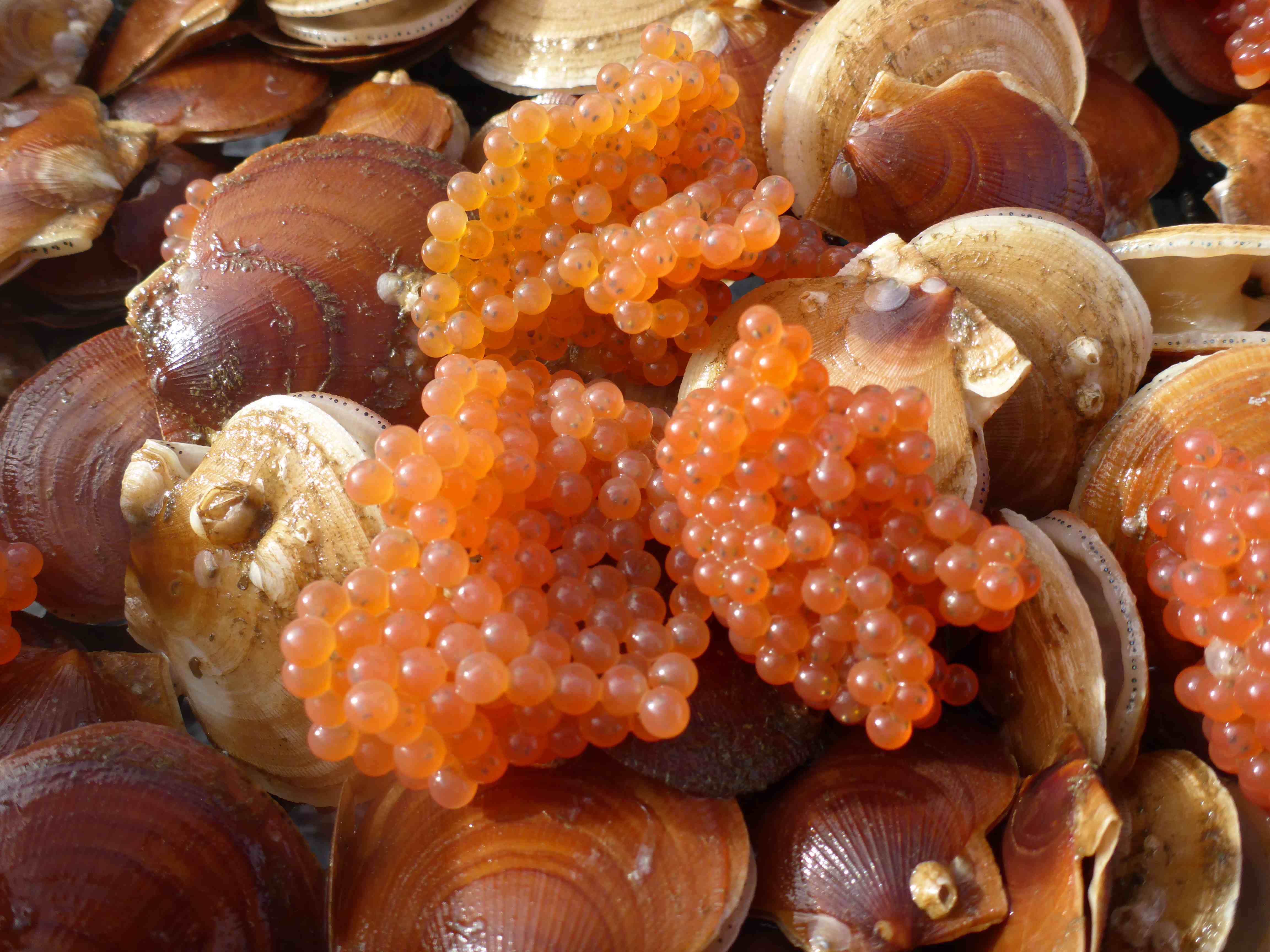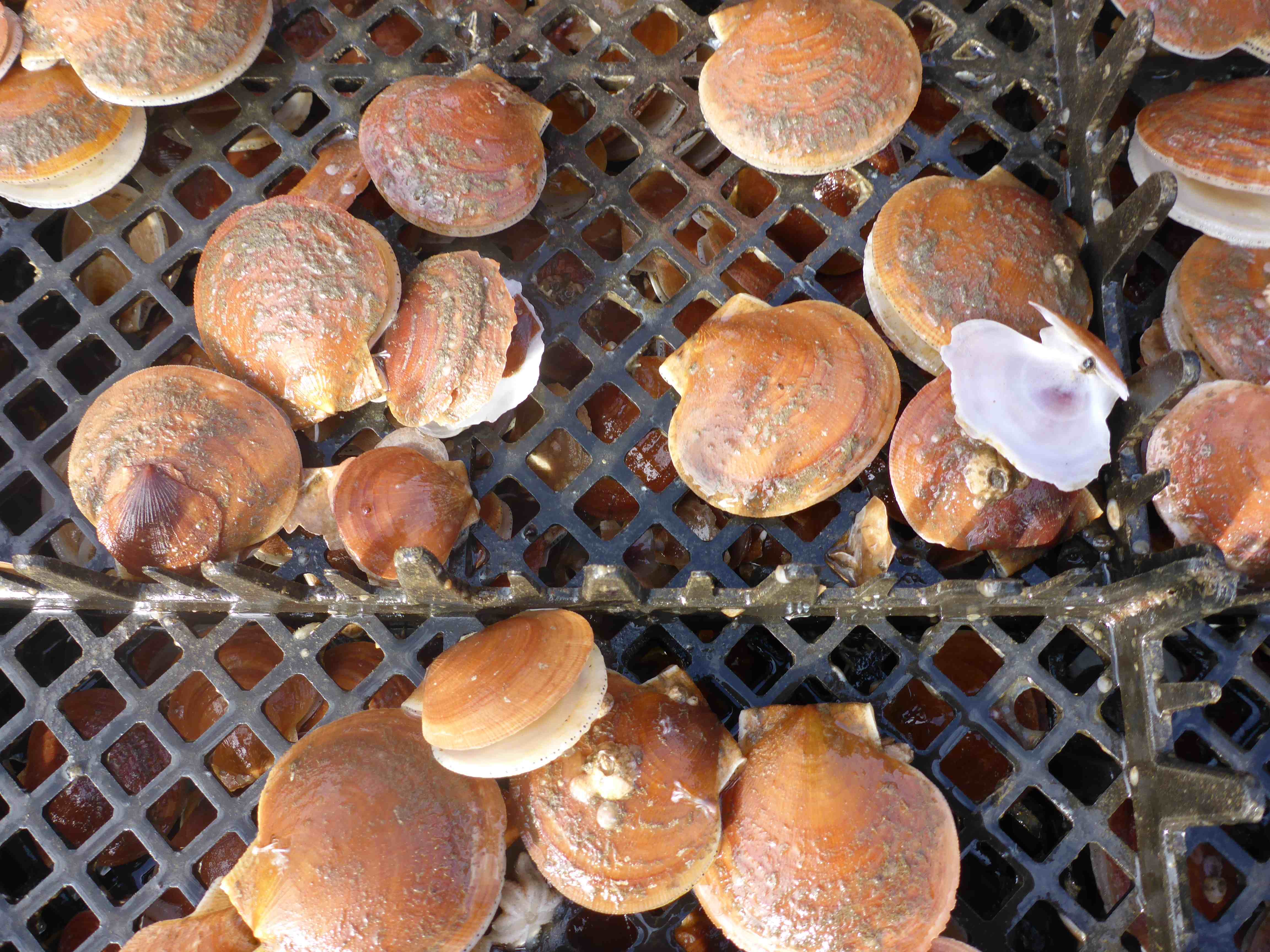 Project update October 30, 2013: Blue Hill and Stonington
On Oct 30th, Chris Vonderweidt (ME DMR) and I visited Kevin Scott at the Salt Pond site, and Marsden in Stonington. With us were Bill Trotter and Gabor Degre of the Bangor Daily News; they took a bunch of photos/video and Bill put together a nice piece from the day.
Scallops continue to do well at both sites, and we still see effects of density happening too: there is a lot of growth sideways (Shell Width) and the shells are standing taller too (Shell Depth).  We have started to collect a little data on the Shell Height/Shell Width ratio to capture this, but there's not much to report on there yet.  Attached is a graph that summarizes growth at the three sites over time. This might be useful as we home in on the right times of year to do thinning: looking for the times when the growth curve starts to deflect downward.
At Marsden's site, the Aquatrays got nailed with a pretty decent barnacle set, including the scallops inside the cages, though the shellfish bags seemed to avoid this more or less…unclear as to why that was.  Mortality at both sites was near zero.
As you'll see from the chart below, I made an error in restocking the low-density cages out in Stonington, so that will throw results off a bit, but at least we know about it….the density should have been lower.
Roe development was pretty good at both sites; it seemed that in Blue Hill there was less resorption or spawning – gonads seemed fuller, but still decent at both sites.  Bummed that I didn't get any good shots of this, but Bill Trotter also has a Tumblr site, and there are some shots there..
http://billtrotter.tumblr.com/
Shell Heights and growth rates:
Shell Heights and Growth Rates

| | BlueHillLO | BlueHillHI | StonLO | StonHI |
| --- | --- | --- | --- | --- |
| Prior Average (mm) | 52.1 | 49.3 | 64.43 | 56.1 |
| Current Average | 67.48 | 60.83 | 70.59 | 62.1 |
| # days | 180 | 180 | 98 | 98 |
| Difference | 15.38 | 11.53 | 6.16 | 6.0 |
| Growth/day (mm) | 0.0854 | 0.0641 | 0.0629 | 0.0612 |
| Prior stocking | 47 | 94 | 24 | 80 |
| Current stocking | 24 | 66 | 29 | 60 |
Biotoxin samples were taken from both sites – so far all samples have tested clean for PSP, with data on DSP and ASP to follow.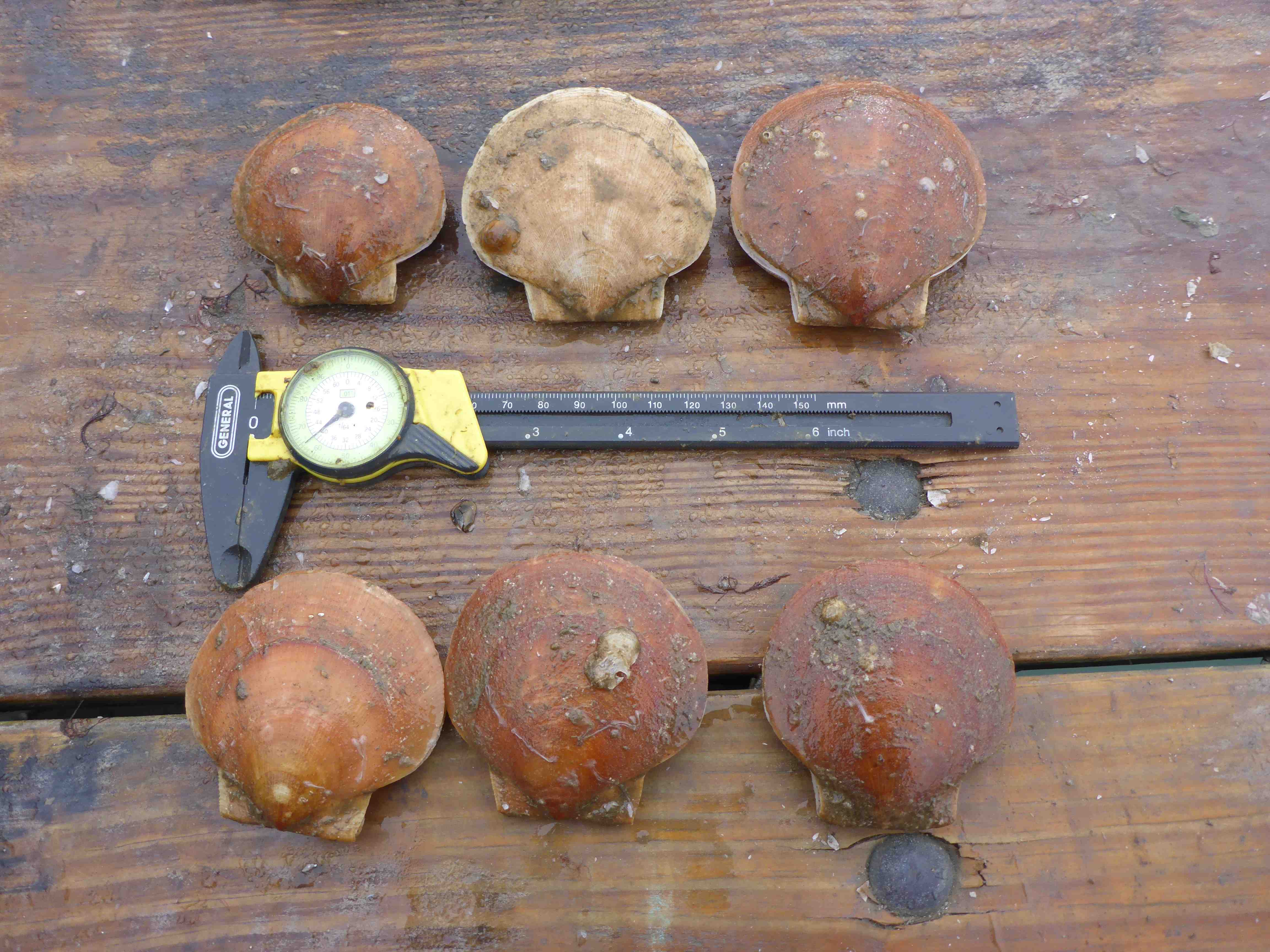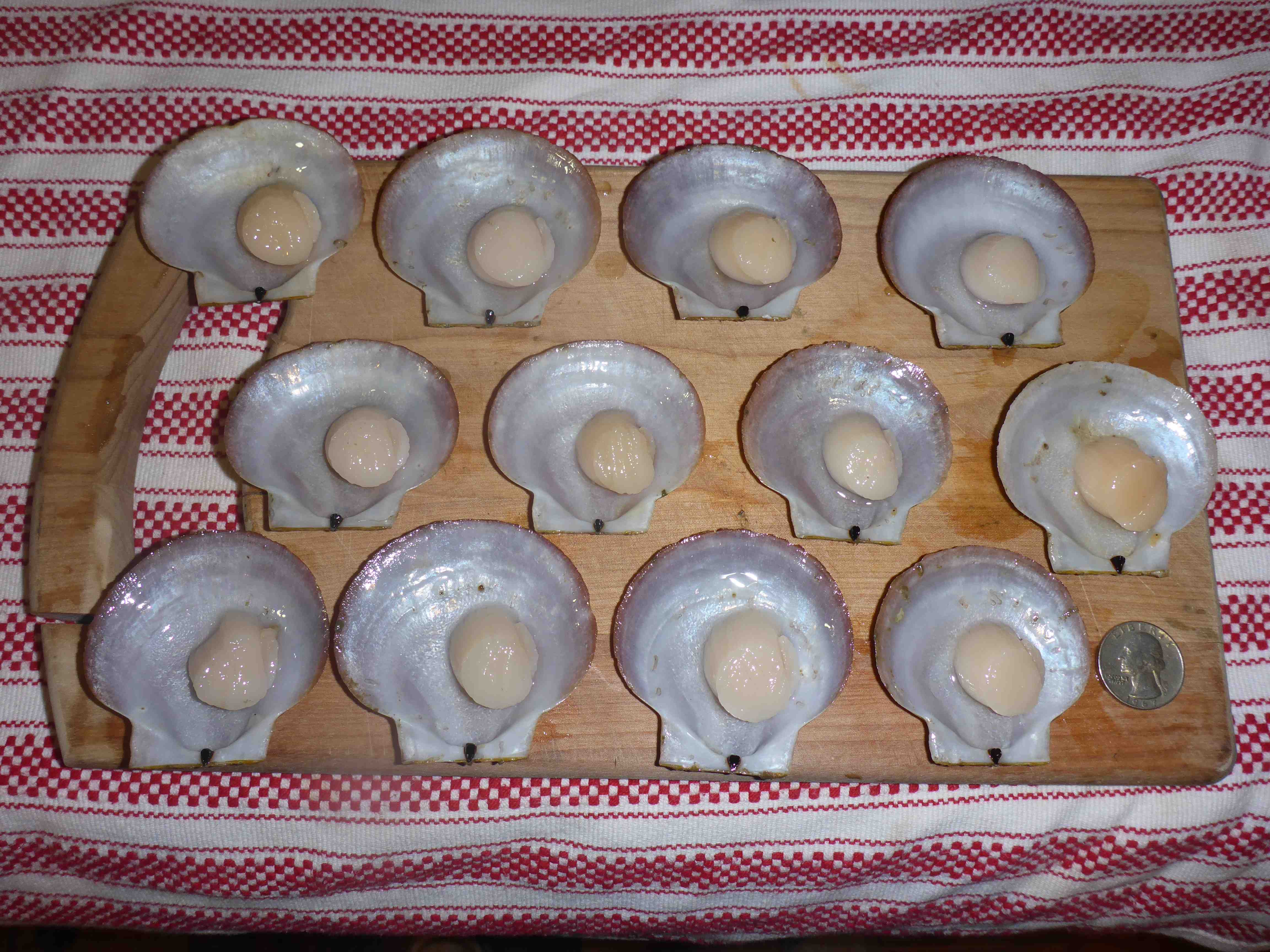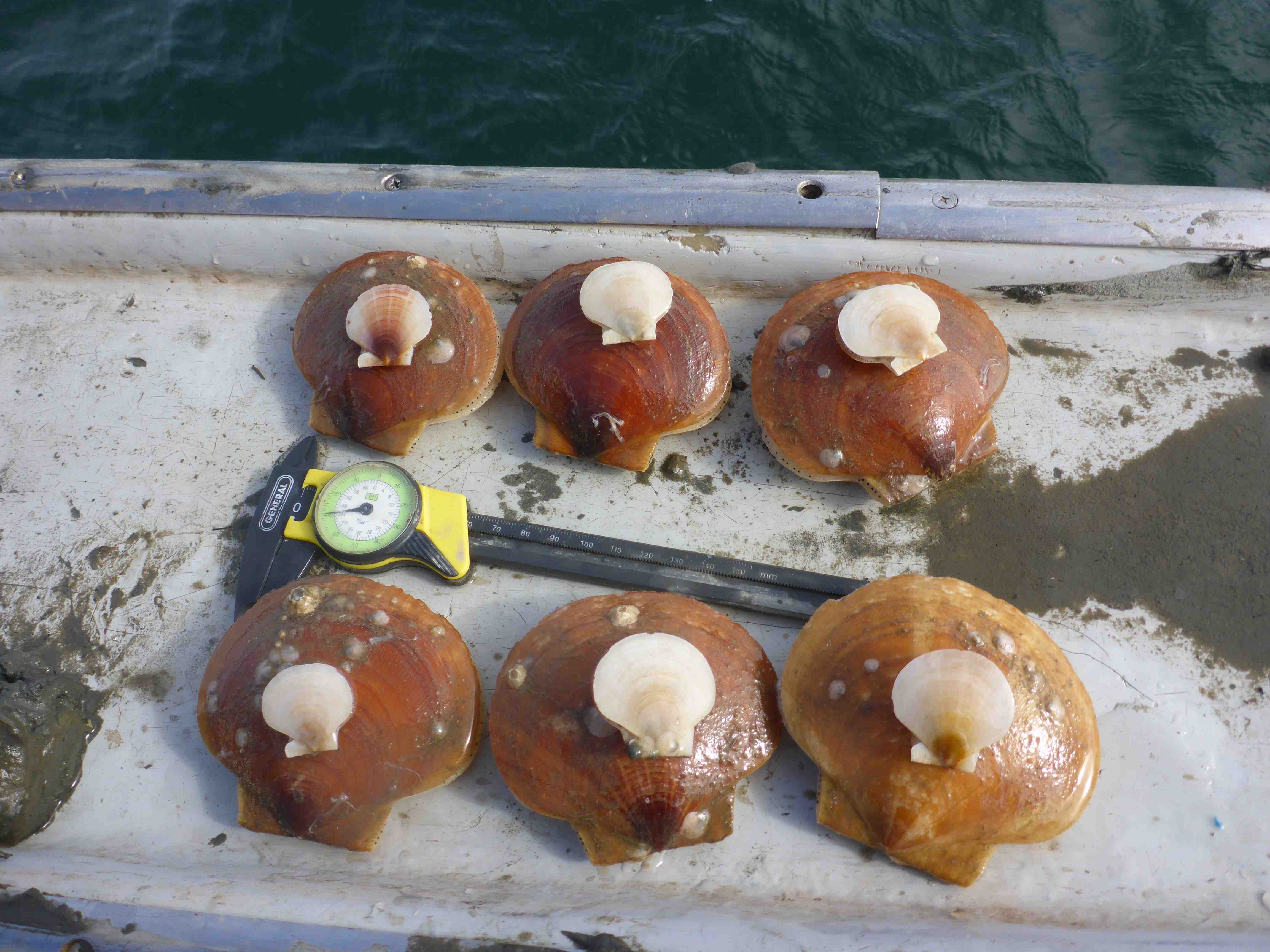 Updates below start from the beginning of the project….
Project update – October 2012
To date, several project milestones have been accomplished, and others are ongoing.
Spat collections:
Scallop spat collections were successfully carried out in locations throughout the state:
– Cape Elizabeth (Nate Perry of Pine Point Oysters, Ed Perry of the fishing vessel Rachel, Ben Perry of the F/V Mistress)
– Mt. Desert (Andy Mays, F/V Lost Airmen)
– Stonington (Marsden Brewer, F/V Lindsay Marie)
Scallop counts per bag ranged from the hundreds for the Cape Elizabeth sets to the 1000-3000 for sets in Stonington and Mt. Desert.  Data were collected on counts per bag as well as size ranges.
Fourteen bottom cages were built by Brooks Trap Mill and Aquatrays were purchased from the Bagaduce River Oyster Company.  Bottom cages were of two types: those holding eight shellfish bags and those holding six bags.  The 6-bag units are for the density-control manipulation while the 8-bag units and the aquatrays are for producers to gather experience and information about the relative merits of each, so that recommendations can be developed for future aquaculturists.
As of this writing, scallops have been stocked to cages in Blue Hill (Evan Young, Blue Hill Bay Mussels), Stonington (M. Brewer) and Basket Island (Mark Green, Basket Island Oyster Company), with scallops to be set eventually in another location near Cape Elizabeth, pending regulatory approval.   The stocking density trial has commenced in both Stonington and Blue Hill, now that scallops are past the immediate nursery stage. Three bags each of the 6-bag units will be assigned either 30% or 60% bottom coverage, and monitored for effects on growth, mortality and shell shape.  Bottom cages were stocked in June and July of 2012, with shell heights averaging roughly 15mm.  As of October of 2012, scallops in Stonington averaged nearly 38mm, while those in Blue Hill were slightly smaller, averaging a shade over 31mm.
In coming weeks and months, the other sites will be adjusted for the density experiment, and samples will be taken for eventual evaluation of biotoxin loads. Three tissue compartments will be evaluated for presence and degree of biotoxins; adductor muscle, roe and the remaining viscera combined.
Sea Grant funds: $1,000
In July 2012, a nice story from the project was aired on National Public Radio
http://www.npr.org/2012/08/12/157674235/maine-lobstermen-give-farming-sea-scallops-a-try
APRIL 2013 Update:
Scallops in the Stonington cages are growing quite rapidly.  In the 30% bottom coverage cages, scallops average nearly 58mm, and the 60% bottom coverage cages were 54mm, indicating growth over the winter of about 20mm.  One individual measured nearly three inches (71mm), and this is only 18 months from settlement, back in September of 2011 – so growth has been extremely fast.  A sample was brought to the Maine Dept. of Marine Resources lab for biotoxin screening, and more visits are planned to other sites, for growth/mortality evaluation, and biotoxin sampling.
A brief video was created after the most recent visit to Stonington
Enjoy!
April 19, 2013 update – Nate Perry at Kettle Cove
The scallops on Nate's farm had not been density-adjusted yet, so growth was slower than other sites, and there was a little mussel set in there. That said, the crop came through the winter relatively well and the growth will probably take off now that they've been set in their 30%/60% bottom coverage schemes.  Average shell length was 38mm, and a good number were stocked to Aquatrays, for which Nate had made a nice base.  Photos below of the scallops, the aquatray and base, and Nate setting a bottom cage.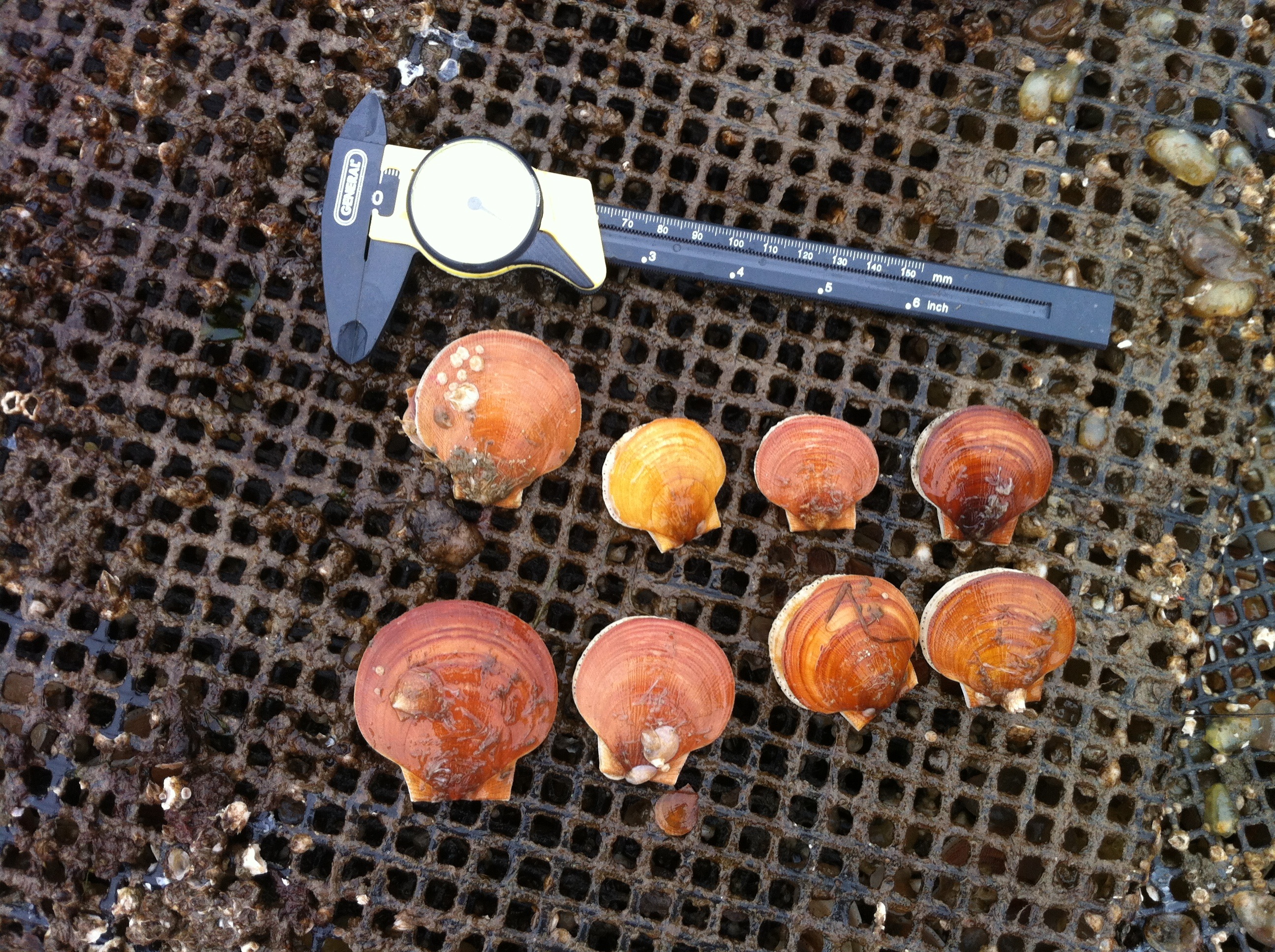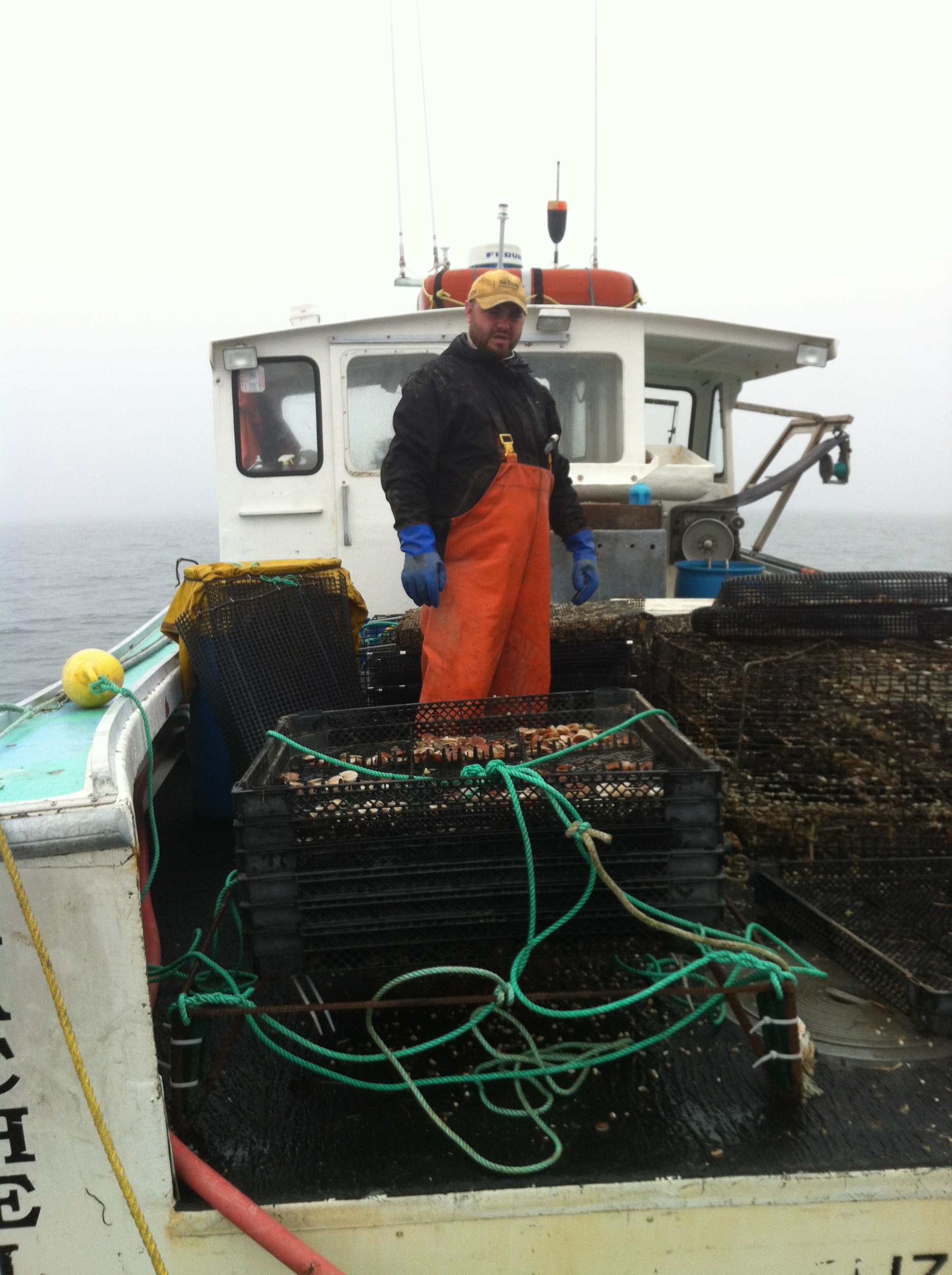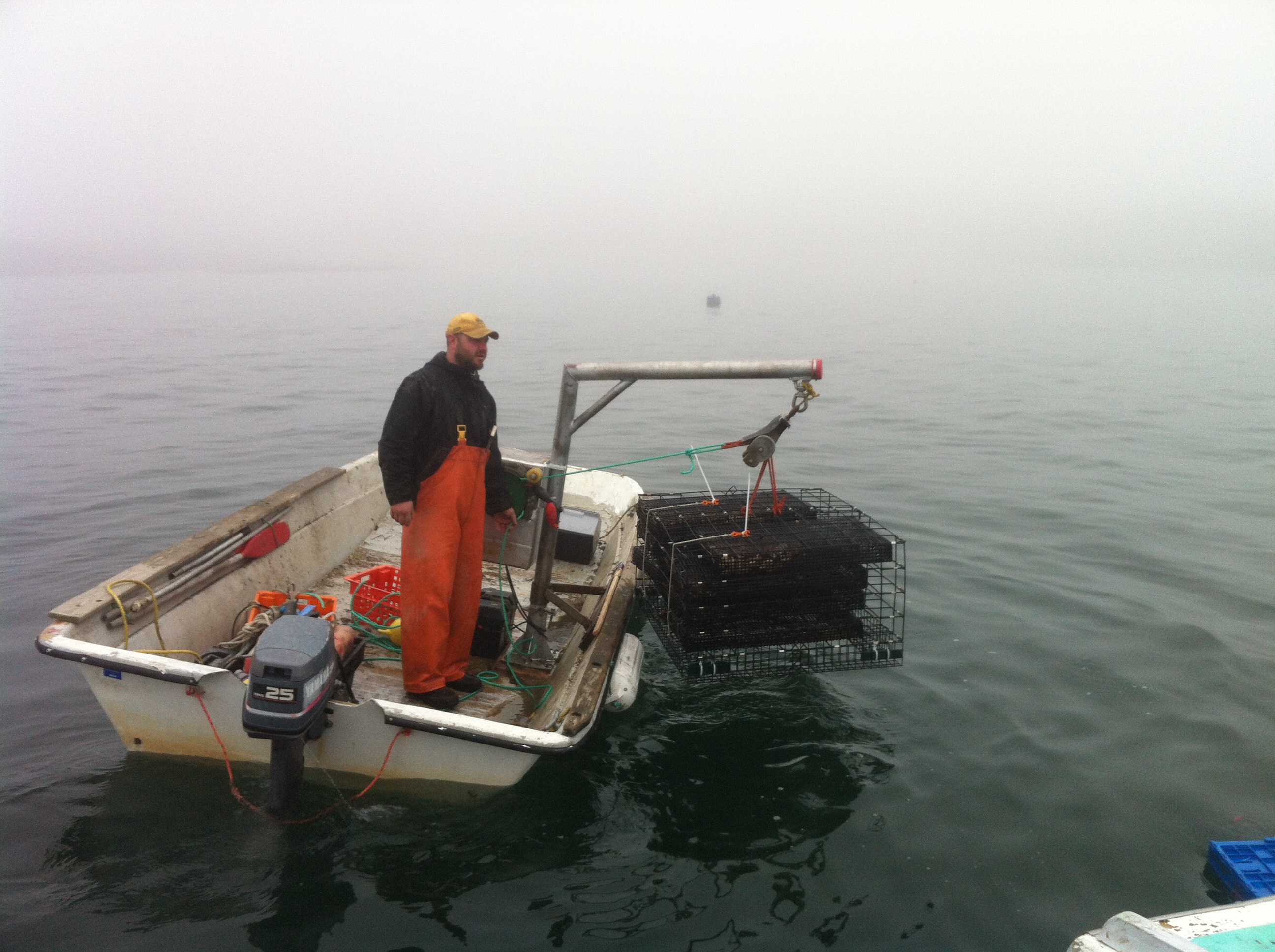 MAY 3 2013 Update
An update about the scallops at Evan Young's site in the Blue Hill Salt Pond, collected originally by Andy Mays.
The last check was Oct 17, 2012 at which point the mean size was 31.1mm. Two bags each were stocked at 30% and 60% bottom coverage, or 131 and 262 scallops per.  A group was also put into a stack of aquatrays.
Yesterday, Chris Vonderweidt (ME DMR) and Dana Morse met with Evan and his co-worker Kevin and took a look. Mean sizes and growth per day were
30% group
Mean – 51.1mm
Average growth since Oct = 21mm
growth increment = 0.106mm/da
restocked at 47/bag
60% group
Mean – 49.4mm
Ave growth = 18.3mm
growth increment = 0.092mm/day
restocked at 94/bag
Some mussel set in the bags to cope with, some barnacles, very low mortality and a set of kelp on the aquatrays.  Otherwise, scallops looked very clean; some roe starting to develop.  Some photos for your viewing pleasure; generally though it's still sort of amazing to the extent which winter growth occurs, and the overall appearance and condition of the scallops is great.  Some density effects can be seen in the slight stunting of shell length, but not a serious matter I think.  A sample for PSP testing was delivered to the DMR lab in Lamoine.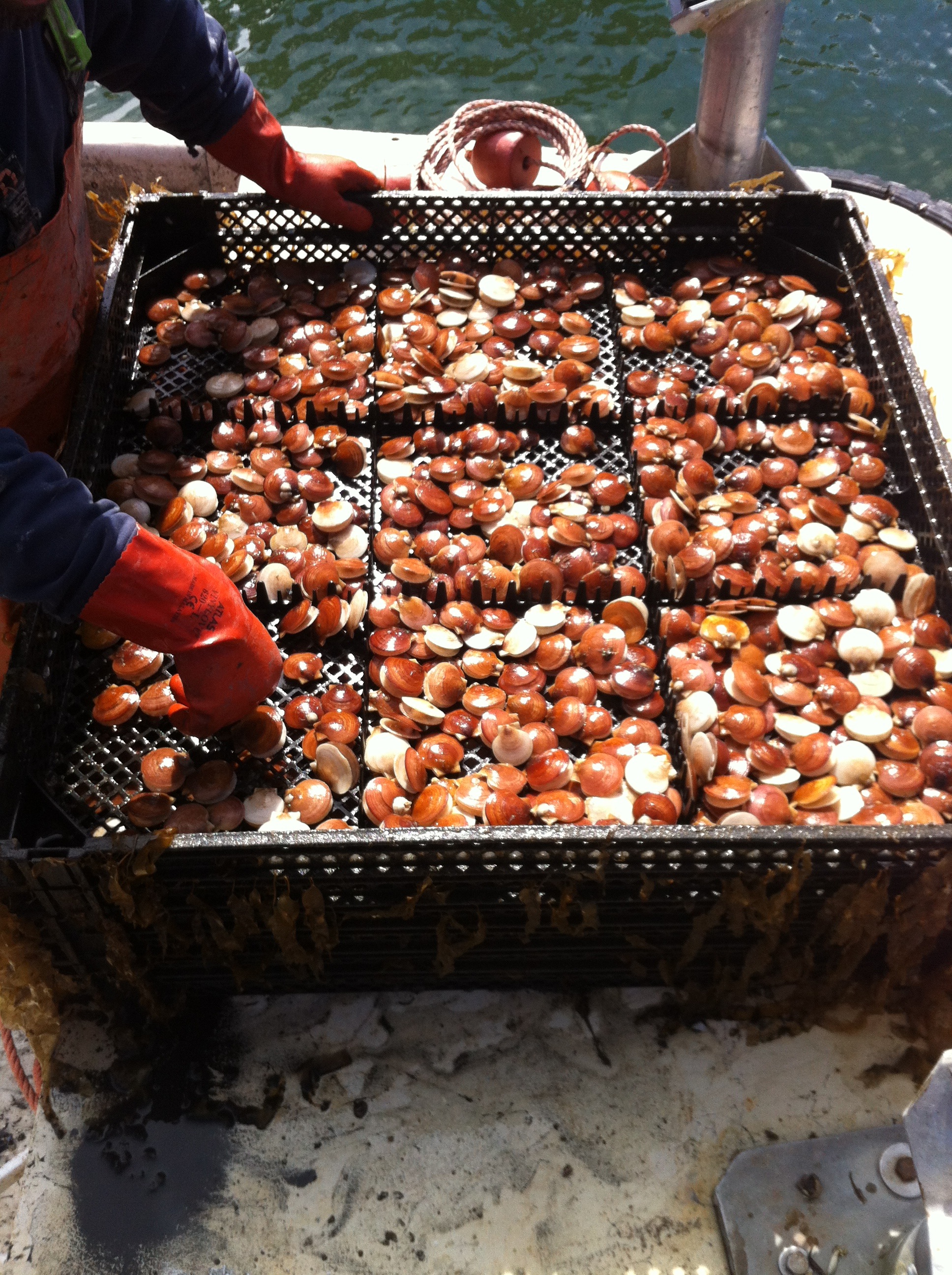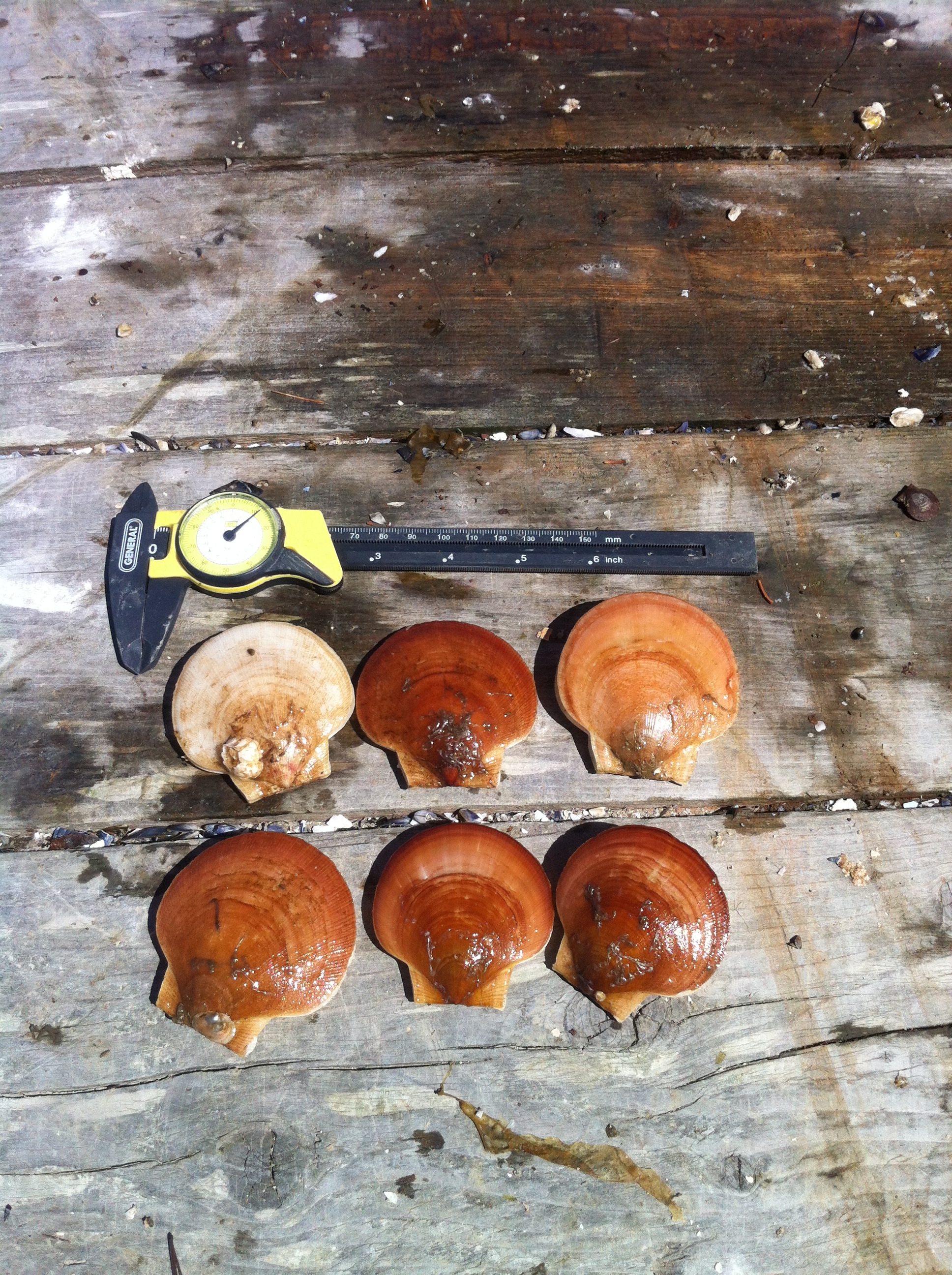 July 24, 2013 – Stonington update
Out today with Marsden and Bobby Brewer, and Ingrid Bengis of Ingrid Bengis Seafood.  We took the scallops out of the spat bags that were set last September, and stocked them to small-mesh bags in a bottom cage; they looked beautiful and though we did not do spat counts, they appeared to be in the 2500-3000 scallops/bag range that Marsden regularly achieves.  So, there is a second year-class started, and that's encouraging.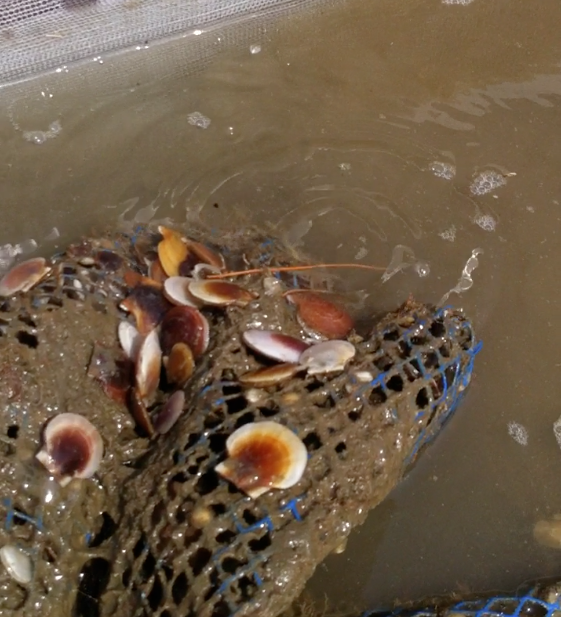 The growth of scallops in both the 30% and 60% bottom coverage trial has slowed; only about 7mm and 2 mm for the groups respectively, since April.  This is not altogether unexpected; now that the scallops are over 2 inches, any clasping can stunt the forward edge of the shell. That said, the scallops continue to grow in shell width and in depth. The meats appear to be quite good for the size of the shell, and we'll be taking some meat weight measurements in the future.  In addition, there is good roe development in both the males and the females – also good to see given that these are still less than two years from settlement, and just a little over one year in a cage.  Mortality in both treatments was virtually zero, however and fouling was minimal – both optimistic.


The 'spillover' from our growth trial has gone into a stack of Aquatrays, and they also appeared to be quite clean and growing nicely, though we did not open them up and measure them on this day.  We'll keep an eyeball on them, and begin to develop questions for later investigation, based on observations.
A limited number of scallop samples (three) have been brought to the Maine Dept. of Marine Resources so far this year – from the sites at Stonington, the Blue Hill Salt Pond, and Kettle Cove in South Portland.  These samples were tested by mouse bioassay and HPLC, and all three samples came back below regulatory limits for PSP, so that's another piece of good news, even though of limited scope.
It's nice to have a second year class in cages, and the news overall seems to be 'so far, so good' – we'll keep collecting the data and see where this leads!