Maine Seafood Guide – Atlantic Salmon
Species Description
Season
Status
Regulatory Authority
Harvest Method
Recreational Harvest
Health Benefits & Risks
Buying & Preparing
Brands
Certifications
Links
---
►Species Description
Atlantic salmon Salmo salar
Cultured in ocean net pens.
---
►Season
Year-round.
---
►Status
Wild Atlantic salmon in the Gulf of Maine are listed as an endangered species.
Maine Atlantic salmon aquacultural production peaked in 2000 but lately has increased after a period of decline as management practices improved. In 2016, the Monterey Bay Aquarium Seafood Watch Program upgraded Maine-raised salmon to the list of yellow or "good alternative" seafoods. Read the full report from Seafood Watch.
---
►Regulatory Authority
Maine Department of Marine Resources regulates the aquaculture industry in state waters (within three miles of shore). In addition, the Clean Water Act requires aquaculture facilities to have water discharge (NPDES) permits from the Department of Environmental Protection. DEP inspects each salmon farm twice per year. US EPA, US Army Corps of Engineers, and USDA Animal Plants and Health Inspection Service also have regulatory roles.
---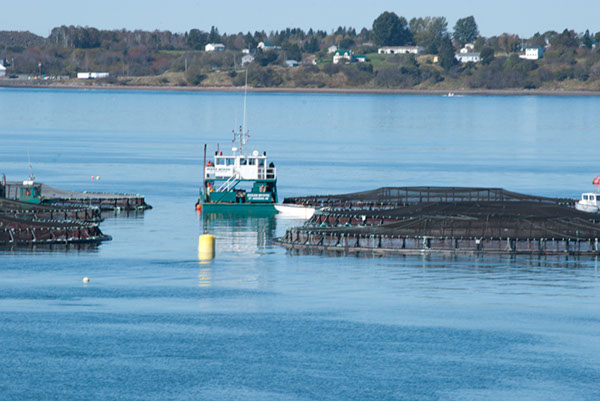 ►Harvest Method
Young salmon raised in freshwater hatcheries in Bingham and Machias are placed in cages or net pens in Machias, Cobscook, and Passamaquoddy bays, and as far south as Black Island off Mount Desert, where they grow to at least ten pounds over two to three years before being harvested.
---
►Recreational Harvest
Wild sea-run Atlantic salmon in Maine rivers and coastal waters are endangered and all recreational fishing is prohibited. It is unlawful to angle, take, or possess any Atlantic salmon from all Maine waters. Fishing is allowed for landlocked salmon, a freshwater form of Salmo salar native to a handful of Maine lakes and stocked in many other lakes, rivers, and streams. Maine salmon farms are private businesses in waters leased from the state; there is no public access.
For more information, visit the Maine Department of Inland Fisheries and Wildlife website.
---
►Health Benefits & Risks
Salmon is relatively higher in fat than other fish, but it is an excellent source of omega-3 fatty acids and Vitamin D. Salmon is low in mercury. Much of the information available about other contaminants in farm-raised salmon is based on practices in other parts of the world and thus does not necessarily apply in Maine, where vaccines and integrated pest management have reduced chemical use and where preventative, broad-scale use of antibiotics, pesticides, growth enhancers, etc. is illegal. All therapeutic agents are FDA-approved and must be prescribed by a veterinarian to treat a specific diagnosed condition or disease. Atlantic salmon raised in Maine are routinely tested by the FDA for chemical residues and contaminants, to date none have been found.
---
►Buying & Preparing
It can be difficult to tell if salmon is from Maine waters, as Atlantic salmon are also raised in Washington State, Canada, Chile, and Norway. Salmon labeled as "Product of Canada" was raised in the North Atlantic ocean at salmon farms in New Brunswick, Nova Scotia, and possibly Maine if the fish was processed in Canada.
"True North" brand salmon from Maine is increasingly available in local markets. Beginning in 2015, Hannaford Supermarkets carry Maine-raised salmon direct from the True North processing facility in Machias.
---
►Companies, Brands, and Labels
---
►Certifications & Verifications
Seafood Trust
Seafood Watch "Good Alternative" (yellow)
---
►Links
---
►Featured Harvester
Cooke Aquaculture