Northeast Aquaculture Research Farm Network: NARF-Net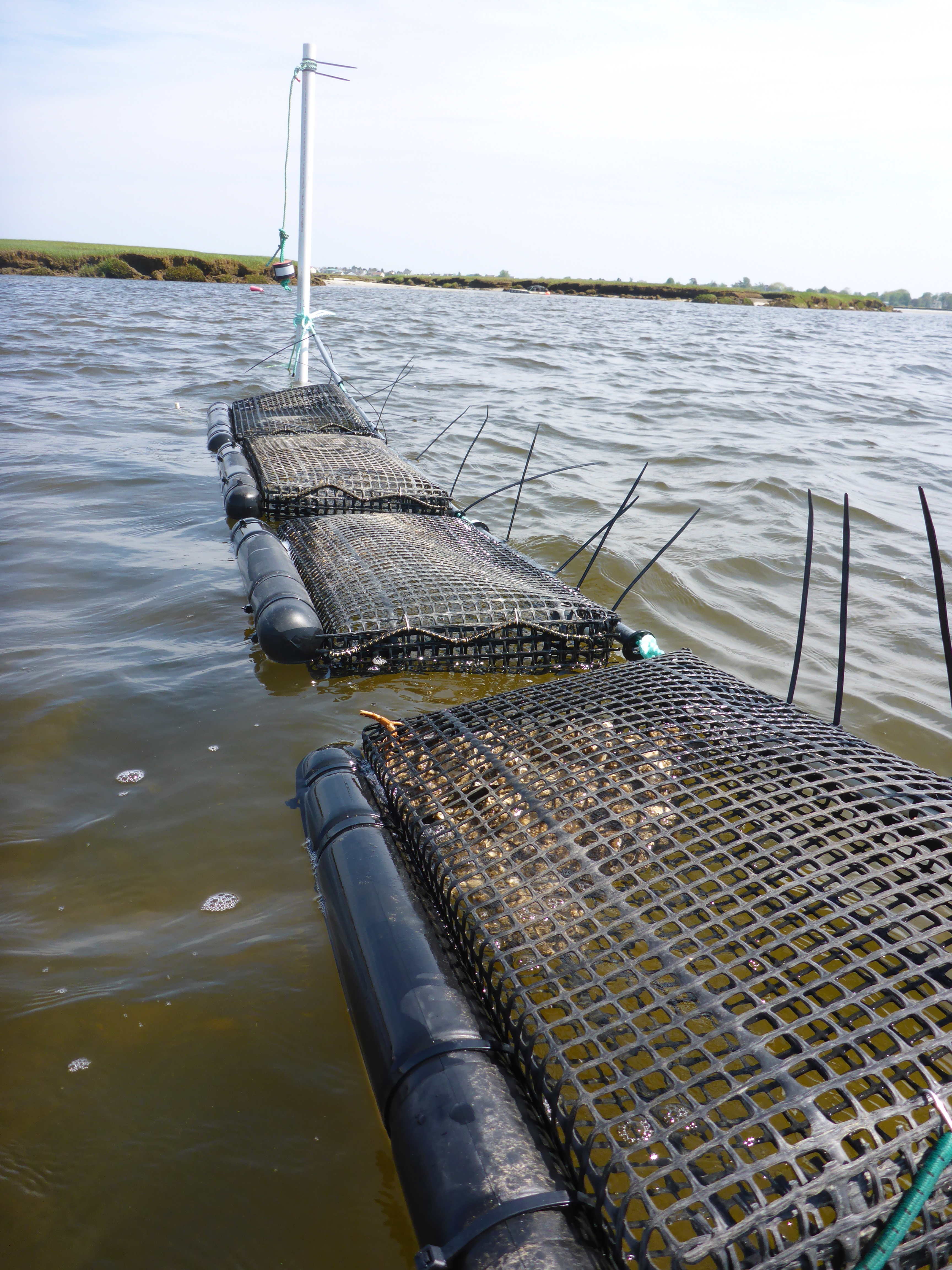 Research and extension colleagues in the northeast have teamed up with shellfish farmers to create a network of commercial farms that are doubling as research stations, with the goal of improving shellfish production equipment and husbandry.
The NARF-Net project is funded through NOAA Office of Aquaculture and the National Sea Grant program; the Project Leaders are Dr. Dale Leavitt of Roger Williams University and Tessa Getchis of CT Sea Grant. Collaborators include Gregg Rivara of Cornell Cooperative Extension, Diane Murphy of Cape Cod Cooperative Extension and Woods Hole Sea Grant, Michael Chambers of New Hampshire Sea Grant, and Dana Morse of Maine Sea Grant and University of Maine Cooperative Extension.
The current project underway is a flip-bag system for oyster production; the goal being to produce an eastern oyster (Crassostrea virginica) with an exceptionally deep cup, modeled after the "Kusshi" oyster, which is produced on the west coast. The Kusshi is a Pacific oyster (Crassostrea gigas) which has been tumbled aggressively, so that the growth edge chips, and the oyster grows deep rather than long.
Flip systems have been deployed in Maine, New Hampshire, Massachusetts, Rhode Island, Connecticut and New York; data, photographs and preliminary observations about the approach are starting to emerge. A similar flip system has also been deployed in the town of Brunswick, Maine, as part of a new effort to educate shellfishermen and members of the public on various methods of shellfish production.
We are lucky to have the expertise and collaborations with the following Maine shellfish farms on this project:
Pine Point Oysters – see our Facebook Page
Weskeag River Shellfish Farm – S. Thomaston, ME
and coming soon: Ebenecook Oyster Company
Please see below for updates, photos and video from the project.
For more information:
Dana L. Morse
Maine Sea Grant and University of Maine Cooperative Extension
207.563.8186
---
August 31, 2015 – Project Update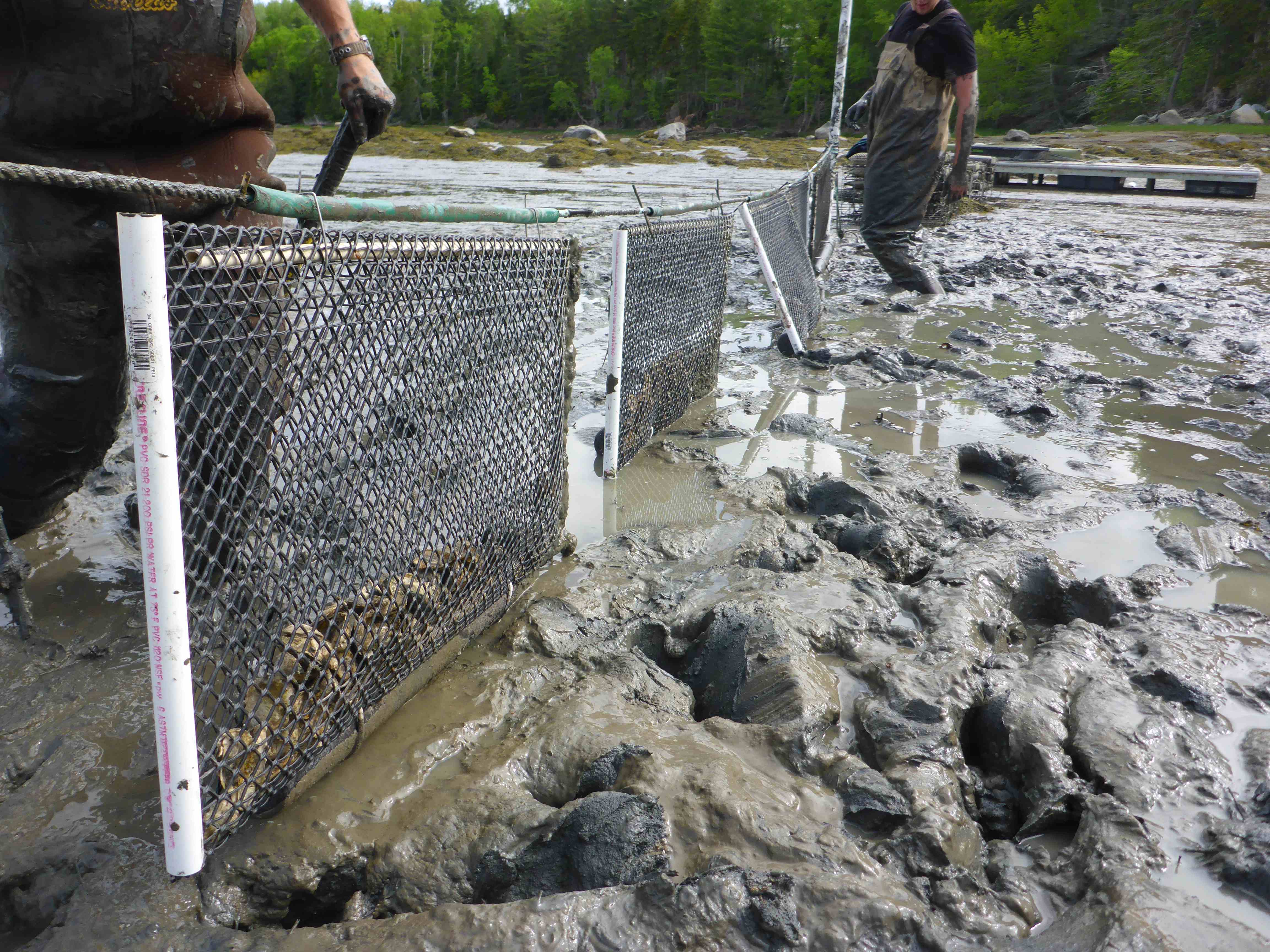 Happy to report that we have flip-bag systems successfully permitted, deployed and working at our collaborating farms:
Ebenecook Oyster Farm
Little Island Oyster Company
Otter Cove Farms
Pine Point Oysters
Weskeag River Shellfish Farms
Darling Marine Center
and a system deployed in Brunswick, next to the Mere Point Boat Launch, courtesy of the Town of Brunswick. Dan Deveraux (Harbormaster and Marine Resources Officer), Paul Plummer (Deputy Marine Warden), Darcie Couture (Resource Access International) and a whole gang of shellfish harvesters have set out a suite of shellfish culture gear, and this included a flip system, alongside their bottom racks and netted plots for hard clams and soft-shell clams.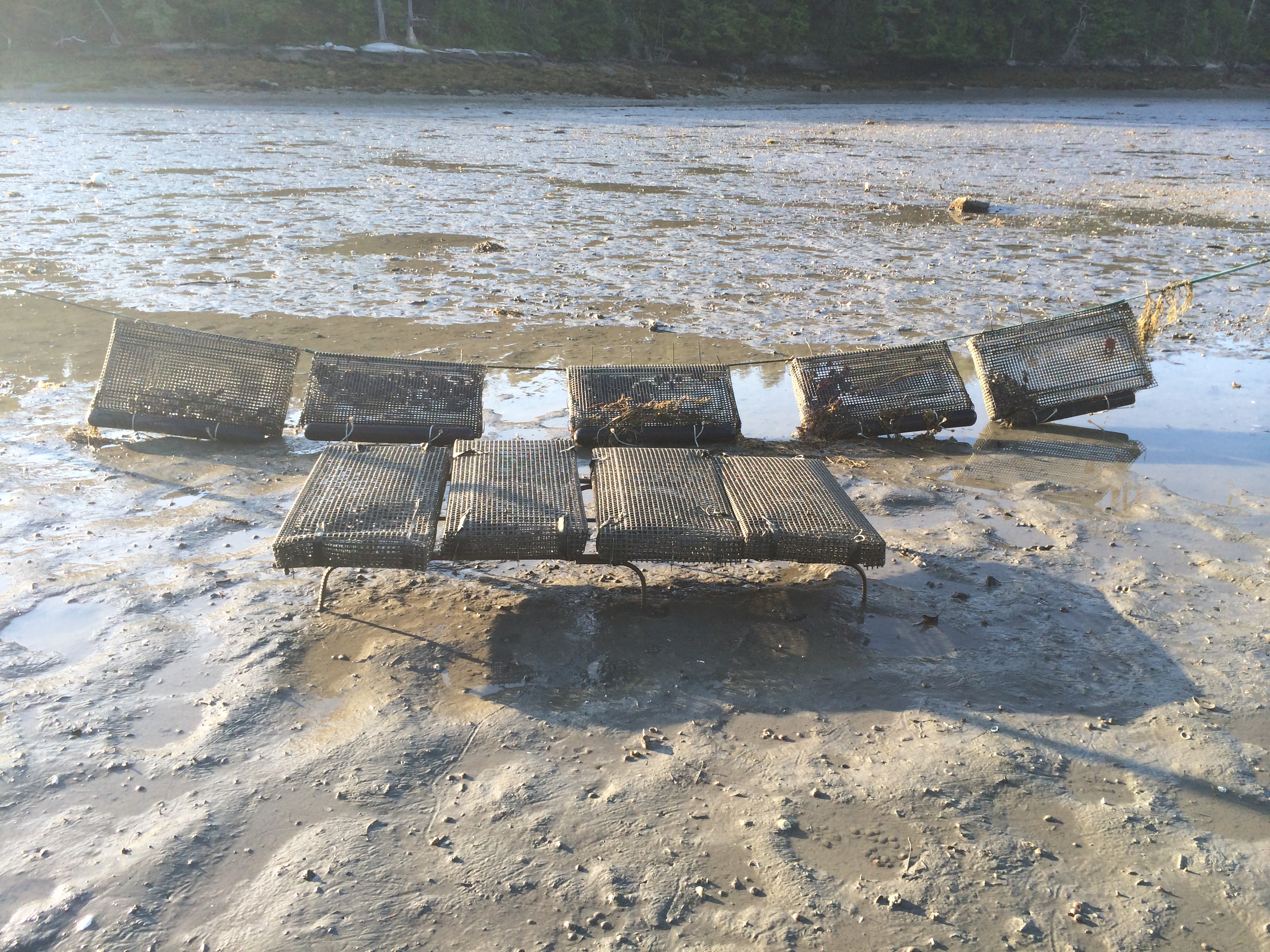 Special acknowledgement goes to the Maine Dept. of Marine Resources aquaculture group (Jon Lewis, Marcy Nelson, Diantha Robinson, Chris Vonderweidt) and the Maine office of the US Army Corps of Engineers (Jay Clement, LeeAnn Neal and Pete Tischbein) for the assistance in permitting this equipment for the first time in Maine.
For the NARF-net project: Growth is looking good on all sites so far; and though it's a little early to say how well the oysters are shaping up, the flip-system oysters generally have a rounder, smoother shell margin. Subsequent visits to the farms will show more conclusively what kind of shell pruning is occurring on the oysters. Overall, systems that are set intertidally (Little Island Oyster, Darling Center) appear to allow the shellfish equipment to dry more thoroughly, although the fouling that occurs on the other sets of bags may be a minimal problem. No mortalities observed thus far.
Anchor lines need to be tensioned periodically, to limit the amount of sag occurring in the horizontal portion of the line. Shellfish bags that are sealed on one end appear to limit the tumbling of the oysters, as compared to shellfish bags that are shaped as boxes. No damage has been observed from tides, currents, waves, wind or vessel traffic, and all gear is intact.