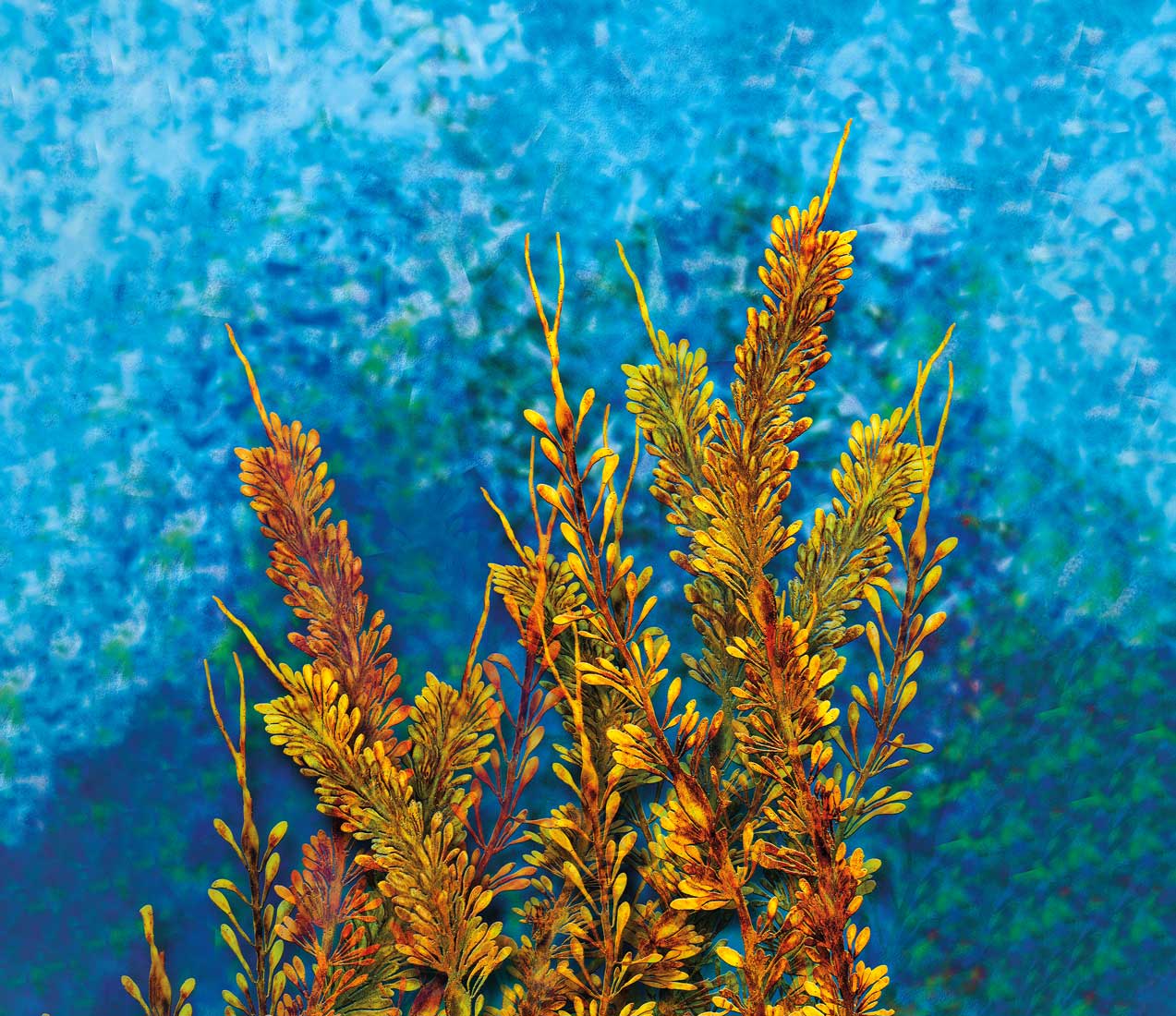 Seaweed inspires art: Q&A with John Ewen
Maine Sea Grant worked in collaboration with Maine-based artist John Ewen, who created 12 pieces of art highlighting seaweeds common to Maine's coastal waters. Throughout the next year, Maine Sea Grant will feature one seaweed a month via social media platforms (Facebook, Twitter, Instagram). Communications Specialist Aimee Whitman connected with artist Ewen to learn more about his inspirations and process for creating his art.
Q: Growing up living on the water, I was always around seaweed and other marine species, so I was super excited to learn about your work when it first came across my desk. What inspired you to start creating seaweed art?
A: Several years ago, I was interested in learning more about growing kelp along the coast. While researching this, I attended a Maine Sea Grant conference, which was an incredible eye opener. Prior to the conference I had no idea of the size, scope, challenges and opportunities of the Maine seaweed industry. About this same time, I began studying several books and research articles about the popularity of pressing seaweed during Victorian times, and I began experimenting with various seaweeds as well as different pressing and presentation methods, which has continued to this day.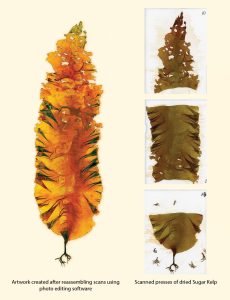 Q: Your artistic process must be pretty unique. How do you turn your seaweed presses into colored prints?
A: The seaweed pressing and drying process takes 2-6 weeks depending on the type of seaweed. I use fairly high-pressure presses to flatten and squeeze out moisture. After the specimens are dry, I will scan the images and use photo editing software to reassemble the seaweed parts if necessarily. The final step is experimenting with various presentations of the image.
Q: Who are some of your biggest artistic inspirations?
A: One of my favorite artists is Albert Pinkerham Ryder. I find his experimentation with light, color, and forms to be very inspiring.
Q: Has your style changed much from when you first started creating seaweed art? How do your interests differ now compared to then?
A: Initially, I was primarily interested in presenting the images as they might be found in a herbarium.
My goal would be to create outstanding examples of specimens raised to an art form as found in books such as the Pressed Plant by DiNoto (1999), by Barker and Foster (2006), and An Ocean Garden by Iselin (2014). Recently, I have also found it interesting to experiment with different background colors and shapes that hopefully enhance the image, provide additional variety in pattern and presentation, as well as highlight unique aspects of the specimen.
Q: Your pressings seem like a great opportunity to merge art and science. What are some exciting projects that you have worked on, and have you done any kind of projects that cross the two disciplines?
A: It was very exciting to work on a calendar project with Maine Sea Grant, particularly with the kelp pressings. Finding complete specimens after a gale was a pleasant surprise, and it was exciting to see all the dried pieces come together for the final images.
Searching for, looking at, and working with the final dried images constantly raises questions that cross into the scientific aspects of marine algae, such as: Where does this species grow and what is its habitat? Why does the appearance of rockweed change with the seasons? Is that bladderwrack supposed to be growing on that piece of rockweed, or not? If this is an invasive species, how did it get here, and how harmful is it? How is this species impacted by the weather, tides, and location?
Q: I can tell you put a lot of time and thought into your pieces. What does your art mean to you?
A: Working with pressed seaweed has been very challenging, but also very rewarding. It has given me an opportunity to explore, as Josie Islin observed, "that universe of life that resides just below and between the tides" (An Ocean Garden, p. 9, 2014). If any of my prints help to raise the awareness of the environmental necessity of these marine plants, that would be an incredible added bonus.
Posted 20 April, 2023