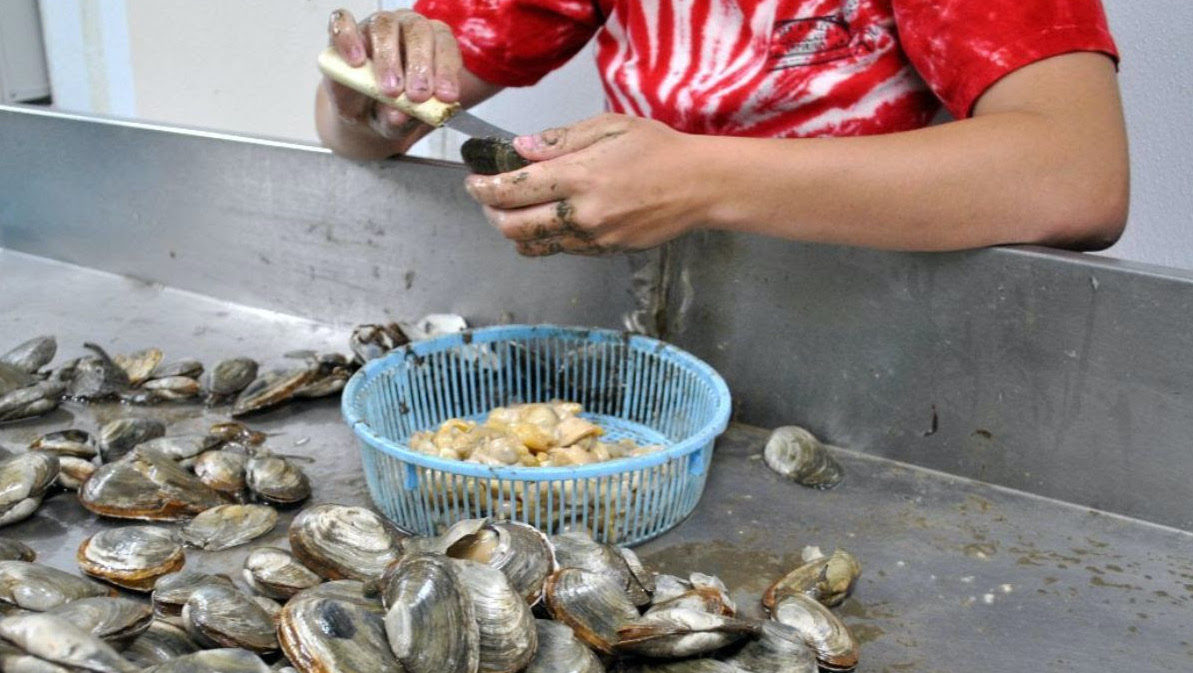 Coastal Conversations Radio Program: From the mud to your plate, shellfish markets and the seafood supply chain (Shellfish Focus Day #3)
Coastal Conversations show: April 23, 2021
WERU 89.9 in Blue Hill and 99.9 in Bangor
Host: Natalie Springuel, Maine Sea Grant
Listen to the show on WERU archives

Part 3 of our 3-part Maine Shellfish Day event!

In non-COVID times, the first day of the annual Maine Fishermen's Forum is dedicated to Maine shellfish. The event normally offers a rare opportunity for shellfish harvesters, shellfish wardens, municipal officials, non-profit groups, researchers, and others to meet and talk about issues facing the shellfish industry and how to conduct applied shellfish research and other projects to strengthen the fishery. Not wanting to miss out on this valuable event after cancellation of this year's in-person Forum, a diverse group of volunteers have put together three webinar/radio programs that will focus on important topics in Maine's shellfish fisheries.

Over winter and spring 2021, three episodes of Coastal Conversations (February, March and April 2021) are dedicated to rebroadcasting these webinars, all focused on Maine shellfish, including:

February 26, 2021: Shellfish Harvesting for the Future (Shellfish Focus Day #1)
March 26, 2021: What's Changing on the Mudflats (Shellfish Focus Day #2)
April 23, 2021: Shellfish Markets and the Seafood Supply Chain (Shellfish Focus Day #3)
Shellfish Focus Day #3: From the mud to your plate, shellfish markets and the seafood supply chain
In 2020, the soft-shell clam fishery was the second highest value commercial fishery in Maine, netting over $15 million in revenue, yet there is not broad awareness about what it takes to dig clams and bring them to the market. During this event we will learn from harvesters, shellfish buyers, retailers, and others in the supply chain about shellfish markets, challenges in the fishery, and opportunities for expanding markets for soft-shell clams, quahogs (hard clams), razor clams, and other shellfish in Maine, New England, and beyond. While this conversation will inform people from outside the industry, this event will also engage in topics within the industry, such as factors affecting market price, market shifts resulting from COVID-related restaurant restrictions, and new potential opportunities to export products to the European Union.
Guests
Charles J. Rudelitch, Executive Director, Sunrise County Economic Council
Joseph Porada, commercial harvester and Chair of the Frenchman's Bay Regional Shellfish Committee
Mike Danforth, operations manager, Maine Shellfish, Shellfish Advisory Council, and Department of Marine Resources Advisory Council
Tim Sheehan, owner, Gulf of Maine, Inc. and commercial harvester
Quang Nguyen, owner, Fishermen's Net
Boe Marsh, operator, Community Shellfish Company
Babara Scully – owner, Scully's Sea Products and commercial harvester
Kohl Kanwit – Director of the Bureau of Public Health, Maine Department of Marine Resources and Chair, Interstate Shellfish Sanitation Conference
The webinar will be co-hosted by Jessica Joyce from Tidal Bay Consulting and Natalie Springuel from Maine Sea Grant.
View the webinar
---

Listen to the show on WERU archives
More information about Coastal Conversations Radio Program