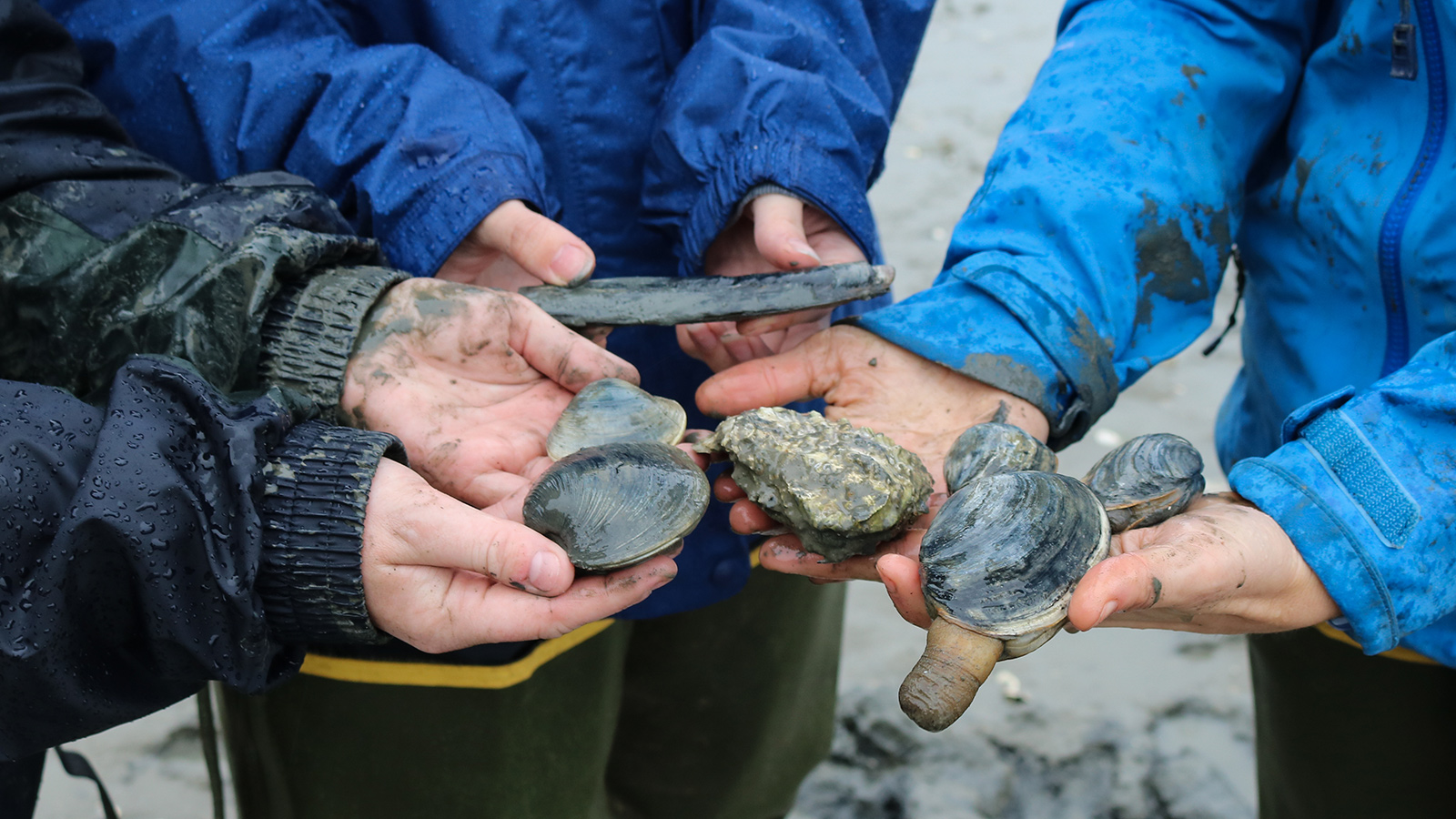 Coastal Conversations Radio Program: What's Changing on the Mudflats? (Shellfish Focus Day #2)
Coastal Conversations show: March 26, 2021
WERU 89.9 in Blue Hill and 99.9 in Bangor
Host: Natalie Springuel, Maine Sea Grant
Listen to the show on WERU archives

Part 2 of our 3-part Maine Shellfish Day event!

In non-COVID times, the first day of the annual Maine Fishermen's Forum is dedicated to Maine shellfish. The event normally offers a rare opportunity for shellfish harvesters, shellfish wardens, municipal officials, non-profit groups, researchers, and others to meet and talk about issues facing the shellfish industry and how to conduct applied shellfish research and other projects to strengthen the fishery. Not wanting to miss out on this valuable event after cancellation of this year's in-person Forum, a diverse group of volunteers have put together three webinar/radio programs that will focus on important topics in Maine's shellfish fisheries.

Over winter and spring 2021, three episodes of Coastal Conversations (February, March and April 2021) are dedicated to rebroadcasting these webinars, all focused on Maine shellfish, including:

February 26, 2021: Shellfish Harvesting for the Future (Shellfish Focus Day #1)
March 26, 2021: What's Changing on the Mudflats (Shellfish Focus Day #2)
April 23, 2021: Shellfish Markets and the Seafood Supply Chain (Shellfish Focus Day #3)
Shellfish Focus Day #2: What's changing on the mudflats?
The second event in the series will feature a conversation among shellfish harvesters, researchers, and municipal marine resource committee members about what they are observing on the flats and their various efforts to survey and monitor wild shellfish populations.
Panelists will discuss current efforts to collect knowledge and data on the clam flats, including:
Harvester insights about the status of shellfish in their community;

New shellfish survey techniques that use local ecological knowledge and mapping; 

Development of a standard protocol for an ecosystem survey in the intertidal that incorporates predators; 

The feasibility of using environmental DNA (e-DNA) technology to collect information.
If you can't join in person, share your observations about what you're seeing on your mudflats by calling and leaving a message at 413-489-2815 by March 15th, 2021.
Guests
Bailey Bowden, Harvester and Chair of the Penobscot Shellfish Conservation Committee
Nate Orff, Harvester and Chair of the Scarborough Shellfish Conservation Commission
Joanie Mcdonald, Harvester and Shellfish Advisory Council member, George's River
Kevin Oliver, Harvester and member of the Yarmouth Shellfish Conservation Commission
Denis Nault, Maine Department of Marine Resources
Marissa McMahan, Manomet
Sara Randall, Downeast Institute
Sarah Risley, University of Maine Darling Marine Center
The webinar will be co-hosted by Anne Hayden from Manomet and Natalie Springuel from Maine Sea Grant.
How to tune in: webinar and/or radio
This second Coastal Conversations episode in the series (set to air on March 26, 2021) will focus on topics raised during the companion webinar entitled: "What's changing on the mudflats?: Collecting knowledge and data about changing clam flats." 
The webinar will occur on Thursday March 18 at 2 PM. Use this link for info on how to join the webinar event. Portions of this webinar will be re-broadcast on WERU on March 26th at 4 PM and be available for podcasting thereafter. 
Please keep an eye out for the final program in the Shellfish Day series, which will be aired in April!
Special thanks to Jessica Joyce from Tidal Bay Consulting for helping plan these events.
---

Listen to the show on WERU archives
More information about Coastal Conversations Radio Program