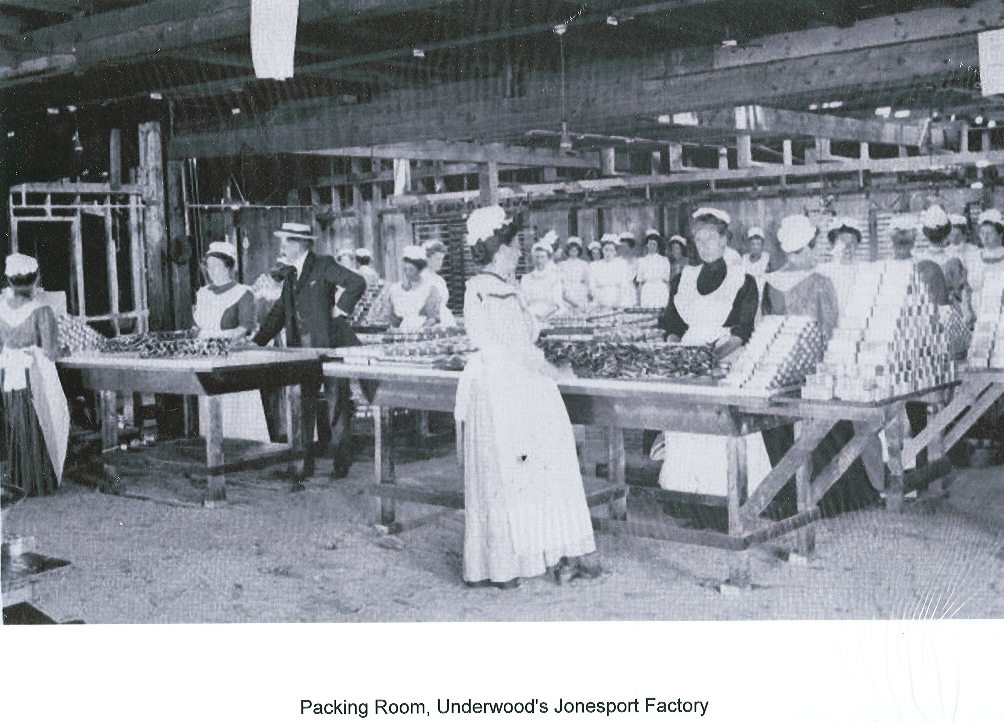 Coastal Conversations Radio Program: The Stories of the Sardine Industry
Coastal Conversations show: August 28, 2020
WERU 89.9 in Blue Hill and 99.9 in Bangor
Host: Natalie Springuel, Maine Sea Grant, with guest co-host Camden Hunt, student at College of the Atlantic
Listen to the show on WERU archives

Sardine canneries created jobs for generations of Mainers living near the coast for more than one hundred years, and cultivated values centered on hard, honest work and community. Sardines gave many Mainers an income during the Great Depression, presented opportunities for women to enter the workforce, and ingrained life-long bonds and stories in Maine communities that are still visible today.
On our next Coastal Conversations, we feature nine interviews centered around Maine's historic sardine industry. These interviews span the entire process of creating a can of sardines, from late night weir-tending, to cutting off fish heads with scissors, to "cartoning" and shipping out truckloads of cans. The interview clips we featured today explore the history of the industry, from its humble beginnings to its eventual death, when Stinson Seafood, the last sardine cannery in Maine, closed down in 2010. In this show, we explore the lives of people deeply connected to the small silvery fish, and their impact on Maine and its communities.
We hope you will join us on Friday, August 28, 2020, at 4 PM, on WERU 89.9 FM and streaming online at WERU.org, when this month's Coastal Conversations features interviews that shed light into the stories of the sardine cannery.
Special thanks first and foremost to Camden Hunt for his near-total leadership on production for this show! We also appreciate the help of Ela Keegan, Hannah Robbins, Galen Koch, and Molly Graham, for production support.
Featured voices from oral history interviews
The following people are featured on this show.
Arlene and Pete Hartford, age 73 and 76, from Gouldsboro, interviewed by Keith Ludden in 2011
Susan Knight Calder, age 84, from Whiting, interviewed by Keith Ludden in 2013
Willard and Peter Colson, age 88 and 56, from Southwest Harbor, interviewed by Keith Ludden in 2011
Lela Anderson, age 80, from Corea, interviewed by Keith Ludden in 2011
Diana Young, age 66, from Prospect Harbor, interviewed by Keith Ludden in 2011
Myrtess Harrington, age 80, from Steuben, interviewed by Keith Ludden in 2013
Clell Genthner, age 75, from Damariscotta, interviewed by Keith Ludden in 2011
Al West, age 62, from Steuben, interviewed by Keith Ludden in 2012
Robert Dyer, age 82, from Chebeague Island, interviewed by Joshua Wrigley in 2013
Citation for the Oral History collection
We are grateful to the archives that have helped protect this important facet of Maine history. Though the interviews clips we used on our episode of Coastal Conversations have been edited for clarity and length, the original nine interviews are archived at the NOAA Voices Oral History Archives. Robert Dyer's interview is part of the Maine Coast Oral History Initiative – the other eight are all from The Last Sardine Cannery Collection, also housed in Oral History and Folklife Research, Inc.
Specific Links for each interview are as follows:
Arlene and Pete Hartford
Susan Knight Calder
Willard and Peter Colson
Lela Anderson
Diana Young
Myrtess Harrington
Clell Genthner
Al West
Robert Dyer
---

Listen to the show on WERU archives
More information about Coastal Conversations Radio Program