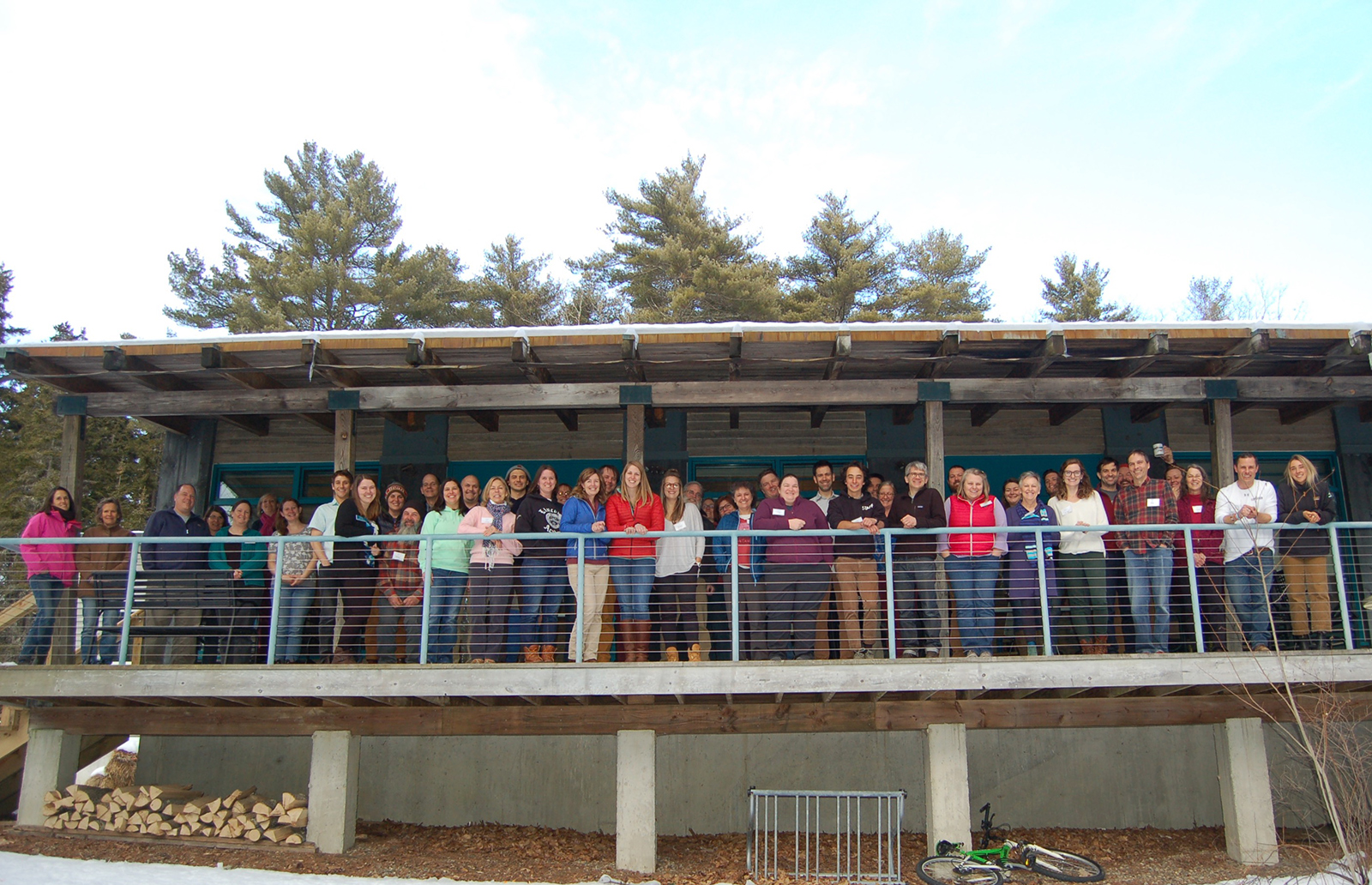 Aquaculture ME! connects aquaculture to Maine classrooms
Contributor: Morgan Cuthbert, Maine Sea Grant Professional Development Grant recipient and Aquaculture ME! founder
On Friday, January 24, Aquaculture ME!, an initiative that connects classroom teachers with aquaculture science and industry, held its first ever professional development conference at the University of Maine's Darling Marine Center near Damariscotta. The event was supported through grants from Maine Sea Grant and Educate Maine.
"I've always thought aquaculture was a tremendous opportunity for us, not to replace our traditional fisheries, but to supplement and work around our traditional lobster fisheries and create additional value," said Senator Angus King in a video message recorded for conference attendees.
"What you're talking about today, I believe, is very important and very important for the future of your students. Some of the most exciting opportunities are in aquaculture," Senator King said.
Educators, traveling from as far as Machias and Cape Elizabeth, joined individuals from non-profit, state, research, and educational organizations as well as members from the aquaculture industry.
Maine Department of Education Deputy Commissioner Dan Chuhta attended the event on behalf of the Department and gave brief remarks, extending a heartfelt appreciation to Aquaculture ME! and educators throughout Maine who work hard to provide Maine students with meaningful educational lessons that incorporate scientific practice about the complex systems that affect our communities and environment through aquaculture education.
During the workshop, the 58 conference participants learned about aquaculture research, the importance of connecting with the community and the industry, and successful ways to connect Aquaculture to the classroom. Maine educators from Cape Elizabeth, Brunswick, and Yarmouth Schools shared curriculum they have been implementing in their classrooms.
"We were thrilled with the support this event received from teachers and those in the aquaculture industry," said Jaclyn Robidoux, a Marine Extension Associate working with Maine Sea Grant.
The conference also gave participants the chance to network with one another and have a round-table discussion about aquaculture education in Maine.
"These connections allow classrooms to authentically explore what's going on in their backyards, while highlighting relationships between science, technology, society and the environment," said Robidoux. "By supporting Aquaculture ME! Maine Sea Grant hopes to connect classrooms to their communities and improve science education for Maine students."
For more information about Aquaculture ME!, visit their website.
The next Aquaculture ME! conference is set for July 24th at Wolfe's Neck Center in Freeport, Maine. If you'd like to attend or if you wish to participate in this initiative moving forward, contact Morgan Cuthbert.

Posted February 21, 2020