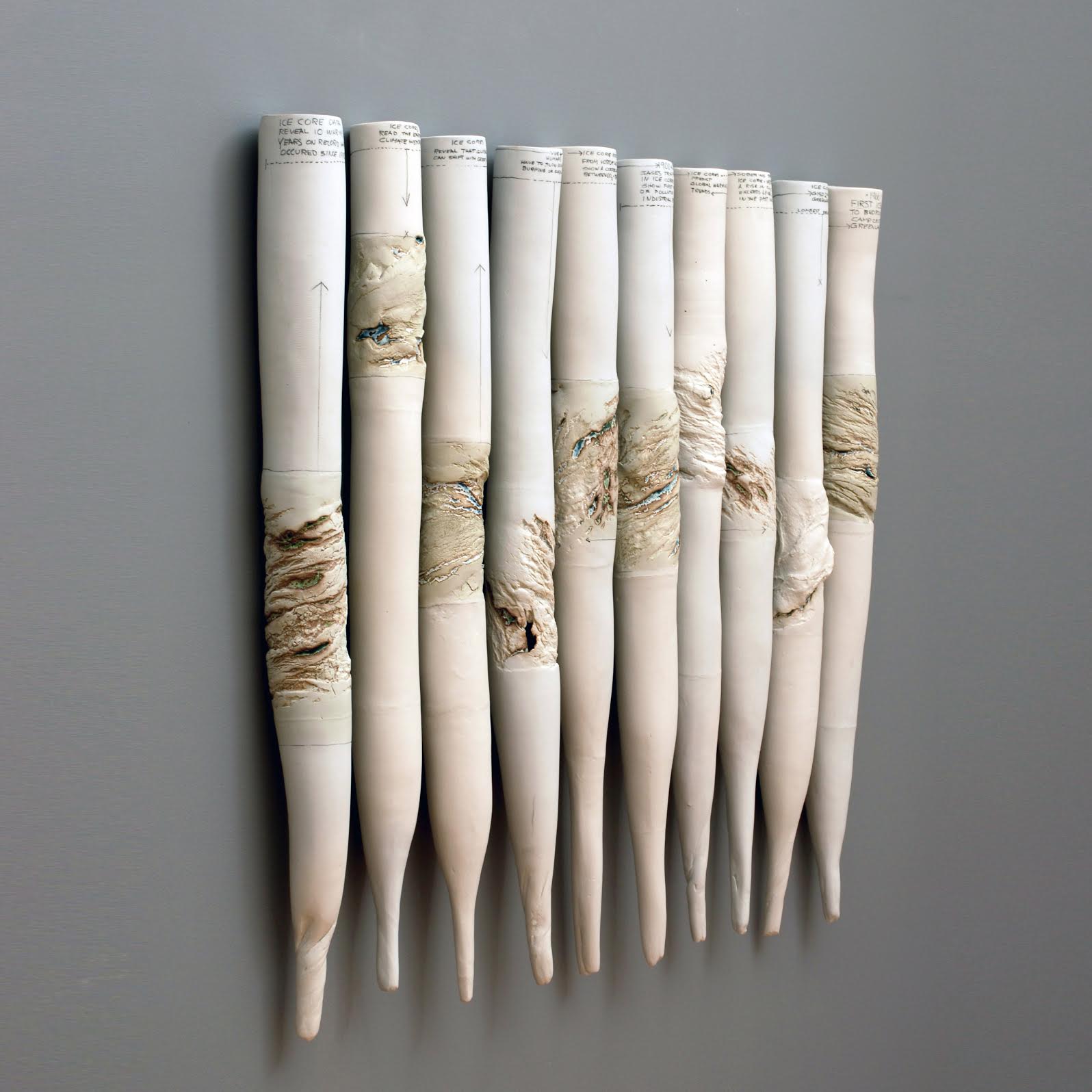 Elemental Intersections
Please join us July 7 for the first in a series of public conversations that bring together ceramic art masters, scientists, and Maine people working in natural resource fields to examine intersections between art and contemporary environmental issues.
What do a ceramic sculptor, a lobsterman, and a climate scientist have to talk about? On July 7 at 5:30 pm at St. Patrick's Church in Newcastle, Port Clyde lobsterman Gerry Cushman joins University of Maine marine scientist Robert Steneck and artist Nancy Selvin to view images of artist Paula Winokur's towering installations inspired by Greenland's icebergs and discuss how melting Polar ice is impacting the Gulf of Maine.
Nationally recognized radio producer and writer, Julie Burstein, will facilitate the discussions at St. Patrick's Church.
The series, called Environmental Intersections, is organized by Watershed Center for the Ceramic Arts in partnership with the University of Maine Cooperative Extension and Sea Grant Program. Funding for the series is provided in part through a Creativity Connects grant from the National Endowment on the Arts.
"Elemental Intersections enables us to recognize the innovations and contributions of three master artists to the field of ceramics – Wayne Higby, Jack Troy and Paula Winokur – and explore how their work relates to the natural world," explains Watershed Executive Director Fran Rudoff.
"Art and science both arise from human creativity, and have inspired each other throughout history. Many scientists are influenced by artists; many artists create, interpret and react to scientific knowledge. In my work with coastal communities, as in Paula's work, I see the power of images, sculptures and paintings to evoke and impress upon us how our climate is changing," notes Esperanza Stancioff, UMaine Extension and Maine Sea Grant Climate Change Educator.
The second Environmental Intersections conversation will be held on August 25 at St. Patrick's Church and will feature master wood fire potter Jack Troy, forest ecologist Nick Fisichelli, and Maine Guide Polly Mahoney.
Since 1986, ceramic artists have come to Watershed to grow their studio practice and connect with others in an environment that fuels peer to peer learning, experimentation and exchange of ideas. Through artist residencies, workshops and public programs, Watershed is a 501c3 nonprofit that serves the local, national, and international clay communities.
The event is free and open to the public.  St. Patrick's Church, located at 380 Academy Hill Road in Newcastle, Maine, is a fully accessible venue.  Sign language interpretation will also be available; please contact Watershed at 207-882-6075.  For more information on the Elemental Intersections series, visit WatershedCeramics.org/elements.