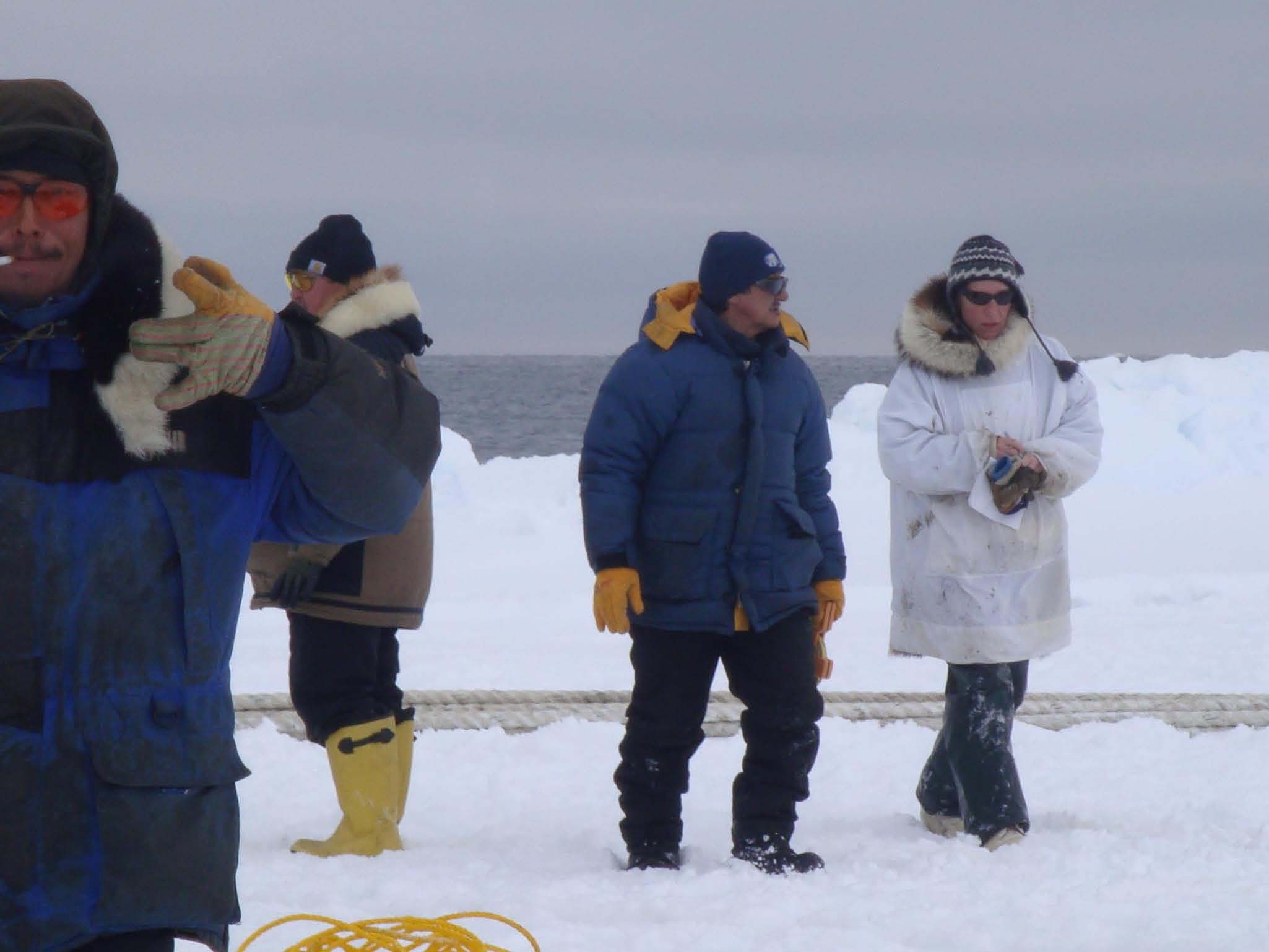 The Knowledge of Native Peoples
November is National Native American Heritage Month, a time to recognize "the significant contributions the first Americans made to the establishment and growth of the United States." On Thanksgiving, we come together in shared humanity and celebration of the lands and waters that sustain us. The original residents of the continent accommodated European colonists, shared their knowledge of where to find food and shelter. They ate together—Homo sapiens trying to survive in the same landscape.
There is more to the Thanksgiving story, and we are still trying to share this place peacefully several hundreds years later. Native peoples living on the Atlantic, Gulf, Pacific, and Great Lakes shores continue to practice and preserve their sea-based cultural traditions. Some tribes are working with Sea Grant scientists studying environmental change-related problems and solutions, or figuring out ways to protect and manage coastal resources. Here are some stories from around the Sea Grant network.
—
Plaquemines Parish, Louisiana is more sea than land, the southern swampy edges of Louisiana and the muddy fingers of the Mississippi Delta merging with the Gulf of Mexico. It has always been a watery place, but ever-rising sea levels and erosion made worse by the fossil fuel industry's ditching, dredging, and diverting are drowning the landscape. Water dominates now, surrounding islands and strands of land; images look like a photographic negative, a topographic relief map in reverse. In Grand Bayou Village, the houses are on pilings in the marsh and are only accessible by boat. Before Hurricane Katrina, some 40 Indian families called Grand Bayou home; now there are fewer than 20.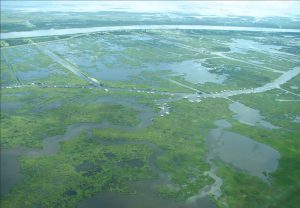 Residents make their living fishing and trapping in the marshes that are rapidly disappearing. They want to keep catching shrimp and collecting oysters. They are working to restore the land while planning for a retreat from the sea. They worked with Louisiana Sea Grant research director Matt Bethel to develop and analyze maps of coastal land loss. In another Native American community in Pointe Aux Chenes, canals dug through the marshes as part of oil and gas extraction have eroded, making waves and storm surges worse and eliminating habitat for shrimp and crabs. Local "knowledge experts" (identified by the Tribal Council) knew the protective function of the marsh, what contemporary scientists call an "ecosystem service." Out in the field, they directed Sea Grant researchers to areas of interest. One elder described his perspective: "See this right here, this should be all solid land, all them cut canals, that would be a sort of a buffer that would stop the water from getting up there so quick."
In an example of research projects that incorporate "traditional ecological knowledge" with "science," Bethel then takes the stories and information and maps them, overlaying local knowledge with spatial data like elevation and vegetation cover. He sends the draft maps back to the community for review, in the hopes the final versions will help them create a future.
"These communities need time and information to plan for anticipated changes that may include resettlement," said Bethel, who is continuing this work with funding from the National Academy of Sciences.
—
In Washington, Sea Grant researcher Joe Schumacker studies depleted oxygen levels that are affecting fish and razor clams in coastal waters home to the Quinault Nation; other research is assessing Native Americans' long history with Pacific herring.
Oregon Sea Grant, tribal members, and the Columbia River Intertribal Fish Commission focus on seafood safety and developing new products.
Current research in California is drawing on tribal knowledge to enhance the baseline characterizations of culturally and ecologically important coastal species. Smith River Rancheria is leading this project in partnership with the Intertribal Sinkyone Wilderness Council, a consortium of ten federally recognized Tribes, the Cher-Ae Heights Indian Community of the Trinidad Rancheria, and the Wiyot Tribe. At a recent symposium on Humboldt Bay, Wiyot cultural director Tom Torma spoke about the cultural challenges of adapting to a changing environment.
"We're coming to the conclusion that many of the challenges we face today have to do with ceremonies, lifeways, and our larger relationship with the place, that you don't get by just seeking out just the information you want," said Torma. "For example, we know about the science of climate change—what's happening, what's causing it, what we need to do to fix it, and the consequences of not fixing it. But we're not doing it. That comes from not having a relationship, and not having meaning beyond the information and data. From a Wiyot perspective, if people who work to protect the Bay are going to do something about it, then we are going to have to redefine our relationship to the Bay."
In southern California, Sea Grant works closely with the Coastal Band of the Chumash tribe in establishing and observing marine protected areas. University of Southern California Sea Grant Associate Director Phyllis Grifman  and Education Manager Linda Chilton serve on the Chumash Education Advisory Council, and create curriculum and education programs at the Chumash Village in Malibu.
—
In Alaska, native peoples make up 16% of the highly rural population. "Our coastal communities are not connected by road and there is a high dependence on local resources for food," said Paula Cullenberg of Alaska Sea Grant. Scientists and extension professionals are committed to using traditional knowledge in their work. Just one example is Gay Sheffield, who collects biological data on bowhead whales alongside subsistence hunters on the North Slope. When the University of Alaska Fairbanks acquired a new vessel the Sukuliaq, Sea Grant connected the crew with locals and their "ice sticks," a traditional tool for detecting the thickness of sea ice. In other communities, residents are monitoring coastal erosion and other environmental change (and they even created a manual of best practices, one of which is that locals maintain ownership of the knowledge they share. It is wrong to steal or profit from indigenous wisdom).
Place-based observations of seasonal cycles are incorporated into coastal management efforts of Hawai'i Sea Grant. Participating watchers and observers monitor their local environment to support 'āina momona and inform calendars about the cultural significance of native fishes and plants. Learn more about the observer program and the Multicultural Marine Conservation Exchange.
The Sea Grant program at the University of Guam provides opportunities for people to learn about the history and relationships of Chamorros and other Pacific peoples to natural resources. In 2016 the program piloted field trips and workshops on tides, maritime archaeology, watersheds, and Chamorro fish names.
The Great Lakes Indian Fish and Wildlife Commission, Wisconsin Sea Grant, and the Wisconsin Department of Natural Resources are developing protocols to retrieve "ghost nets" that have broken and drifted from whitefish and trout fishing areas. In the process, commercial, recreational, and tribal fishermen are protecting fish and the environment while resolving conflicts over use of lake resources.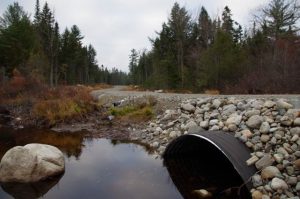 In Maine, we are working with other NOAA offices and The Nature Conservancy on restoring migratory fish habitat in the Penobscot River watershed. The Penobscot Indian Nation is a major participant. They are leading the way in removing dams, replacing malfunctioning culverts, and enhancing passage for alewives, eels, and endangered Atlantic salmon.
—
The concept of "traditional" knowledge has expanded to account for knowledge held by local people of all backgrounds. People who have lived in any given community for an extended period of time have their own awareness and understanding of their environment. Native peoples hold and transfer this knowledge in their stories, materials, and traditions. Fishermen, farmers, hunters and gatherers put their understanding of nature into practice.
If we want to survive on this landscape, to keep our families happy and healthy and feast together into the future, we need a healthy environment, a healthy ocean. And we would be wise to listen to and learn from those who are paying the closest attention to the Earth.