Sea Grant alumni working on national marine policy as 2016 Knauss fellows
Two UMaine graduates are working on national marine policy issues as Dean John A. Knauss Fellows. While their placements have just begun, we checked in with Karen Pianka and Noah Oppenheim to see how things were going so far.
Their answer?
"It's been a whirlwind."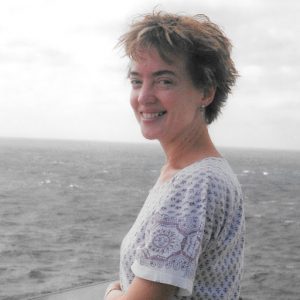 Karen Pianka studied aquaculture-related issues with Dr. Paul Rawson and Dr. Teresa Johnson, and is thus well-prepared to work in the NOAA Office of Aquaculture.
"One of my main tasks this year will be to act as a 'roving reporter' and gather information about the various types of aquaculture being done around the country. This will involve travel to the various NOAA Science Centers, talking to Sea Grant extension personnel, industry, and organizations, as well as some folks in academia and government, and deciding whether each story will best be told via podcast, video, or as a website story with pictures. It sounds like I may start by reaching out to some of the people in Maine that I already know, which will be fun! I'm looking forward to networking with others involved in aquaculture, and learning how to tell great stories."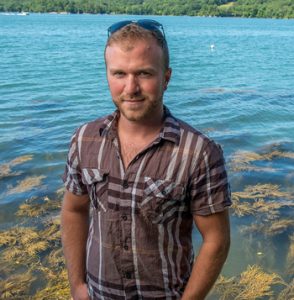 Noah Oppenheim worked with Dr. Richard Wahle on American lobster research. He is working in the office of Congressional Representative Jared Huffman (CA-02). He reports:
"I have taken on the oceans, energy, federal lands, and natural resources portfolios. Rep. Huffman's district extends from the Golden Gate Bridge to the Oregon border, encompassing a third of the California coastline and representing a highly diverse set of constituents. I have been working at warp speed to introduce legislation aimed at reducing fossil fuel use on federal lands, helping provide disaster relief to crab fishermen in California, and conserving salmon habitat throughout the West Coast, among my many other projects and non-legislative duties. My first few weeks have been an incredible learning experience, and I'm looking forward to what I know will be a productive and informative year."
Both Pianka and Oppenheim were students and "Maine Sea Grant Scholars" in the dual master's degree program in marine biology and marine policy in the School of Marine Sciences.
Named after John A. Knauss, a founder of Sea Grant 50 years ago this year, the fellowship matches graduate students with positions in the legislative and executive branches of government in the Washington, DC area for one year.