Holiday Seafood Traditions, Part 1: Fall-Winter
The December broadcast of Coastal Conversations on WERU-FM will be all about Maine's winter holiday seafood traditions, past and present.
As part of our research, we rode the ferry out to Islesboro to visit with food historian Sandy Oliver. It seemed appropriate to sit in her kitchen, an open space dominated by an Atlantic wood-burning cookstove.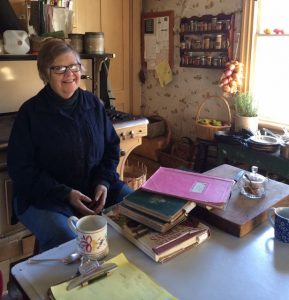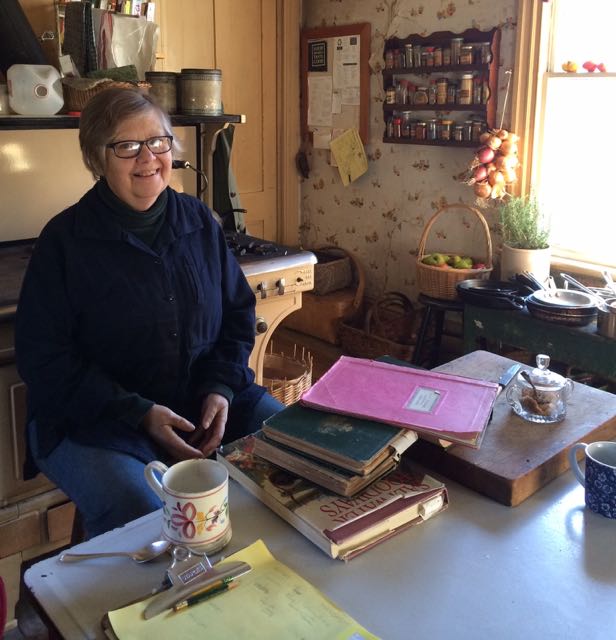 Oliver, who has lived on the island in Penobscot Bay for some 27 years, is the author of Saltwater Foodways, Food in Colonial and Federal America, and Maine Home Cooking. She writes a weekly column in the Bangor Daily News. A scholar on colonial food and cooking, she did not immediately think of seafood when asked about the holidays. Instead, she said, meat and seasonal vegetables were the order of the special day, and Thanksgiving, not Christmas, was the big holiday meal at the time, demanding "the best menu people could possibly think of." Turkey and venison get the most attention, but the original Thanksgiving menu likely included seafood, which would have been part of the seasonal harvest enjoyed by the Native American ancestors of today's Wabanaki people. Eels, smelt, pollock and cod, shellfish, and lobster all would have been available in late fall and early winter.
Given this history, and the importance of the lobster fishery today, it makes sense that magazines like Bon Appetit and Food & Wine are promoting "Lobster for Thanksgiving." (More on Thanksgiving from Smithsonian, National Geographic, and the exhaustive foodtimeline.org.)
Oliver also noted that given Maine's Protestant roots, fish was not considered "celebratory" food by European settlers; fish was what poor people ate, or Catholics when they were fasting for religious reasons. People considered fish less wholesome than meat; "they gussied it up with sauces, especially sauces with lots of fat, to make it more substantial."
So what about Christmas?
According to Oliver, Christmas wasn't really celebrated until religious and cultural shifts of the nineteenth century, including publication of A Visit from St. Nicholas (1822) and A Christmas Carol (1843). Many of Thanksgiving's dishes made a repeat appearance at the family table.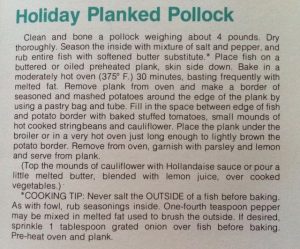 Only in the twentieth century did seafood come to be considered a "special" item worthy of a holiday: shrimp cocktail, lobster stew, crabmeat. There are several reasons for this. As some seafood items became rarer, their price increased, as did the perception of luxury. Others became more readily available and easier to cook with processing technologies like canning. Still others were promoted by state and federal agencies. A late twentieth-century brochure from the Maine Department of Marine Resources features "Holiday Planked Pollock."
Seafood became a larger part of winter holidays in Maine—gradually—with the arrival of new people from different backgrounds. French, Italian, German, Irish, and other immigrants brought their food customs with them. For example, the Southern Italian/Sicilian "Feast of the Seven Fishes" on Christmas Eve, which came at the end of the Advent fasting period.
Sandy Oliver gave us some ideas for incorporating seafood into holiday meals, which we'll share on the broadcast. In the meantime, Happy Thanksgiving from all of us at Maine Sea Grant.