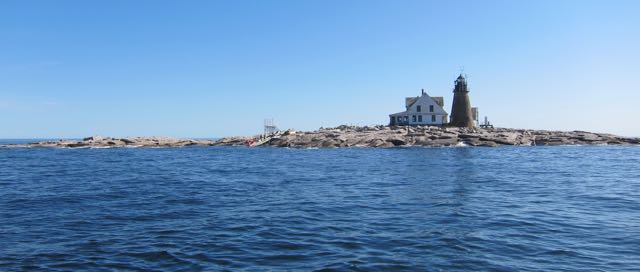 The View from Mount Desert Rock
Twenty-five miles due south of Acadia National Park stands the most remote lighthouse in Maine. Established in 1830, the Mount Desert Rock Light is now part of College of the Atlantic's Edward McC. Blair Marine Research Station.
On the eve of Labor Day Weekend, 18 students in Sean Todd's Marine Mammal Biology class were ready to end their two-week immersion course on the Rock. They had learned the Latin names of every whale in the Gulf of Maine, and how to count seals from a safe distance. They experienced "the best whale watch ever" during a 14-hour trip to Grand Manan. While anxious for showers, trees, and bacon, the students—all female by happenstance—learned about how to live together and run a remote marine field station powered by solar panels and propane. They could operate a hydraulic winch, and navigate rigid inflatable boats through the chop between the MV Osprey and the landing. They had come to the end of a lifetime experience.
Gannets plunged into the waves as dozens of grey seals bobbed and swam in the surf. The gray granite of the Rock was littered with the jetsam of the open sea: whale bones and gull carcasses, driftwood and buoys, fragments of buildings damaged during Hurricane Bill six years ago. Gulls have colonized the island, every surface pasted with their stinky guano. On the northern horizon, Mount Desert Island cast its striking silhouette of mountains and valleys.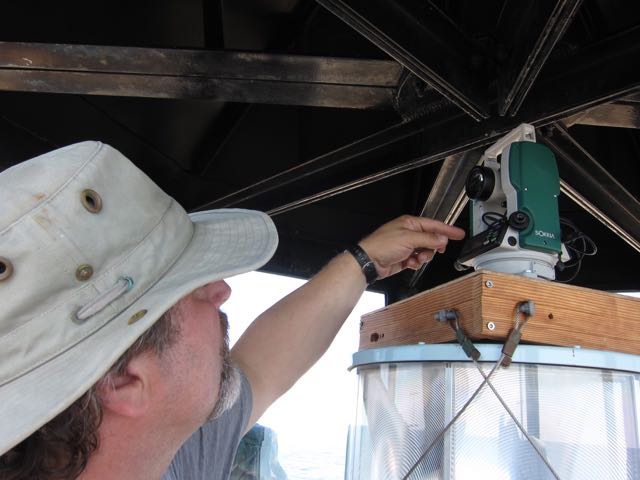 Todd took a brief break from the loading-unloading operation to show us a piece of equipment purchased with Maine Sea Grant Program Development funds in 2012.
The digital theodolite measures horizontal and vertical angles to distant objects (in this case, whales) viewed through a high-powered telescope installed in the top of the lighthouse tower. The instrument is so high that observers must sit on a swing suspended from the ceiling to look through it, clicking a button every time they see a whale in the crosshairs. With 360-degree views and automatic data recording, the theodolite has greatly advanced Todd's research with Allied Whale, the marine mammal research division of COA.
"It gives us a more accurate assessment of where the whales are," he said. "For example, we know now that four miles northeast of here seems to be a popular spot, with lots of food, and now we can collect other data to help us understand more about that location."
The GPS-enabled digital theodolite also saves time; now, Todd can do work that once took five or six hours in half an hour. This has led to Mount Desert Rock being selected as a research site for an important collaboration between Woods Hole Oceanographic Institution and NOAA, where spatial data are being combined with acoustic survey data, allowing whale sightings to be correlated with the sounds they make underwater.