Grand Manan, the Dulse Capital of the World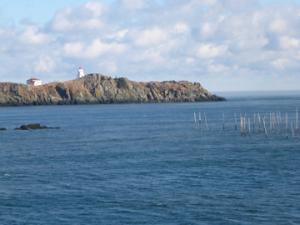 by Natalie Springuel
Over the holidays this year, my family and I decided it was time for a trip beyond Downeast Maine. We crossed the border at Calais and drove on to Black's Harbor, New Brunswick (Canada) to catch the ferry to Grand Manan, an island at the mouth of the Bay of Fundy. I'd been to Grand Manan on a few occasions, once for a wedding ceremony overlooking the sea and its fishing boats. On Grand Manan, life is still timed by the sea.
Lobster and other fishing boats ply the waves. Salmon pens – circular enclosures where salmon are raised to market size – float in nearly every bay and cove. And herring weirs still hang on, affixed to the shore and ready to intercept the schooling fish. Weirs are among the oldest fishing traditions in the region and Grand Manan is one of the few remaining strongholds.
Lobster, salmon, herring… these are all Gulf of Maine and Bay of Fundy staples. But there is one marine industry that is uniquely Grand Manan. Neighboring shores have dabbled in this one, but Grand Manan is clearly the Dulse Capital of the World.
Dulse is a red seaweed that grows in the lower intertidal zone. Flat sheets of thin, almost translucent leaves when wet, dulse is salty, savory deliciousness when dry. And Grand Manan has cornered the market.
On the main road that runs the eastern, flat side of the island (the western side is armored by basalt cliffs that are visible from the Bold Coast of Maine, about 9 miles across the water), we follow a small placard painted blue announcing "DULSE" with an arrow to the right. The sign takes us into the island's interior, far from the shores where the sea vegetable is first hand-harvested. We come to an opening in the thick tamarack and spruce forest, and pull into the driveway of a simple white house. The dooryard is big, with a series of large wooden sheds flanking it, and the land surrounding the house is covered with well-tended fields of an odd looking crop: it appears from the road to be dark colored rocks.
Not much activity this cold December 30th. Are they open? "Always open," Sandy, owner of Roland's Sea Vegetables, soon tells us as he leads us into the largest shed and adds, "If we aren't here, people just walk in and buy what they need."
We enter into a sea vegetable lover's paradise. The rustic wooden shed is lined with wide shelves filled with bags and bags of dark colored content. The hand-drawn signs tacked to the wall tell us it is dulse, nori, alaria, kelp, Irish moss, sea lettuce, kombu. The signs inform us our choices aren't limited to species, but in how they are processed: powdered, dry, soft, crispy, flakes, gift baskets.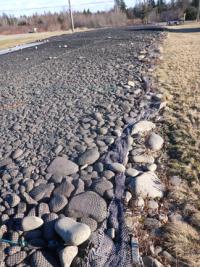 Before I go on, I should say that I have long been interested in seaweed, having dabbled for years with harvesting Irish moss from remote ledges accessed by kayak at low tide, then making the Blanc Mange pudding recipe from Euell Gibbons' Stalking the Blue Eyed Scallop. My interest was peaked in graduate school when I assisted a marine ecology field course on the shores of Swan's Island, Maine, where my professor encouraged as much experimentation in the kitchen as in the tide pools. Currently, I've been feeling inspired by Sarah Redmond, our Sea Grant extension agent whose work supports seaweed farmers. Sarah spent a couple hours at a recent staff retreat showing us some of her culinary tricks, and my family's dinners have changed forever. Refried beans with alaria. Kelp tea. Seaweed cucumber salad. Dulse grilled cheese. Last night's dinner: home-made seaweed-spiced pizza (the trick is to shake the flakes into the bowl with the flour). I am a gardening failure, I like to blame an overabundance of shade in my yard, but I sure like vegetables from the sea. Which brings us back to this amazing seaweed operation on Grand Manan.
Sandy explains he took the business over from his father. He buys dulse and other seaweed from a number of local harvesters. Those black fields of rock we first noticed are carefully delineated rectangular plots where each harvester tends to his plot – about 40 feet by 10 feet I would guess – of drying seaweed. Sandy has an aerial photo of his property on the wall and there are at least 30 different plots. Today, nothing is drying (wrong season), but each plot is covered by fine mesh netting. Sandy explains that the harvest is spread onto the net, which can be rolled up to protect it from the rain, or to move it to a better site. There are yellow metal boxes scattered about the property. These "shakers" are machines used to get the clumps out of the seaweed, to separate the leaves.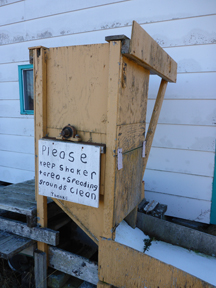 The advantage of this system, plots and shakers and the selling shed all together, Sandy explains, is that each harvester has a guaranteed space to dry his or her seaweed and then a place to sell it.
The whole system is brilliant. I could spend hours chatting with Sandy. We've only just started talking about dulse but his shelves are covered with at least another half dozen species and I haven't even asked about those yet. Alas, my seaweed-loving seven year old is hungry, I've spent $47 on six varieties of seaweed, and my husband is itching to go find winter seabirds in the sea smoke under the cliffs on the west side of the island. We'll have to come back another time. Something tells me this isn't just the Dulse Capital of the World.
Until then, you'll find me in my kitchen. Forty-seven dollars of Grand Manan seaweed goes a long, long way.