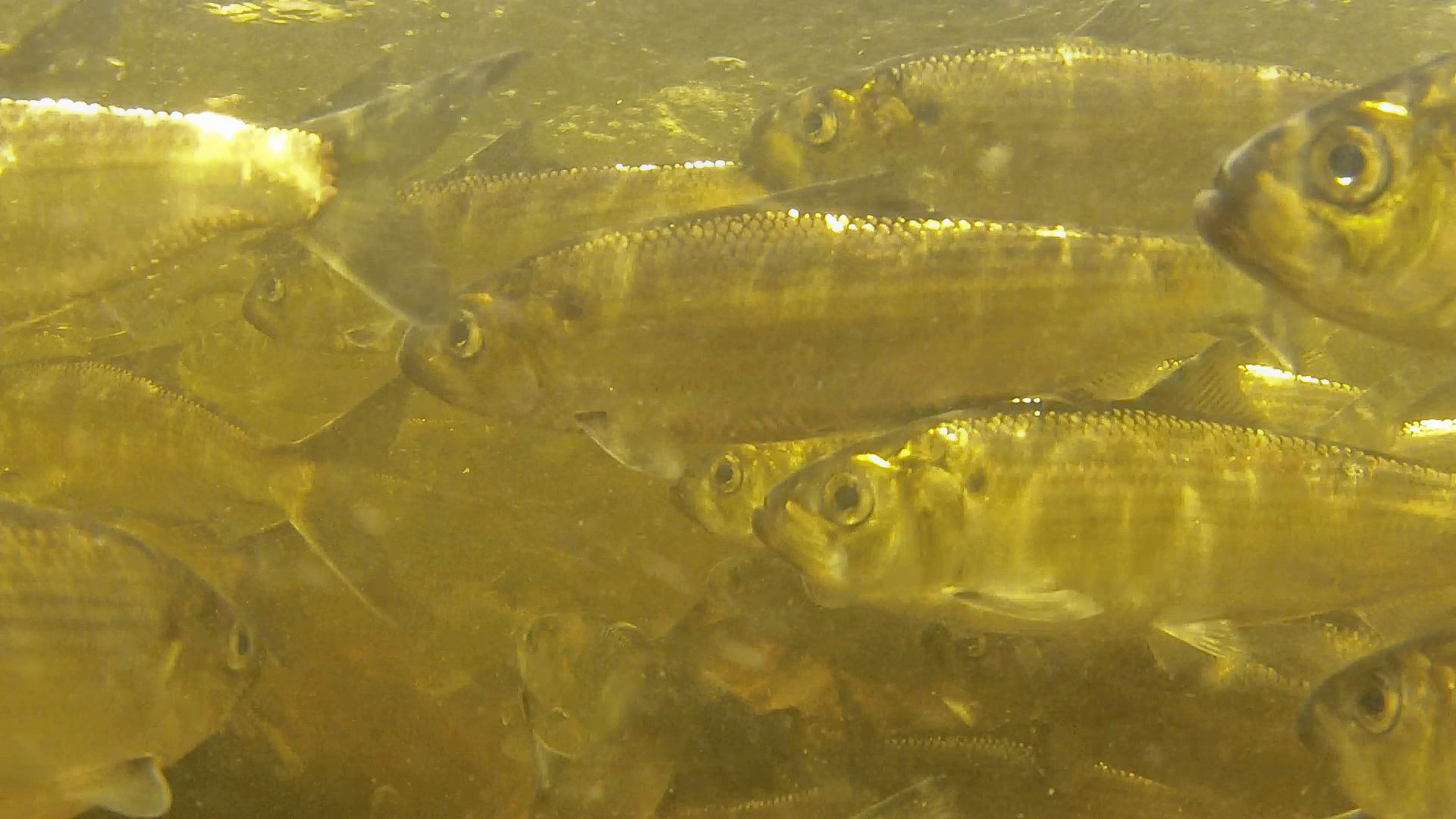 Learning about river herring in Downeast Maine
I had the pleasure of assisting the town of Pembroke, Maine with monitoring alewife and blueback herring this spring. These two fish species are jointly known as river herring. They migrate from the ocean to spawn in Maine's freshwater lakes and rivers during the months of May and June. Alewife and bluebacks are primarily harvested for lobster bait as well as for human consumption and currently sell for $25 per bushel. Town leaders would like the authority to harvest and sell these fish. Before that can happen, Maine Department of Marine Resources (DMR) biologists need to know how many fish are returning to the river so they can ensure the sustainability of the population. Recreational fishing for alewives and bluebacks is allowed in Pembroke with a daily bag limit of 25 fish per angler.
I worked with a group of twelve volunteers to count river herring as they swam upstream from the ocean. DMR staff provided our group with monitoring protocols and data analysis. We also collected 25 fish each week to record biological information about the population. Our volunteers were the heart and soul of the project. People graciously gave their free time to count fish at the sluiceway regardless of uncomfortable weather conditions or marauding clouds of black flies. The program ran every day for six weeks until the fish migration ended. Preliminary estimates from our counting efforts indicate that there were sufficient numbers of river herring in 2014 to consider having a commercial harvest in the future. Further analysis of our data will be completed by this winter. The monitoring program is expected to continue in 2015.
We also hosted five field trips for elementary school classes to learn about river herring and this monitoring project. Ninety-one students from Pembroke, Perry, Edmunds, and Eastport visited our study site and gained hands-on experience in fisheries science while learning about this valuable local resource. Joey Gardner, Game Warden with Maine Department of Inland Fisheries and Wildlife, joined us for these field trips and was a huge help in keeping things organized while encouraging the kids to have fun. After the field trips, many students brought their families to see the thousands of schooling fish. One mother gave me some friendly ribbing by saying that she had to bring her son back to the river for five days in a row after his field trip. Learning opportunities like this got me fired up about science when I was kid, so its nice to see the next generation of students get excited too.
It can be difficult to see the difference between blueback herring and alewife. I find that alewives have a larger eye and a bronze-colored head while bluebacks have a silvery head and a smaller eye. Another way to tell them apart is by looking inside the fish. Blueback herring have a black membrane, or peritoneum, that lines their abdominal cavity.  Alewives have a pale peritoneum. Here are two photos with blueback herring on top and alewife on bottom.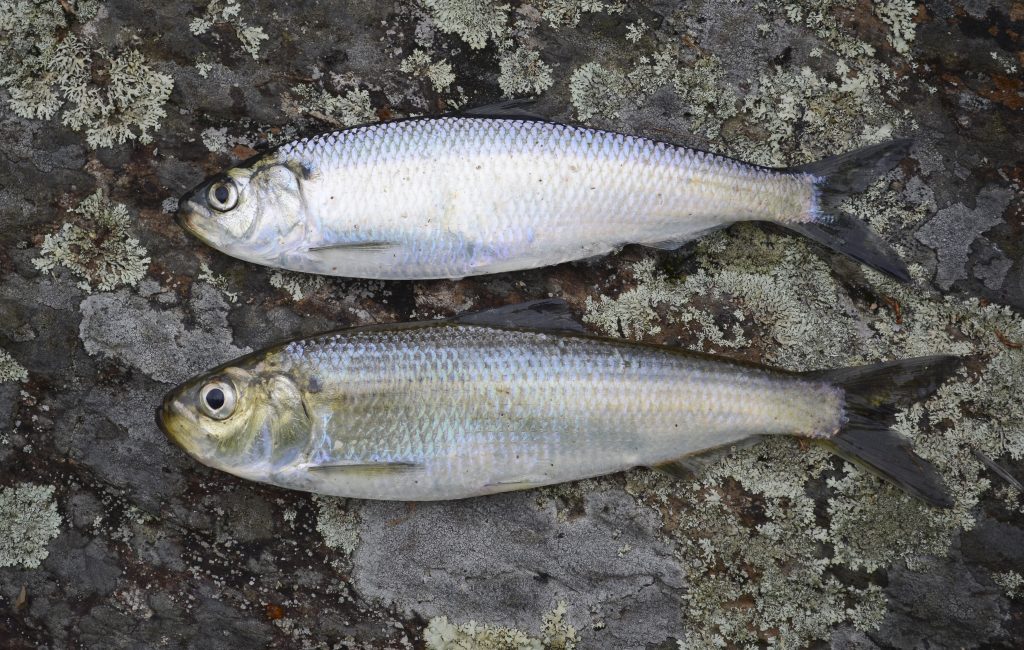 I recently read that identifying river herring by these field marks may not be completely accurate. An article published in the May 2014 issue of Conservation Genetics* stated that hybridization between alewives and bluebacks is widespread and common. Researchers studying river herring along the East Coast of North America from Massachusetts to Nova Scotia found hybrids at over half of their sampling locations including all five sites in Maine. Although the overall rate of hybridization was relatively low (≤6%), three streams in Atlantic Canada had rates between 22% – 30%. Our monitoring site in Pembroke was not included in this study, so I'll have to wait to find out if alewives and bluebacks are crossbreeding in the Pennamaquan River. Until then, I'll just have to keep calling them as I see them.
* McBride, Meghan C., Willis, Theodore V., Bradford, Rod G., Bentzen, Paul. 2014. Genetic diversity and structure of two hybridizing anadromous fishes (Alosa pseudoharengus, Alosa aestivalis) across the northern portion of their ranges. Conservation Genetics, DOI 10.1007/s10592-014-0617-9.
Chris Bartlett is a Marine Extension Associate with Maine Sea Grant and University of Maine Cooperative Extension. He lives and works in Eastport, Maine.