Seafood Splash
by Catherine Schmitt
Our friends at Gulf of Maine Research Institute and Maine Aquaculture Association successfully kicked off this year's Harvest on the Harbor with a mid-day seafood event featuring "lesser-known, yet abundant and well-managed species," which GMRI is promoting with its Sustainable Seafood Project, and salmon, cod, mussels, oysters, and seaweed raised in Maine waters.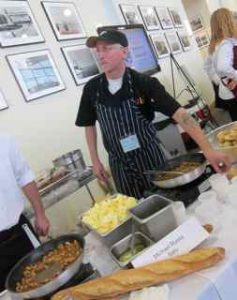 To start: Atlantic pollock tacos from Havana South. The breaded bites of pollock in corn tortilla cones with guacamole and red cabbage were worth coming back for. Pollock is caught with haddock and cod in deep water.
Sam Hayward of Fore Street fried up Port Clyde redfish, another deep-water species, with a hard cider-saffron butter sauce. "All those things, I don't know if they're any good on their own, but together…." said Hayward's assistant Galen Cunning. Together is right—this was my favorite of the day.
Michael Ruoss of Salu showed the Northerners gathered at Ocean Gateway how to "barbeque" shrimp New Orleans style. The delicate Maine shrimp held up well to the addictively peppery, buttery treatment, but home cooks should be careful not to keep the shrimp too long on the stove. As soon as they curl up, they're done. Shrimp season usually starts in December (as determined by the Atlantic States Marine Fisheries Commission).
Atlantic salmon, farm-raised in coastal Maine waters, is often overcooked or underappreciated, or both, but Portland's top taqueria El Rayo gave salmon a perfect cooking and dignified dressing.
Nonesuch Oysters ran out of oysters within an hour; fortunately, Wild Ocean had plenty of Bangs Island mussels.
I didn't miss the chance to taste Ocean Approved's seaweed salad and "kelpalli crostini," a nice palate cleanser after all the fish, as was the five-flavor selection of organic Gorgeous Gelato.
And just as soon as it began, the Seafood Splash was over.
Not until the ride home did I realize what was missing: lobster. Maybe it's because Maine's most valuable and abundant fishery will be highlighted later in the weekend at the crowning of the Lobster Chef of the Year. More likely it's because the event organizers were trying to give other fish in the sea a chance to shine.