Information about Maine's sustainable seafood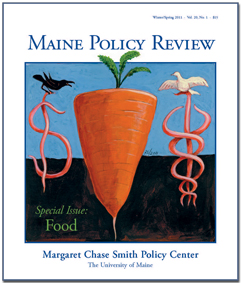 by Catherine Schmitt
The new issue of Maine Policy Review is a special issue all about food. It is the journal's largest issue ever, perhaps a testament to the importance and interest in the economy and environment of food. Several articles are focused on seafood in particular, including one by the Island Institute's Rob Snyder about the connections between working waterfronts, coastal communities, and seafood. Penobscot East's Robin Alden provides a commentary on what it's going to take to build a sustainable seafood system for Maine.
I chose to focus on sustainable seafood information from the perspective of a Maine consumer. From farmer's markets to four-star restaurants, customers want to know where their food, including fish, comes from. But finding out is not such an easy task. How do you sort out the labels, the guides, the websites, the brands? My analysis of several national and regional guides to "sustainable" seafood found great disparity among the ratings for Maine seafood. And many local species, such as Northern shrimp, smelt, and red crab, were not even on the lists. Making decisions about seafood is even harder for consumers who are concerned about health risks like mercury.
Writing this article encouraged me to continue to pursue this blog and other means of communicating sustainability information about Maine seafood. And Sea Grant will continue to participate in emerging efforts like the Maine Seafood Marketing Network and the Eat Local Foods Coalition By Land and By Sea project.
Maine has plenty of sustainable seafood available from our own watery backyard. It's time to get the word out!