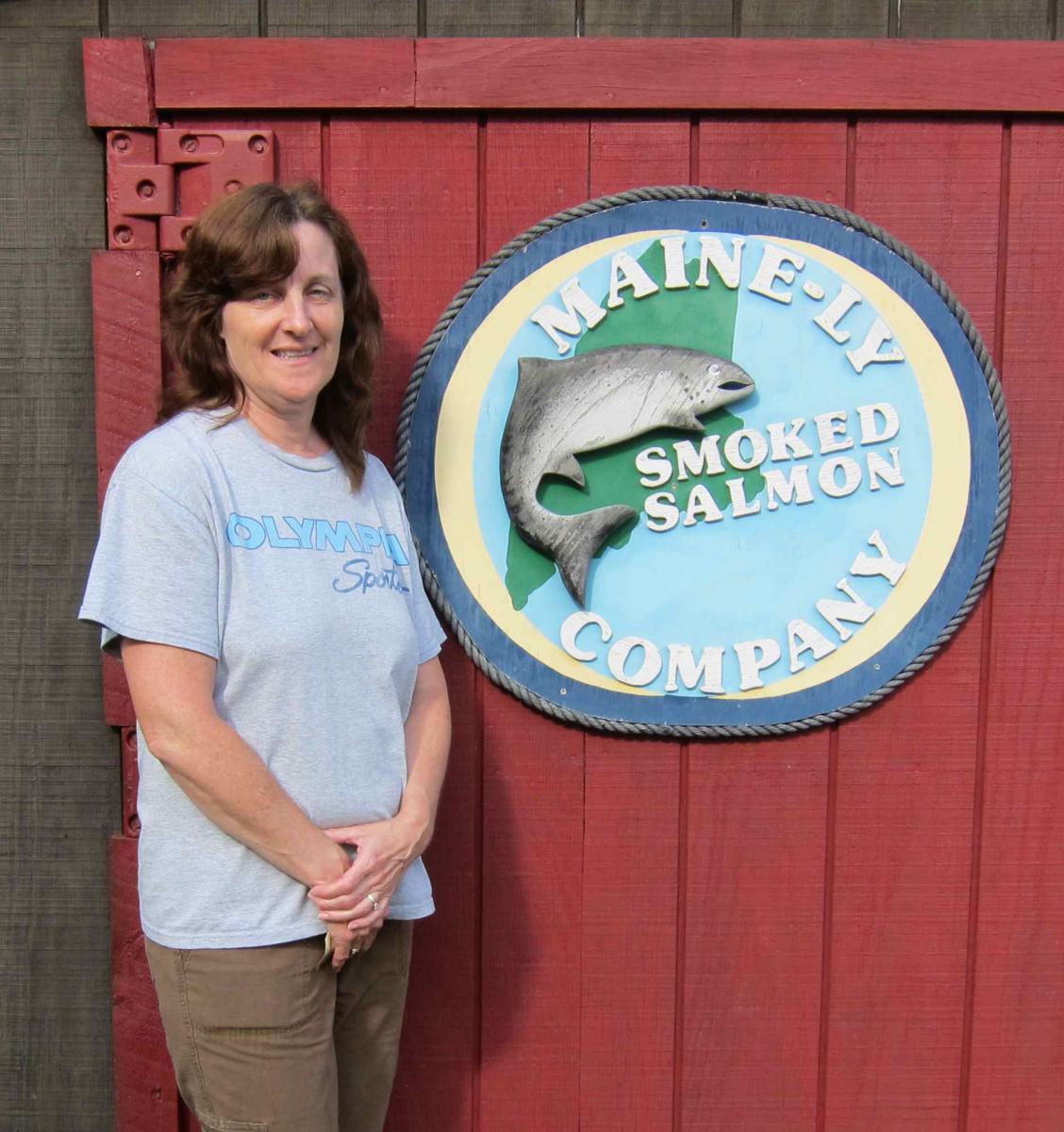 Smoked Salmon, and Other Side of the Road Seafood
by Catherine Schmitt
Fresh Crabmeat.
Live Lobster.
Cherrystones, Mussels, Clams.
The hand-made signs that decorate the roadsides of Downeast Maine are clues to the region's seafood industry, an independent and entrepreneurial collage of individuals and families who dig for clams and worms, collect periwinkles, dredge for scallops, rake seaweed, trap lobsters and crabs, and tend salmon.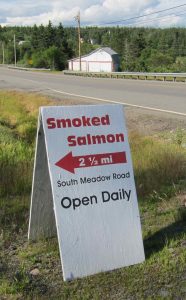 The hungry traveler, like a scavenger hunter in unknown territory, would be wise to heed the postings, follow the arrows, and look for the flags that say "OPEN."
On a recent trip to Cobscook Bay to scope out sites on the Downeast Fisheries Trail, I was looking for a particular sign: SMOKED SALMON. Near the intersection of Routes 1 and 190 in Perry, a sandwich-board points down South Meadow Road to the Maine-ly Smoked Salmon Company. There, outside an open barn with a painted wooden salmon hanging from the door frame, was Karen Constant, one-half of the company's business team.
Karen led me inside to show me what they had in stock: whole sides of salmon, skewered salmon chunks, Cajun-flavored salmon. The fresh fish comes from the surrounding waters, where Cooke Aquaculture raises Atlantic salmon. Cooke's new fish processing plant in Machias employs 120 people, which is a lot of jobs for this part of Maine.
I scrounged together $17.00 for a shy pound of the Cajun salmon, and thanked Karen for being open. It's nice when the signs actually lead somewhere—but isn't that part of the adventure? Seafood in the easternmost tip of the United States may not be fancy, but it doesn't get any fresher.
For those who won't make it Downeast this summer, look for the Maine-ly Smoked Salmon truck at the Machias Blueberry Festival August 20-21 and the American Folk Festival August 26-28 or give the Constants a call to have them FedEx product direct (207-853-4794).