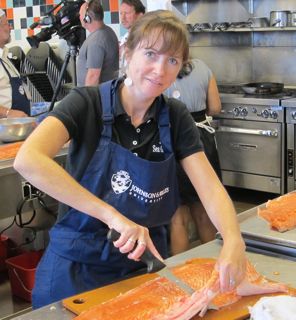 A Seafood Knowledge Economy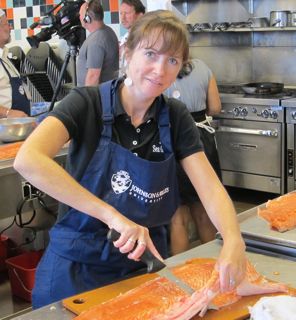 by Catherine Schmitt
This week is the 10th annual Ronald C. Baird Sea Grant Science Symposium in Rhode Island. The topic is "Developing the Rhode Island Seafood Knowledge Economy: Perspectives on Seafood Sustainability." Our colleagues at Rhode Island Sea Grant pulled together a spectacular assemblage of chefs, culinary expertise, seafood industry professionals, fisheries scientists, economists, and community organizations trying to resolve what RI Sea Grant Director Barry Costa-Pierce calls the "insanity" of exporting most of our locally produced seafood while eating mostly imports.
We spent Monday afternoon in the kitchen classrooms of Johnson & Wales University learning about flounder, haddock, and Atlantic salmon. In the salmon session, each of us had the opportunity to filet our own ~20-pound salmon raised by Cooke Aquaculture in Passamaquoddy Bay. Chef Chris Aerni of the Rossmount Inn in St. Andrew's, New Brunswick, patiently walked us through the preparation of salmon carpaccio with fresh chive, fennel, and fleur de sel; salmon tartare with cilantro, sesame, and avocado; and baked salmon with an olive-lentil-cucumber vinaigrette.
Lessons learned so far: Chefs and restaurants can help drive trends, but they need help connecting to fishermen. Aquaculture is important for meeting demand for healthy, sustainable seafood. And everyone needs more information.