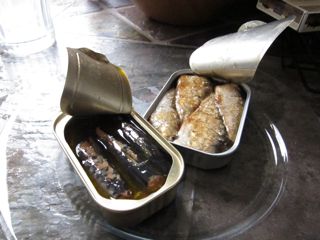 Sardine Story Sneak Preview
by Catherine Schmitt
I've been working on a story about sardines since last April, when Bumble Bee Foods announced the closure of the Stinson Seafood factory, the last sardine cannery in the United States. As newspaper headlines across the country announced "the end of an era," I began my own pursuit of the enigmatic sardine. I won't give away the story here–readers will have to wait for its appearance in Maine Boats, Homes & Harbors magazine.
All this sardine storytelling's been making me hungry, so I thought I'd post the results of sardine taste test #1. In my research, I discovered that the Pacific sardine, Sardinops sagax caerulea has recovered after decades of depletion. While cuts in the Gulf of Maine Atlantic herring quota were blamed for the Stinson plant closing, among other reasons, Pacific sardines were experiencing a renaissance. I bought a tin of Wild Planet Sustainably Caught Along the California Coast [But Processed in Vietnam] Wild Sardines in Extra Virgin Olive Oil for $2.95.
I also wanted to try the original Mediterranean namesake species, Sardina pilchardu, which is also reportedly sustainable. The Cole's Portuguese Sardines in Olive Oil cost about $6.00. The results? Both were excellent: good texture, nice flavor, essentially everything you expect from a can of sardines. The Pacific sardines were smaller–about six in a tin–and a bit more tuna-ish, with a fruitier olive oil. The Portuguese sardines were larger, four to a can, and had a stronger smoked flavor. I have more brands to try, I know. What's your favorite?