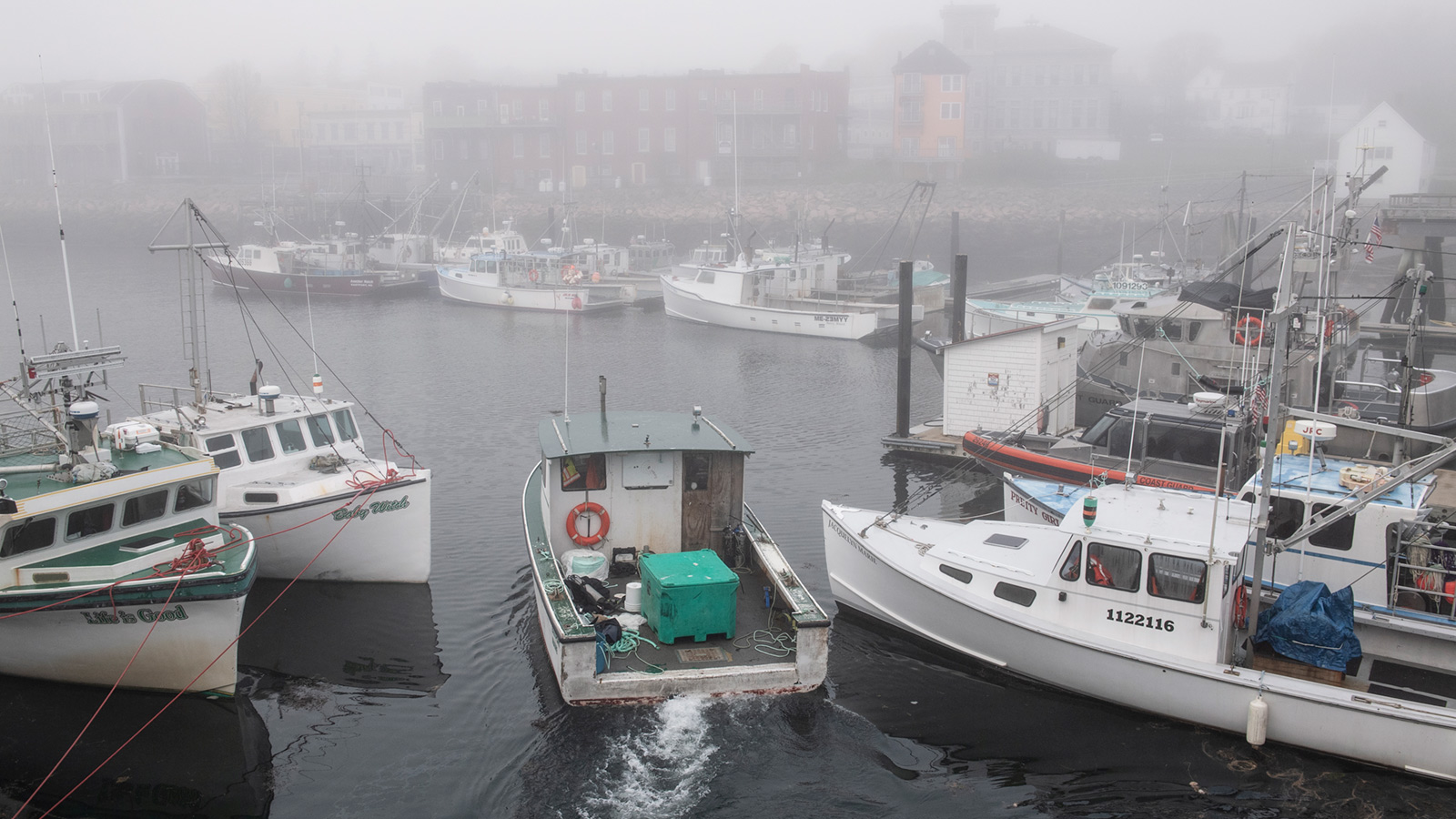 Coastal Conversations Radio Program: Stories from Eastport: Maine's easternmost town
Coastal Conversations show: October 28, 2022
WERU 89.9 in Blue Hill and 99.9 in Bangor
Host: Natalie Springuel, Maine Sea Grant
Listen to the show on WERU archives

Today our show features two stories about Eastport, Maine's easternmost town.
Our first is called "Eastport: Reinventing a Waterfront."
In the far eastern corner of Downeast Maine there's a 3.7 square mile island. Connected to the mainland by a causeway and road that passes through the Pleasant Point Passamaquoddy Reservation, Sipayik, this island is home to the town of Eastport, population 1,300. Once the most prominent sardine canning village along the coast, Eastport's last sardine factory closed in 1983. With that, a century-long industry was gone. In this episode we learn how Eastport has transitioned from a waterfront of empty factories to a vibrant multi-use working waterfront positioned to respond and adapt to a very uncertain future.
This story is brought to you by our radio storytelling friend Galen Koch, whose podcast series, From the Sea Up, has been featured on Coastal Conversations before. Galen brings the past and present together to help us make sense of Maine's complicated future. This is the first in a working waterfront series we will keep sharing over the next few months.
Our second story Is called "The Drama of Eastport Tides"
The defining feature of the easternmost point of America is the dramatic tides of the Atlantic Ocean at the coast of Eastport, Maine. Learn why incredible natural feature exists and visit one of the largest confluences of whirlpools in the world. Hear from the Salts—people with deep connections to the sea, whose lives are shaped by this natural wonder.
This story was pulled out of the Coastal Conversations archives, from 2017, when well-known New England audio storyteller Rob Rosenthal partnered up with an initiative called Experience Maritime Maine to produce the Salts and Water podcast. Eastport is one of six towns covered in this series.
Tune in Friday October 28, 2022, 4-5 PM for this month's Coastal Conversations on WERU Community Radio at 89.9 FM in Blue Hill and streaming online at WERU.org.
For More Information
Eastport: Reinventing a Waterfront
People and organizations Featured in this story include: Tides Institute, Hugh French, Moose Island Marine, Dean Pike, Eastport Port Authority, and Chris Gardner.
This story is part of the podcast series From the Sea Up
A note from producer Galen Koch:
Thank you for listening to From the Sea up. This episode was written and produced by me, Galen Koch and assistant producer Olivia Jolley for the Island Institute. Nicole Wolf takes the beautiful photographs that accompany this episode. From the Sea Up's Senior Editors are Isaac Kestenbaum and Josie Holtzman. Additional audio editing on this episode by Liz Joyce and Claudia Newall. Special thanks to Camden Hunt, Hugh French, Dean Pike, Chris Bartlett, and Chris Gardner for their help and participation. And thanks to the Salt Institute and Pamela Wood, Hugh French, and Lynn Kippax Jr, who together researched and wrote the 1983 journal publication, "Eastport: For Pride." Most of the music in this episode is by Cue Shop.
From the Sea Up is made possible by the Fund for Maine Islands through a partnership between Island Institute, College of the Atlantic, Maine Sea Grant, and the First Coast. To hear past episodes and for more information visit www.islandinstitute.org/podcast
The Drama of Eastport Tides
People and organizations featured in this story include: Butch Harris of Eastport Windjammers, harbor pilot Bob Peacock, photographer Lisa Tyson Ennis, some Eastport visitors, and of course, the tide.
This story is part of the podcast series SALTS & WATER: Stories from the Maine Coast
Experience Maritime Maine presents Salts & Water, a 6-part podcast series by award-winning producer Rob Rosenthal. These audio stories paint remarkable character portraits along the coast of Maine, through Eastport, Stonington, Searsport, Rockland, Bath, and Portland.
Meet the "women lobstermen" of Stonington, island-hop aboard a Windjammer in Penobscot Bay, and discover the salty fishmonger whose work on Portland's piers is integral to Maine's culture of seafood. Get to know meticulous boat builders, and learn how the dramatic tides shape life in Downeast Maine. Enjoy this podcast series.
 Salts and Water is a project of Experience Maritime Maine, funded in part by the Elmina B. Sewall Foundation, Hamilton Marine, Maine's MidCoast & Islands, and sponsored by Maine Boats, Homes, and Harbors. To hear the other stories in the series, visit Salts and Water Podcast Series.
---

Listen to the show on WERU archives
More information about Coastal Conversations Radio Program