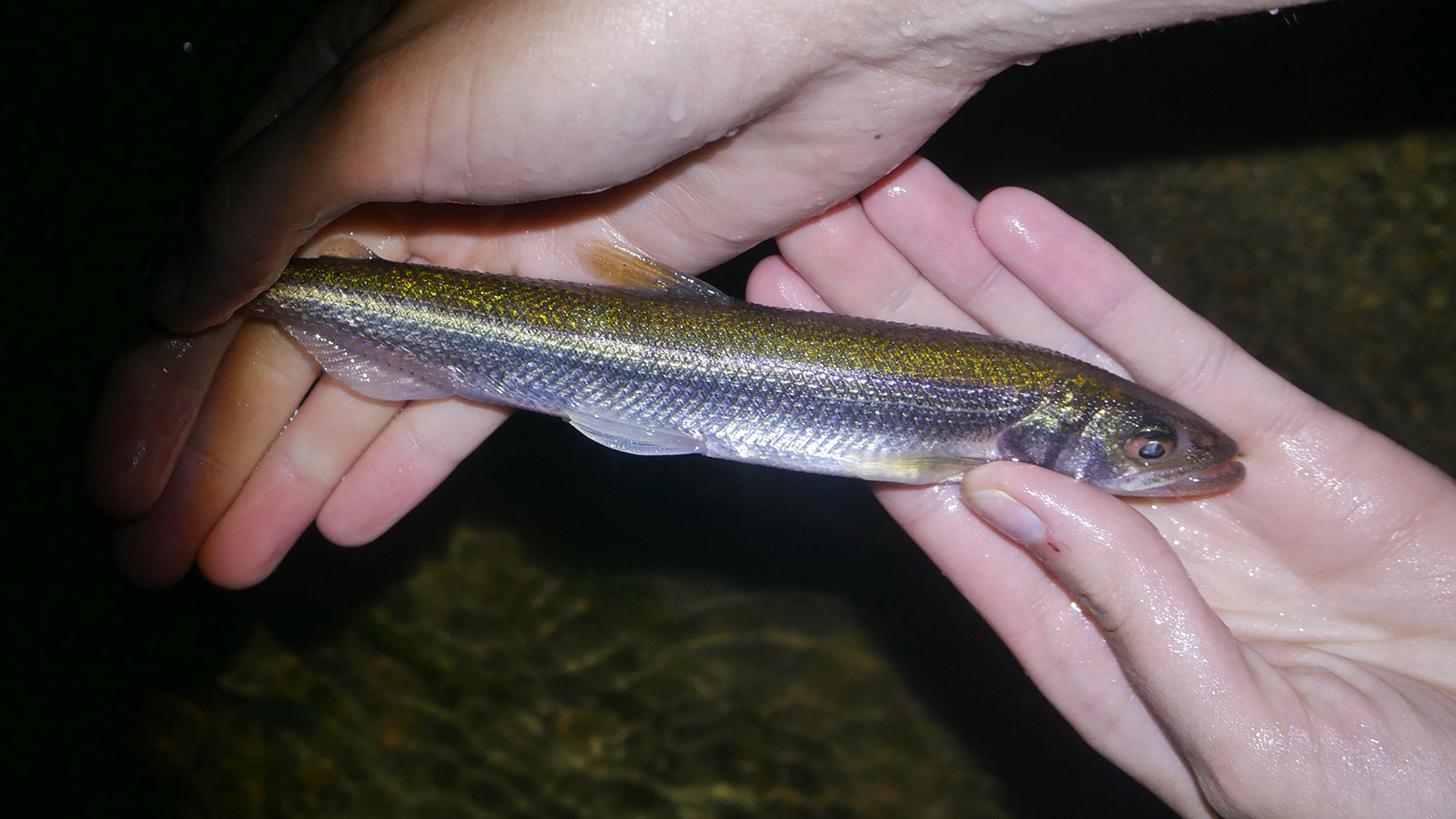 Coastal Conversations Radio Program: Stories and Voices – Seasons of Change for Maine's Sea-run Fish
Coastal Conversations show: May 27, 2022
WERU 89.9 in Blue Hill and 99.9 in Bangor
Host: Natalie Springuel, Maine Sea Grant
Listen to the show on WERU archives

Last Saturday May 21st was world fish migration day, a global celebration to create awareness about the importance of migratory fish and free-flowing rivers. On the coast of Maine, we often refer to springtime migratory species as sea-run fish. The sea-run fish species are known for swimming (or running) up our rivers and streams from the sea in order to spawn.
Many of you will have heard of Atlantic Salmon and alewives or blue-back herring, but do you know about rainbow smelt and tomcod? These lesser knows sea-run fish are just as important to healthy coastal ecosystems. And historically, these fish have all featured in the lives of Maine residents for sustenance, income, and recreation. 
Smelt and tomcod populations are believed to have declined in recent decades. That's the bad news. The good news is that the restoration of salmon and alewife habitat benefits all members of the sea-run fish family.
Our show today features a compendium of smelt stories plus a few about tomcod and other sea-run fish, from interviews conducted over the course of the last year in an effort to document the traditional ecological knowledge of people who harvest, interact with, and observe sea-run fish. 
So make a note to tune in Friday afternoon, May 27, 2022, from 4-5 OM, when this month's Coastal Conversation features stories and voices talking about seasons of change for Maine's sea-run fish. Only on WERU community radio, 89.9 FM in Blue Hill and online at WERU.org. 
Guests
Chris Johnson, ecology manager with the Passamaquoddy Tribe Sipayak Environmental Department
Danielle Frechette, a marine resource scientist with Maine Department of Marine Resource's bureau of sea-run fisheries and habitat
Sean Beauregard, a student at the University of Maine and Smelt interview project intern
John Melquist Sr., smelt fisherman, South Thomaston
Kurt Soneson, a retired Marine Patrol Officer
Sharon Morrill, wildlife watcher from Damariscotta Mills
Dick and Max Grimm, father and son fishermen from Yarmouth
Lawrence Moffet, retired commercial lobsterman and recreational tomcod fisherman
Special appreciation for their support in producing this show goes to: Sean Beauregard, University of Maine student and intern; Justin Stevens, Maine Sea Grant sea-run fish ecosystem project coordinator; and Danielle Frechette, marine resource scientist with Maine Department of Marine Resources bureau of sea-run fisheries and habitat.
For more information
To become a volunteer in the Spawning Smelt Community Science project, email Danielle Frechette, marine resource scientist with Maine Department of Marine Resource's bureau of sea-run fisheries and habitat
Restoring Sea run fish to the Passamaquoddy Homeland
Maine Department of Marine Resources Smelt information page
Downeast Salmon Federation smelt survey information
---

Listen to the show on WERU archives
More information about Coastal Conversations Radio Program