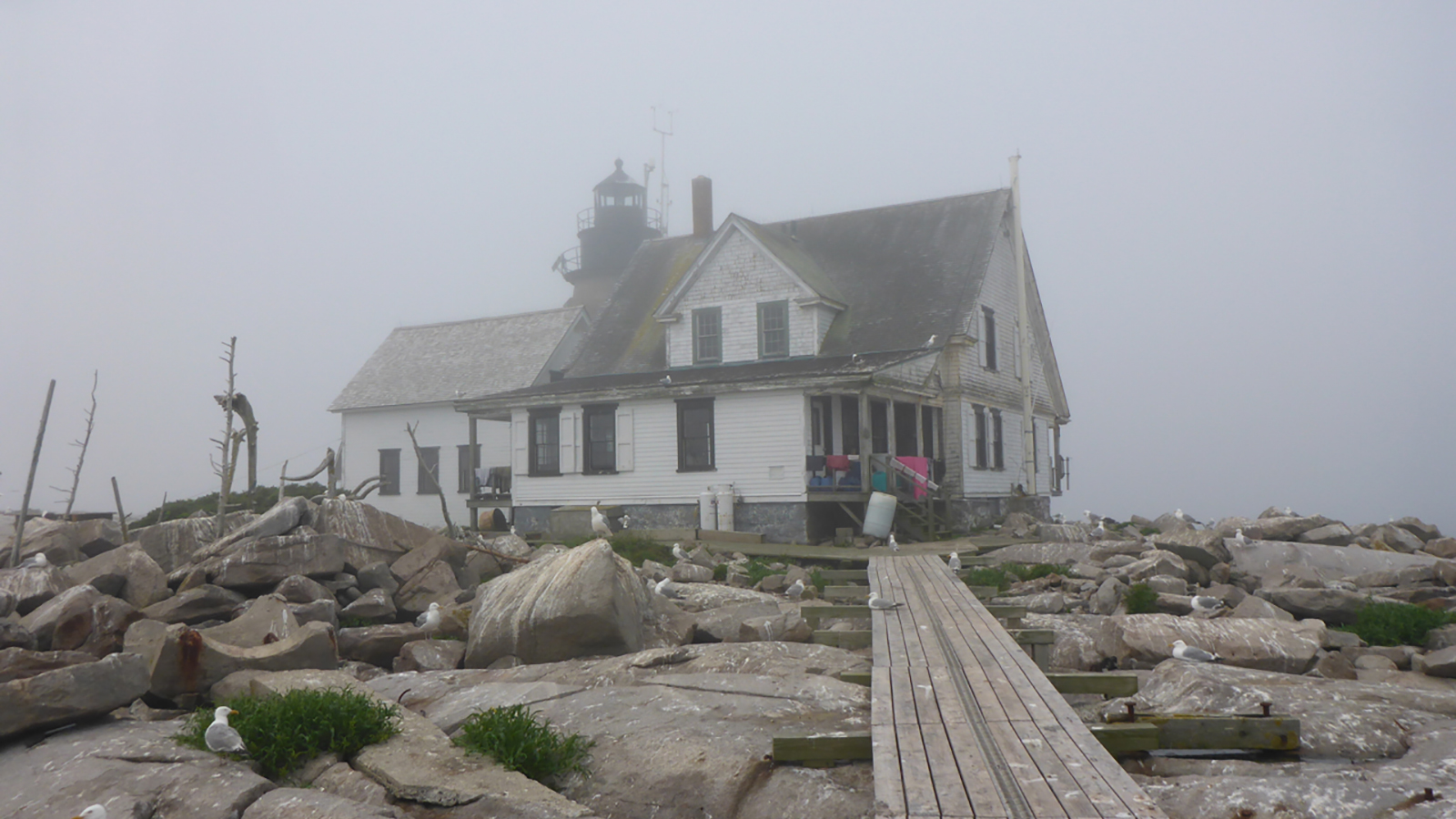 Coastal Conversations Radio Program: Life and Science on Mount Desert Rock
Coastal Conversations show: August 27, 2021
WERU 89.9 in Blue Hill and 99.9 in Bangor
Host: Natalie Springuel, Maine Sea Grant
Listen to the show on WERU archives

Today, we venture out to the most remote of all of Maine's islands, Mount Desert Rock, an exposed ledge, barely 3 acres in size, that emerges from a remarkably productive patch of ocean about 22 nautical miles south of Mount Desert Island.
Since the early 19th century the island has had a light tower to assist mariners, and various buildings to house light-keeper families. In the mid-20th century, the island was occupied by the United States Coast Guard. And since the 1990's, after the Coast Guard automated the light station, Mount Desert Rock has been the home of the Edward McC. Blair Marine Research Station, operated by College of the Atlantic out of Bar Harbor.
On our show today, we'll start our exploration with a history of Mount Desert Rock with Olivia Jolley, one of this summer's station managers and a recently graduated senior at College of the Atlantic whose final project was to develop a comprehensive timeline of the island through interviews and archival research.
We'll then hear about life on the Rock and the rhythms of the daily research tasks, like tower watches, where all wildlife and vessels spotted from the lighthouse are documented, in an ever growing, decades old data set. We'll learn about the scientific, logistical and artistic work happening at Mount Desert Rock this summer, from interviews with a number of this summer's undergraduate residents.
And then we'll wrap it up with a conversation among those residents about the ethical questions they are grappling with related to science and the impact of humans on Mount Desert Rock's wildlife, from sharks to seals, to gulls, the omnipresent gulls, and even down to the microscopic plankton species that drive this complex oceanic food web.
Tune in August 27, 2021 to learn all about Life and Science on Mount Desert Rock. Only on WERU Community Radio, 89.9 FM and streaming online at WERU.org.
Guests
The voices on today's show are all members of the 2021 College of the Atlantic Mount Desert Rock crew, all of whom, including station managers, are either current students or '21 graduates of COA, including:
Olivia Jolley, station manager
Nathan Dubrow, station manager
Jasper White, station manager
Ryan McGraw, buildings and grounds staff
Tess Moore
Kiernan Crough
Baily Tausen
Zach Aiken
Annika Ross
Izzy Grimm
Em Comeaux
Abby Jo Morris
Thomas Gonye
Levi Sheridan
Thanks also to Galen Koch of The First Coast and her intern Camden Hunt for their help gathering audio and brainstorming story lines.
Thanks to the behind the scenes Mount Desert Rock support crew from COA who helped us get out there, including Toby Stephenson, Ela Keegan, Dan Den Danto, and Sean Todd.
And thanks especially to Olivia Jolley, whose passion for this strange rocky oceanic ledge inspired this episode of Coastal Conversations.
Listen to the show on WERU archives
More information about Coastal Conversations Radio Program
For more information
Mount Desert Rock – College of the Atlantic
Past news articles about student work on Mount Desert Rock
Mount Desert Rock lighthouse history
---

Listen to the show on WERU archives
More information about Coastal Conversations Radio Program