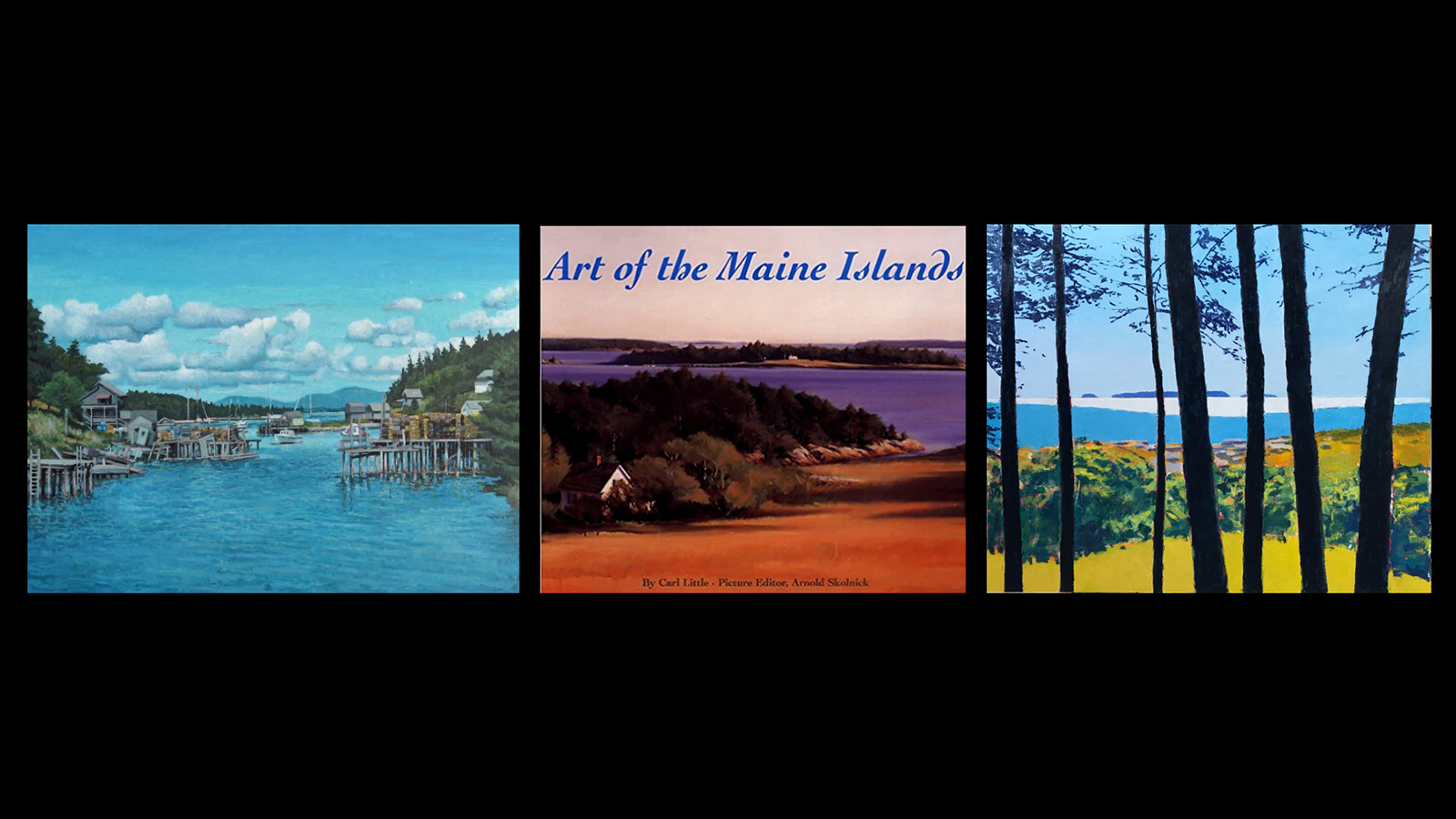 Coastal Conversations Radio Program: The Art of the Maine Coast
Coastal Conversations show: July 23, 2021
WERU 89.9 in Blue Hill and 99.9 in Bangor
Host: Natalie Springuel, Maine Sea Grant
Listen to the show on WERU archives

The Maine Coast has captured the imagination of artists for generations. On today's Coastal Conversations we talk with two contemporary artists and an art writer about the relationship between art and the coast of Maine. Why is it that Maine inspires a deep sense of place in so many people? How and why do artists paint here? What are the threads that link Maine's well known historical artists with today's painters. What makes them different? And finally, how can art help Maine communities be more resilient to changes along the shorelines?
Our guests on today's Coastal Conversations are Tom Curry, a landscape painter from Brooklyn, Maine, Judy Taylor, landscape and figure painter from West Tremont, and Carl Little, art writer, critic, and poet from Somesville. Join me as they share insights about their work and what inspires them to keep coming back to the Maine coast for artistic inspiration.
Guests 
Tom Curry, a landscape painter from Brooklyn Maine. Tom's website
Judy Taylor, a painter of landscapes and coastal scenes and figures from West Tremont. Judy's website
Carl Little, an art writer, art critic and poet, from Somesville. Carl Little's art writing featured in Maine Boats Homes and Harbor
Upcoming events our guests talked about
Tom Curry
Tom Curry Pastel Workshop at Schoodic Institute, October 2021
Tom Curry exhibit at Courhouse Gallery, August 2021
Judy Taylor
Open studio later in the summer (studio in Seal Cove, look for "open" sign). Possible workshops coming up in the fall. Work exhibited on Isleford, at Seal Cove studio, and Cornerstone Gallery  (Southwest Harbor).
Carl Little
Acadia Family Center Online Art Auction, July 15-September 16, 2021
Sara Peabody Exhibit, Northeast Harbor Library, reception August 3, 2021
For more information
Our guests mentioned many artists and writers, paintings and books, galleries, magazines and more. We tried to list them all here, in the order in which they were mentioned in the show.
William (Bill) Kienbusch (1914-1980). Carl Little's artist uncle. Find out more about Kienbusch in this 2018 article Carl wrote about Kienbusch for Maine Arts Journal
Multiple artist profiles by Carl Little at Maine Boats Homes and Harbor magazine
Art of Katahdin, book by David Little, edited by our guest Carl Little and with cover art by our guest Judy Taylor
Books by Carl Little
A Sense of Place by Allan Gussow
Haystack Mountain School of Craft
---

Listen to the show on WERU archives
More information about Coastal Conversations Radio Program