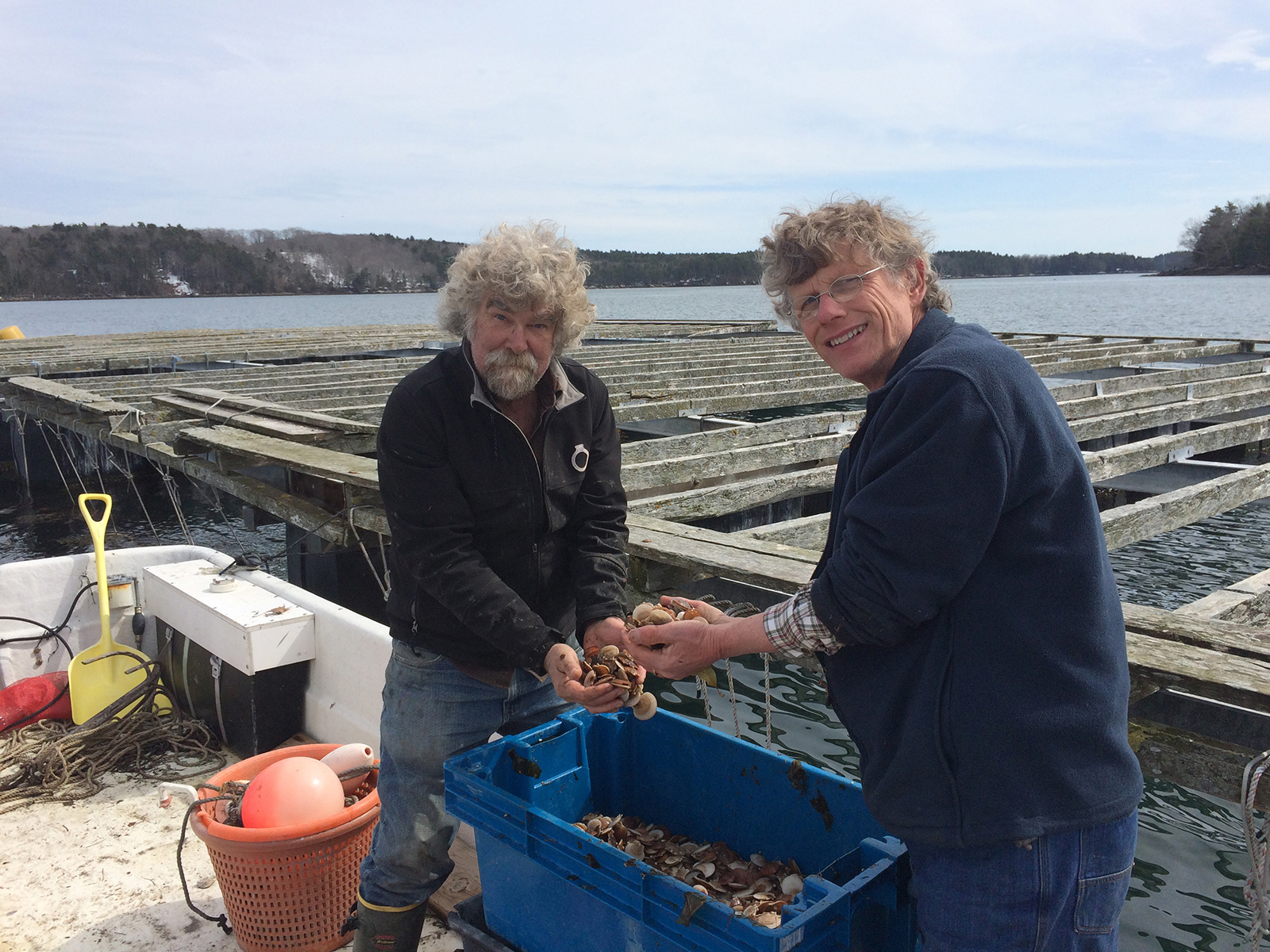 Coastal Conversations Radio Program: Holiday seafood recipes and traditions
Coastal Conversations show: December 25, 2020
WERU 89.9 in Blue Hill and 99.9 in Bangor
Host: Natalie Springuel, Maine Sea Grant
Listen to the show on WERU archives

For our December 25, 2020 show, we are talking about Maine seafood for the holidays! Our regular Coastal Conversations host Natalie Springuel teamed up with Sea Grant colleagues Dana Morse and Heather Sadusky, to celebrate Maine seafood traditions and feature seafood recipes you might like to try this holiday season! Our guests include oyster, mussel and salmon growers, lobster fishermen, fisheries advocates, and our very own Sea Grant graphic designer (who happens to be a darn good cook). You will hear about salmon, lobster, scallops, oysters and lots of other fresh Maine seafood. And you will get a lovely dose of family on this show; something about Maine, seafood and the holidays combined inspire connection We hope this show will unleash your own culinary creativity in the kitchen this holiday season!
Guests
Kathy Tenga-González, Science Publications Designer, Maine Sea Grant
Wade and Claire Day, Machiasport (Wade is the Machiasport Harbormaster and a former lobsterman)
Jeff (Smokey) McKeen, Co-founder, Pemaquid Oyster Company
Afton Hupper, Maine Aquaculture Association
Marnie Reed Crowell, Deer Isle, author: Recipe ideas for farmed scallops
Andrew Lively, Cooke Aquaculture Inc.
John Cotton, Co-owner, Icehouse oysters
Monique Coombs, Maine Coast Fishermen's Association
Fiona De Koning, Acadia Aquafarm
Butterfield family (Sue, Karen, Karla and Danielle), Butterfield Shellfish Co.
For more information
Some of our guests shared links and recipes you can access online, but for the whole list, you will have to listen to the show!
#GiveMaineSeafood, "Choose premium Maine seafood & quality Maine gifts. Support our coastal communities."
@butterfieldshellfishco, https://www.butterfieldshellfish.com/, oyster stew recipes
TrueNorthSeafood.com, salmon recipes
AragostaMama.com, and scallop (coquilles St. Jacques) recipe
Recipe Ideas for Farmed Sea Scallops (cookbook now available at PenBay Farmed Scallops)
Feast of the Seven Fishes
Be sure to ask for Maine seafood when preparing your very own FEAST OF THE SEVEN FISHES!
Below are just a few dishes you can make with Maine fishes (and shellfish). Check out Maine Sea Grant's Maine Seafood Guide for information on other local species including when they're in season, what to look for when buying them, and their health benefits.
A fun article about the celebration, along with links to lots of recipes:
Linguini with Clams (uses hard clams)
Slow-roasted Salmon with Fennel, Citrus, and Chiles
Monkfish and Cauliflower Chowder
Oysters with Parmesan Polenta Crust
Roasted Potatoes and Haddock Puttanesca
Lobster, Avocado, and Grapefruit Salad
Grilled Sea Scallops and Tomatoes with Olive Vinaigrette
A few recipes and advice on how to buy, clean, and cook calamari
Recipes and traditions featured on this show
Feast of the Seven Fishes, by Kathy Tenga-González
Lobster Stew and Lobster Chowder, by Wade and Claire Day
Oyster Stew, by Jeff (Smokey) McKeen
Halibut Lasagna, by Afton Hupper
Ideas for cooking farmed scallops (such as Coquilles Saint Jacques, Scallops Rockefeller on the Shell, Scallop Cream Cheese dip on Polenta) by Marnie Reed-Crowell
Coquilles Saint Jacques, by Monique Coombs
Corned Hake, by Monique Coombs
Scallops à la Meunière, by John Cotton
Salmon with Spicy Pomegranate-Orange Glaze, by Andrew Lively
Mussel Anchovy Pasta, by Fiona De Koning
Oyster stuffing, by the Butterfield Family
---

Listen to the show on WERU archives
More information about Coastal Conversations Radio Program
**Photographs of people not wearing masks were taken prior to the coronavirus pandemic. The University of Maine and University of Maine at Machias follow federal and state Centers for Disease Control and Prevention health and safety guidance, which includes social distancing and use of face coverings for the start of the 2020–21 academic year.