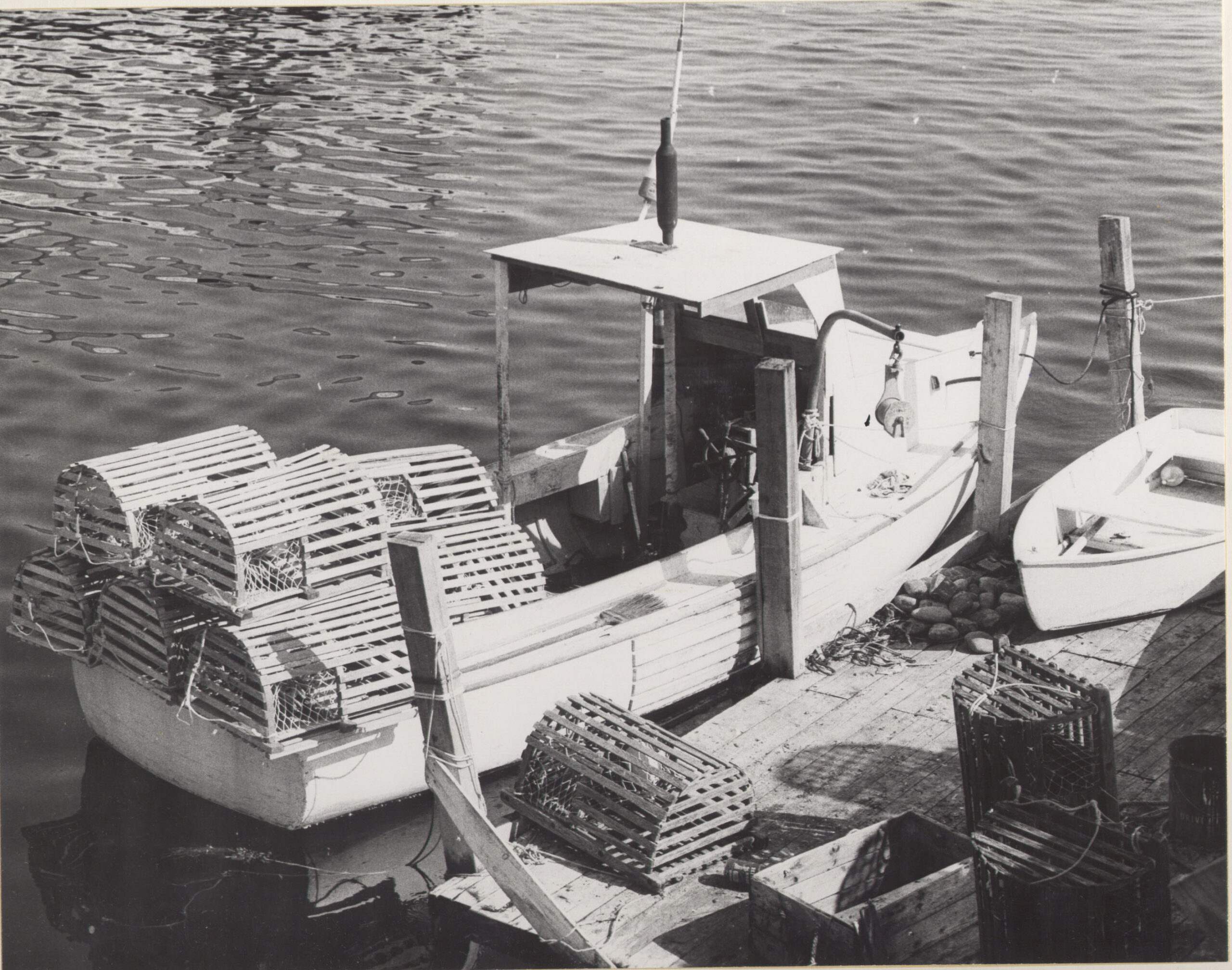 Coastal Conversations Radio Program: The 1970s Life of Maine Lobstermen
Coastal Conversations show: May 22, 2020
WERU 89.9 in Blue Hill and 99.9 in Bangor
Host: Natalie Springuel, Maine Sea Grant
Listen to the show on WERU archives

A special note: This month's episode of Coastal Conversations is dedicated to Mr. Andrew Gove, one of the three featured fishermen who was interviewed in the 1970s. As we were wrapping up the edits on this episode, we heard the unfortunate news that Mr. Gove passed away over the weekend of June 20th, 2020. He was in his 90s and had only just recently decided it was time to stop fishing and come ashore. We are honored to share the voice and stories of a younger Andy Gove on this month's episode, made all the more poignant by his recent passing. Mr Gove's life story and his dedication to his community represent an iconic characteristic of the Maine lobster fishery. We share our sincere condolences with his family, the Stonington community, and the fishermen of Lobster Zone C.
The 1970's were a time of dramatic change in the world of fisheries. The United States claimed exclusive territorial waters out 200 nautical miles, commercial whaling came to an end, and fishermen targeted multiple different species throughout the year. Maine lobstermen in the 1970's landed a fraction of what they do today, and many aspects in the life of Maine lobstermen back then is very different from today. But an important series of oral history interviews from the 1970's reflects some familiar themes for those who follow the lobster fishery, including territoriality, conservation, and the uncanny ability of fishermen to face crisis and change head-on.
On our next Coastal Conversations, we feature three interviews from the 1970's oral history collection called The Life of the Maine Lobsterman. The interviews are among many that were recorded by students of Sandy Ives, the well-known Maine folklorists and founder of the Maine Folklife Center at the University of Maine. We chose to feature these three fishermen because they represent a fairly tight fishing area (Swan's Island, Stonington, and Tremont, the area that now straddles Lobster Zones B and C), and because they span a diverse age range of fishermen in the region.
We hope you will join us on Friday June 26, 2020, at 4 PM, on WERU 89.9 FM and streaming online at WERU.org, when this month's Coastal Conversations features interviews that shed light into The Life of Maine Lobstermen 50 years ago.
Please note that the recordings we feature on this special episode of Coastal Conversations are nearly 5 decades old. Be prepared for some crackly audio sounds, but the stories are well worth the listen! The full Life of the Maine Lobsterman collection, which spans the coast of Maine, is available from the University's Fogler Library Special Collections department and we are grateful to their staff for helping us access these interviews.
Special thanks also to Ela Keegan, Elle Gilchrist, and Julia Harcourt, students at College of the Atlantic who helped produce this show, and Desiree Butterfield-Nagy of the Fogler Library Special Collections department for help accessing the interviews.
Featured voices from 1970's oral history interviews
The following three lobstermen are featured in this show (please note that each interview was edited for clarity and length).
Andy Gove, age 44, of Stonington, Maine, interviewed by David Littleton-Taylor in 1974.
Tim Staples, age unknown (perhaps in his early 20's), of Swan's Island, Maine, interviewed by David Littleton-Taylor in 1974.
Edwin Lawson, age 74, of West Tremont, Maine, interviewed by Rita Swidrowski in 1972.
You will also hear the voices of the interviewers David Littleton-Taylor and Rita Swidrowski.
Citation for the Oral History collection
The three interviews featured in this show are archived at the Raymond P. Fogler Library Special Collections, University of Maine, Orono, Maine. They are part of the Northeast Archive of Folklore and Oral History which was started by and, until recently, housed at the Maine Folklife Center.
Special accession numbers are as follows:
Life of the Maine Lobsterman collection MF037
Andy Gove NA0970
Tim Staples NA0897
Edwin Lawson NA0726
---

Listen to the show on WERU archives
More information about Coastal Conversations Radio Program